"The clients, a retired couple, had lived and worked on this land all their life," says architect David Teeland of Teeland Architects. "During the briefing process it became apparent that they had developed a deep understanding of the local earth, plants, animals, sun and water on their property and this assisted us configuring the house to take best advantage of the site."
However, a number of inherent challenges presented themselves early in the design process. "One of the challenges was to configure a design that enabled the house to have views towards the ocean to the east, as well as maximising the north-facing glass to capture winter sun and north views to the creek and rainforest," explains David. "The other consideration was that the elevated site with views to the coast means that you are exposed to the prevailing winds coming off the ocean." David's solution is a unique "folded plan" configuration that wraps around a protected north-east facing deck with views to the rainforest in the foreground and ocean views in the distance.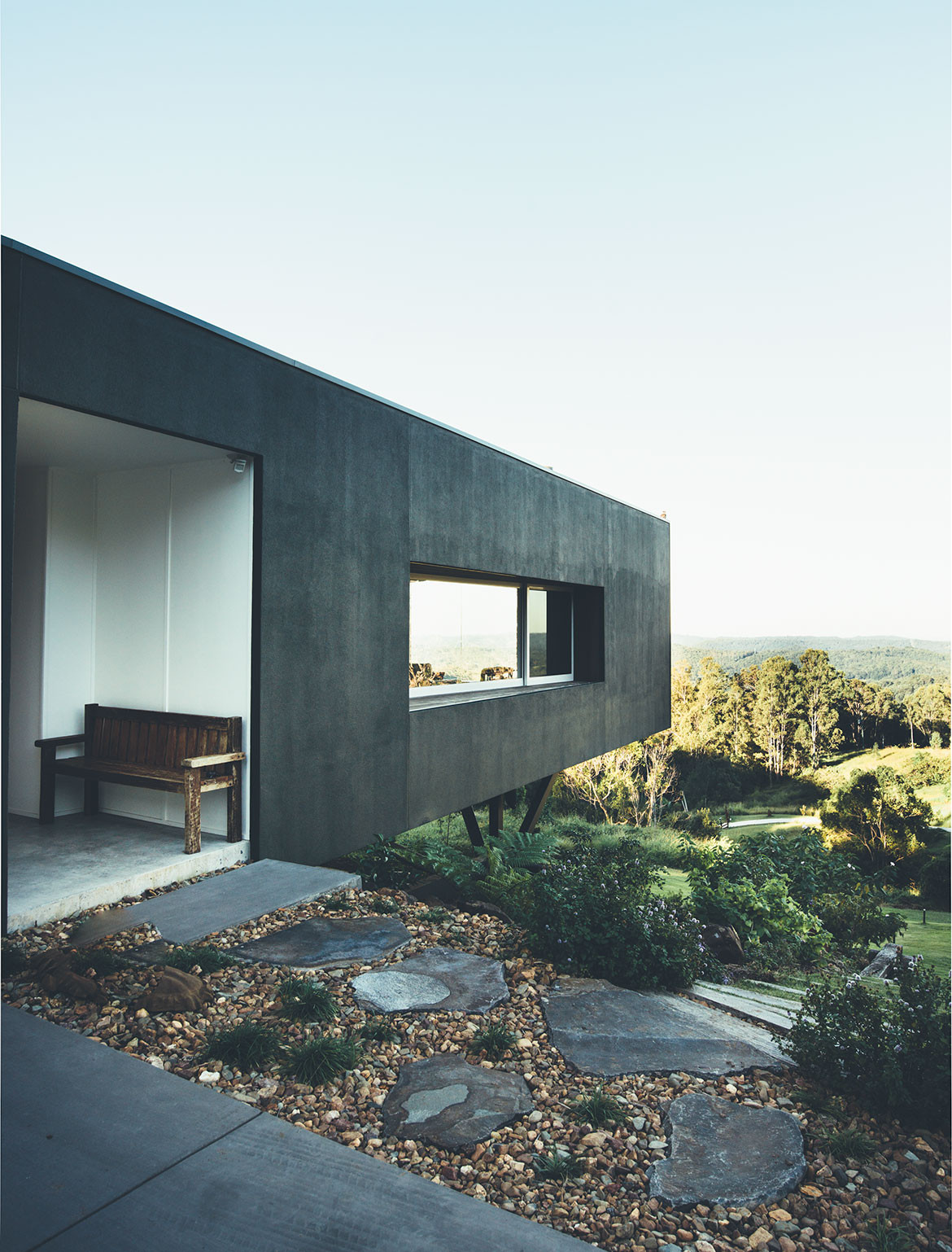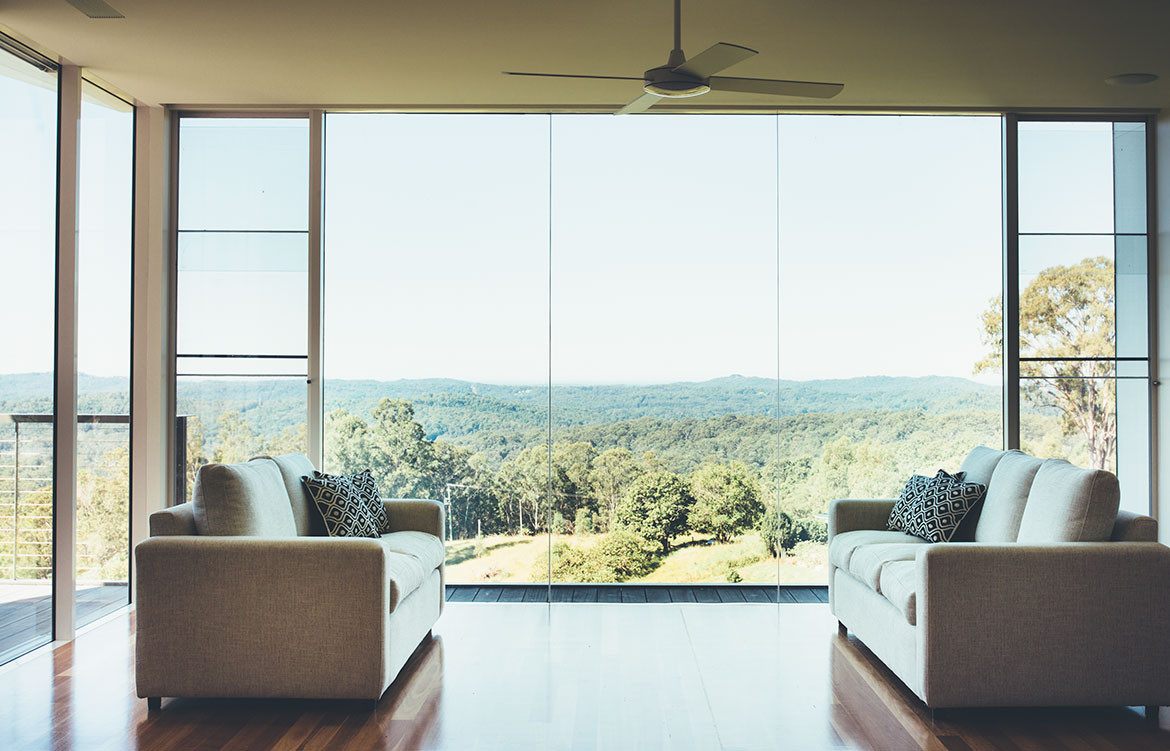 From a passive solar design perspective, the building is configured to let in winter sun in, whilst protecting the property from the harsh summer sun. "Cross ventilation and natural light are also abundant throughout the house," adds David. "The floors and roof are heavily insulated and the wall cladding is made of a recycled high density foam that provides wonderful thermal properties, helping to keep the house naturally cool in summer and warm in winter."
Stealth house's eco credentials extend further with the building designed to imitate a natural, self-sustaining eco-system. The building boasts onsite solar systems and water tanks. Waste water is recycled on site by an environmental system and re-used for bush regeneration.
Programmatically, Stealth House is arranged over two levels. The ground level has been organised so that the clients can live on one level with wheel chair access for future mobility, if required. The upper level offers guest accommodation and can be closed off when no one is visiting. The kitchen, dining, living and entertaining area open up towards the deck whilst the bedrooms and bathrooms offer intimate views back into the rainforest and creek as well as opportunities for quiet retreat.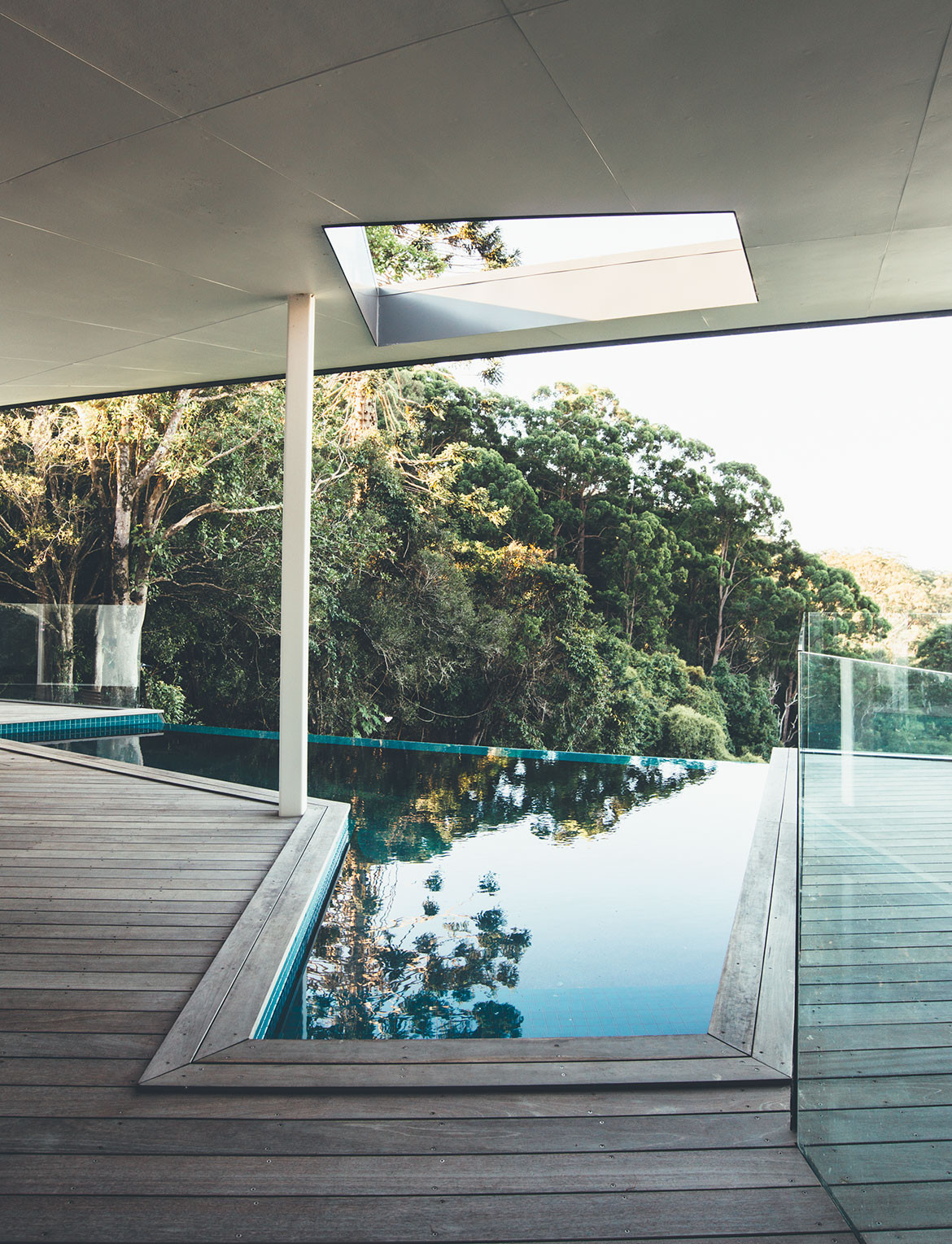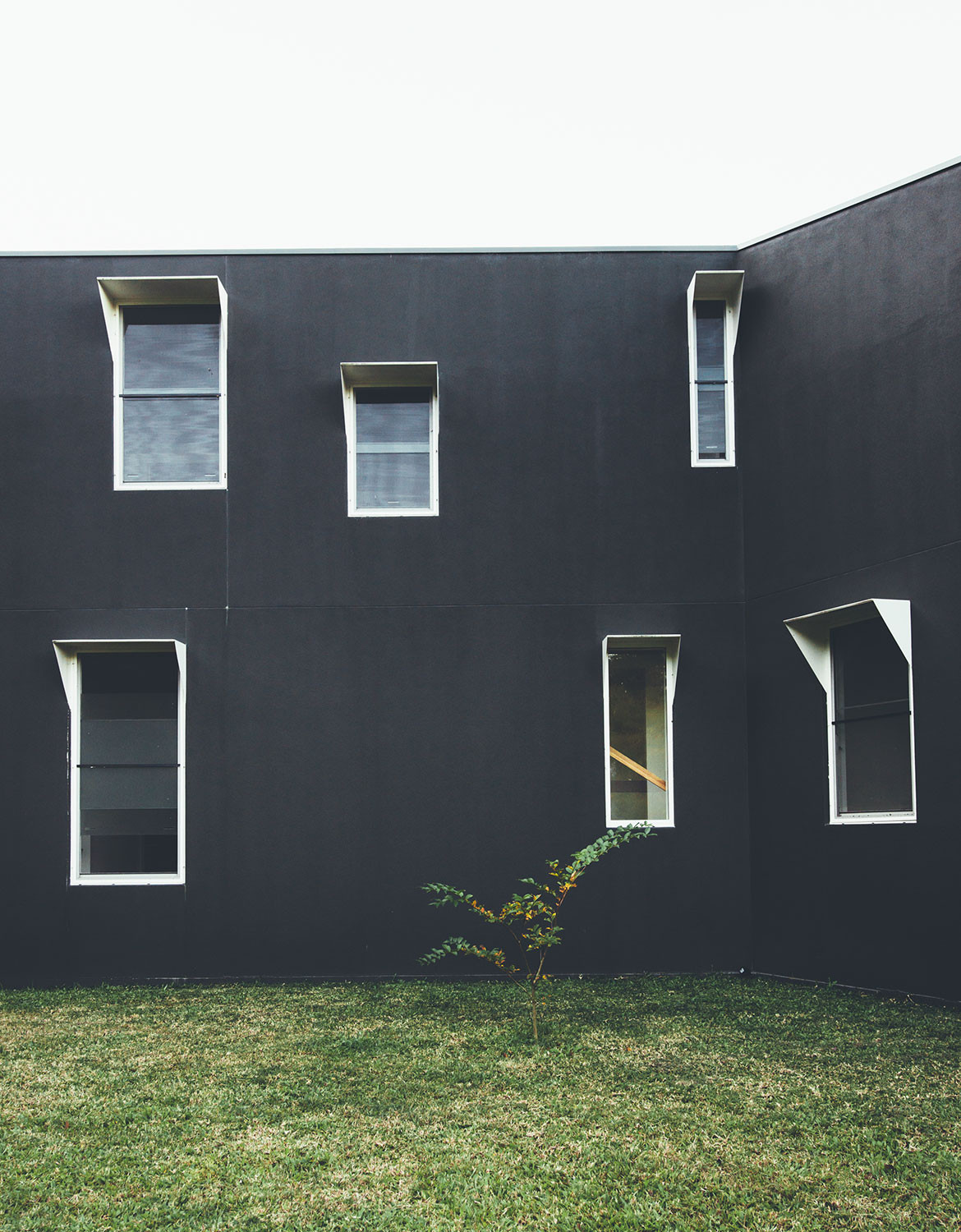 Another significant challenge in both the design and construction of the house was the area's high land slip hazard potential, resulting in a limited area of stable land on which to build the house. "At the front of the house the land falls away steeply," says David. "Our approach was to cantilever out the front of the house with a steel structure that anchored back into stable rock. From there the building was designed to follow the line of the natural topography." This has the architecturally satisfying effect whereby Stealth House is both embedded in the natural ground plane and yet appears to float right above it. Two opposing architectural forces ultimately come together in perfect counterbalance.
Teeland Architects
teeland.com.au
Photography by Jared Fowler
Dissection Information
Wall System: cement render over high density re-cycled foam on timber and steel composit frame
Aneeta double hung sashless windows
Appliances from Smeg
Tapware from Hansa
Fixtures from Villeroy & Boch
Fittings from Barben Axis
Door hardware from Gainsborough Architectural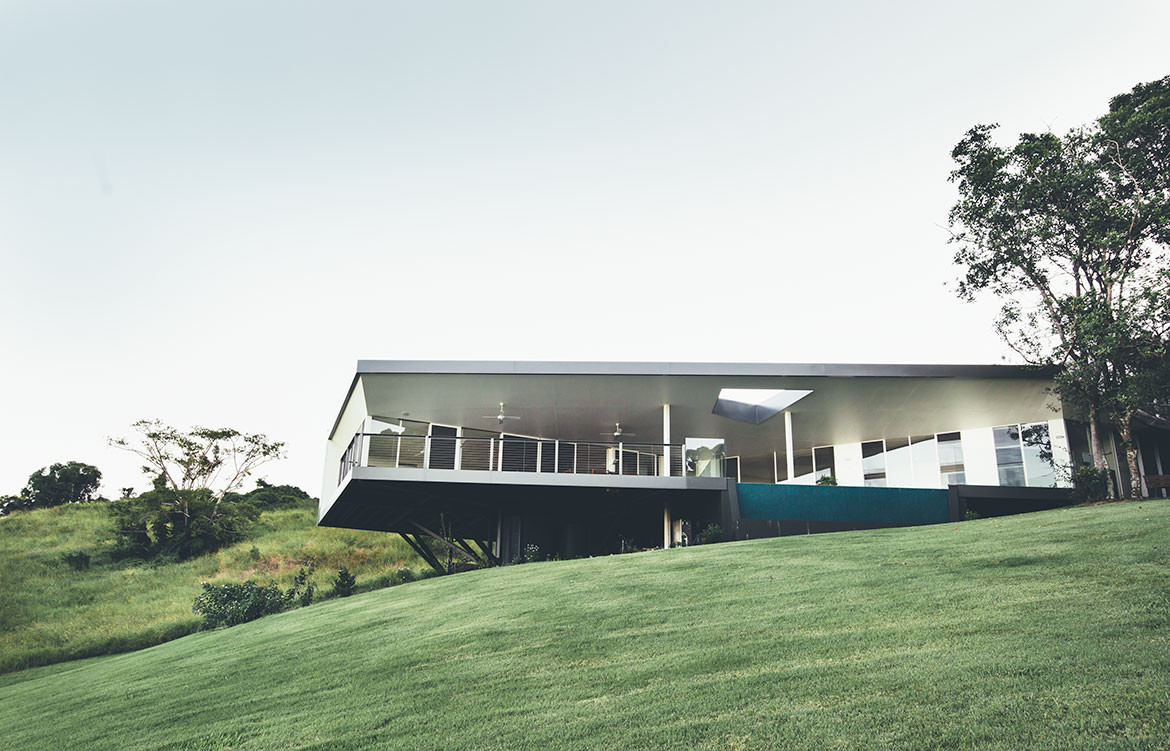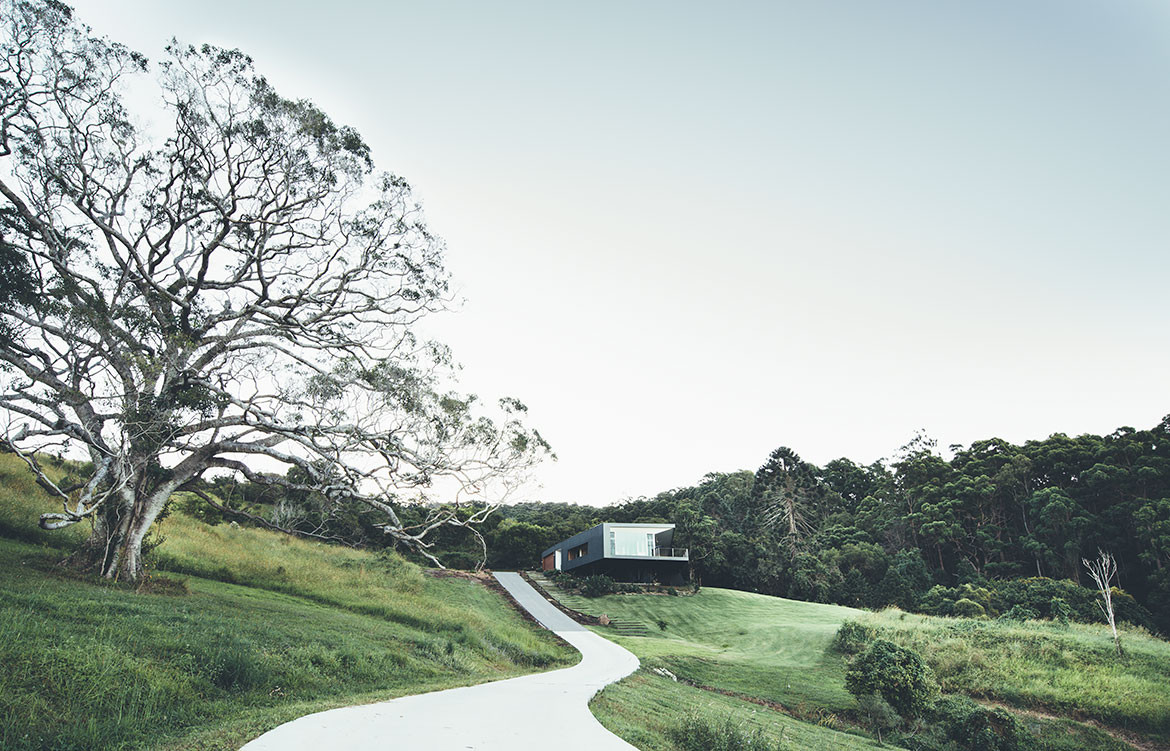 We think you might also like Piermont, Tasmania, by Hecker Guthrie and Jackson Clements Burrows Architects
Tags: Aneeta, Barben Axis, cantilever, David Teeland, Elana Castle, Gainsborough Architectural, Hansa, Jared Fowler, passive solar design, self-sustaining, Smeg, Stealth House, Sunshine Coast, Teeland Architects, Villeroy & Boch
---