When Shanghai's Gallery All asked Melbourne creative director, Lou Weis, if he could write the story for a collection based on the Chinese colonisation of Mars, to be designed by MAD Architects, he said, "I've already researched that!" Weis, founder and creative director of Broached Commissions, the think tank and design office that has produced unique and limited edition pieces by the likes of Adam Goodrum, Lucy McRae and Trent Jansen, is just that kind of guy.
A self-proclaimed 'fix-it man', he has consulted to various state governments at different moments, including Melbourne's State of Design Festival. And yet, he says, "I don't think there is a successful design festival in Australia." The reason, according to Weis, is essentially the dearth of viable local design houses. And this is due to two factors. Firstly, the lack of venture capitalists willing to front up the funds to float the necessary assets to kick start a credible business: "people who are ready to invest, engage great designers, get a great CEO on-board and get it happening." Secondly, the lack of understanding of the role of the creative director, the linchpin of every successful design business the world over.
"I still don't think the local industry has any idea of the significance of this role," says Weis. That is, someone who is not the designer, nor the CEO, but who has a global vision and is able to consolidate the brand in order for it to move forward in a coherent and potent manner.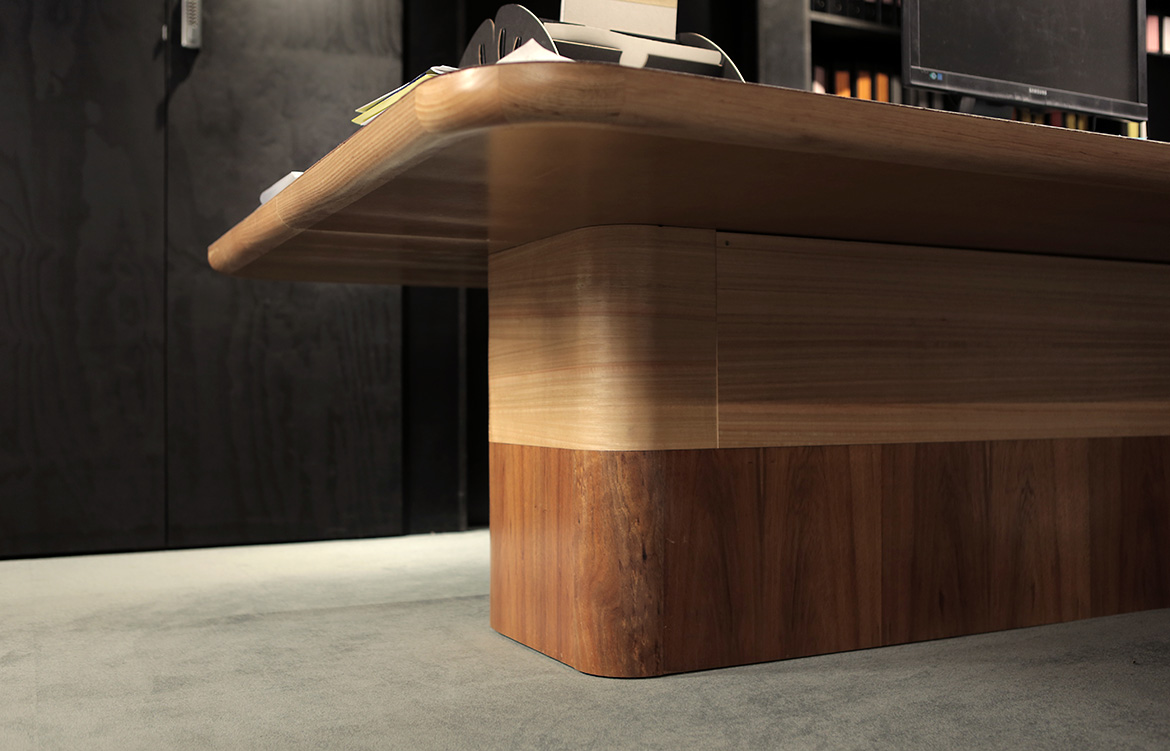 Molonglo Group office desks, designed by Adam Goodrum
"Or, they only understand it in one model, which is advertising. There are approximately three thousand Australian business involved in furniture manufacturing today, but so few of these companies have any kind of creative direction. While this unprecedented period of prosperity has meant that there has been some stability for local manufacturers to feed the domestic market, which has been amazing, I wouldn't really call it a boom."
Broached Commissions, for instance, has met with great critical success, but commercially has been less assured. "I am breathing slowly, aware of the fact that Broached is about the long haul. It's represents an enormous capital outlay but that's okay. It was never conceived as a quick turnover affair."
Launched in 2011, the first iteration was Broached Colonial, featuring a line up of high cred designers including Max Lamb, Lucy McRae and Chen Lu  who were invited to interrogate the very specific conditions of material culture at the time of colonisation and interpret them in small batch contemporary designs. Next up came Broached East, an investigation into Australia's place in the Asia Pacific region. Private commissions have included a sumptuous dining table for Daniel Besen, designed by Charles Wilson, and the fit out of Molonglo Group HQ in New Acton, Canberra – above Hotel Hotel for which Broached also created single edition furnishings.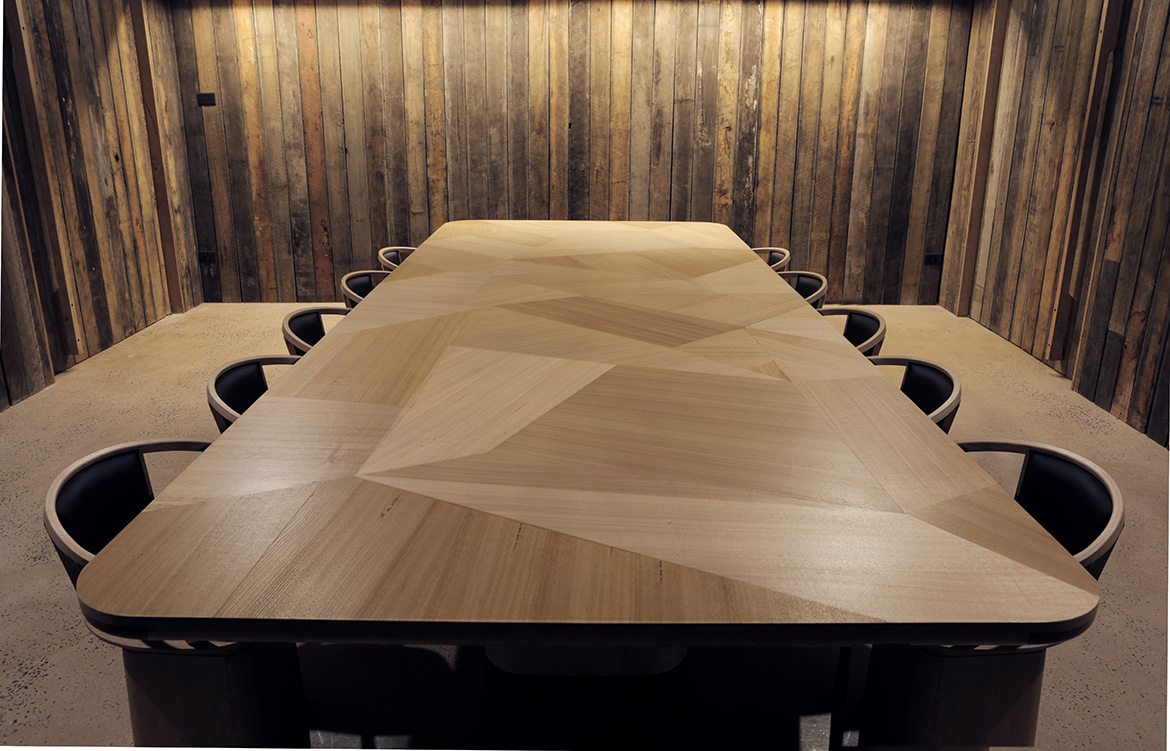 Molonglo Group boardroom table and chairs, designed by Adam Goodrum
Beyond Broached, Weis is a creative consultant to visionary galleries like Gallery All, for whom he guides several artists – notably Hongjie Yang and Zhenhan Has – in the conceptualisation of their work. He also consults to Lendlease.
As for the Mars collection for MAD Architects, it was shown at Design Miami/Basel last June. The Martian aspect Weis had previously explored dates to five years back when he collaborated with Brooklyn composer, Dave Sardy and Melbourne artist, Geoffrey Nees, to create a soundtrack for a sci-fi film, what Weis refers to as "a Chinese Space Odyssey".
That project segued into the story line of MAD Architects' collection of tables, chairs and lighting which was shown at Design Miami/Basel last June. So impressed was one Lebanese couple they snapped the lot. Yu Wang, founder of Gallery All, told me at the time, "They were so impressed with our stand they took photographs to document it so they will be able to install the work back in Lebanon just the way it was here in Basel."
I'd call that a creative director's job well done.
Broached Commissions
broachedcommissions.com
Photography by Joshua Aylett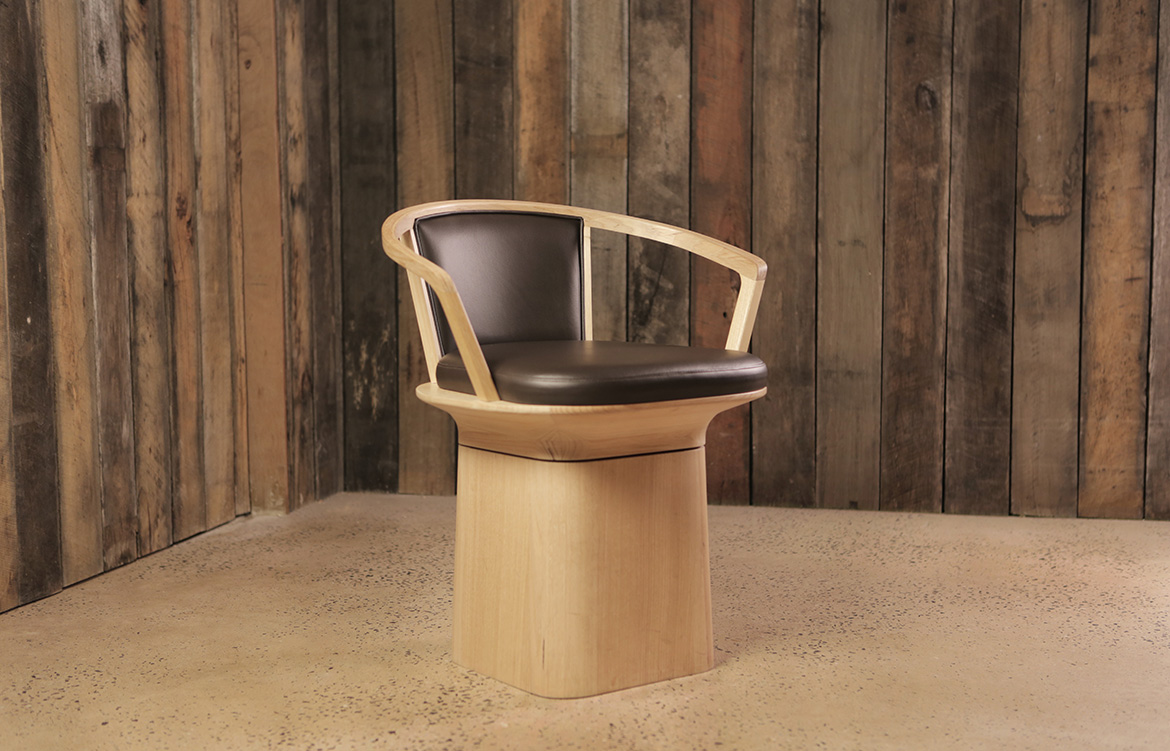 Molonglo Group chair, designed by Adam Goodrum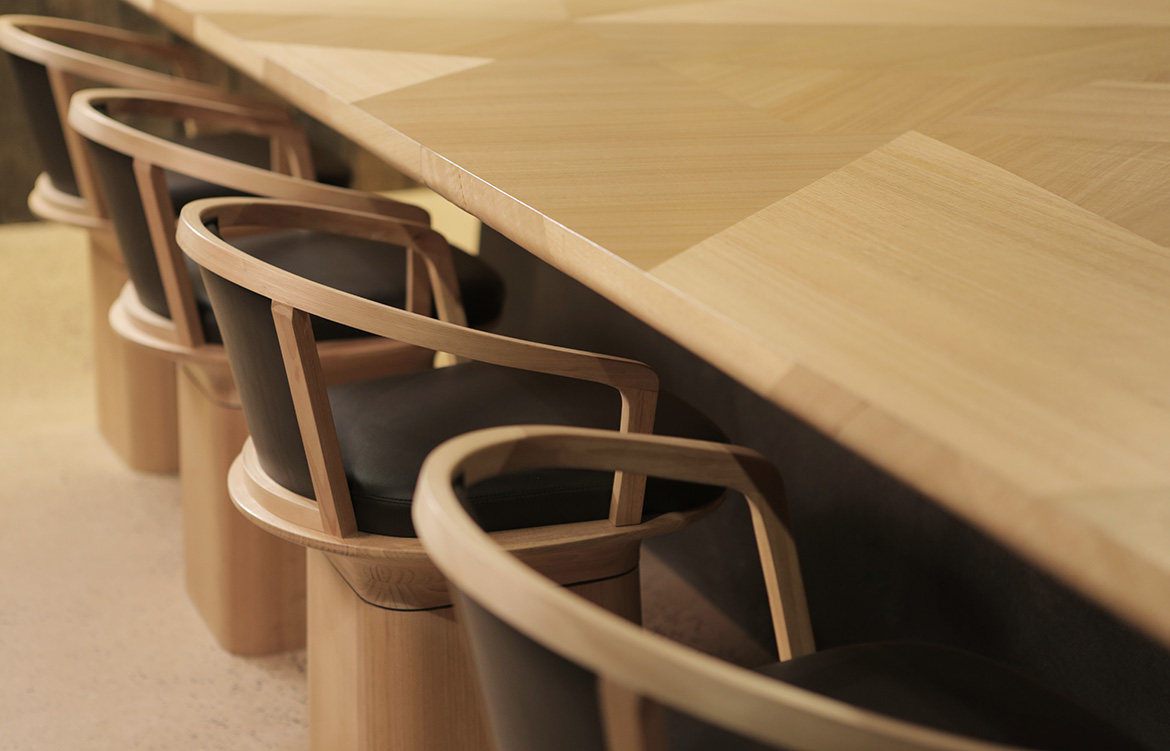 Molonglo Group boardroom table and chairs, designed by Adam Goodrum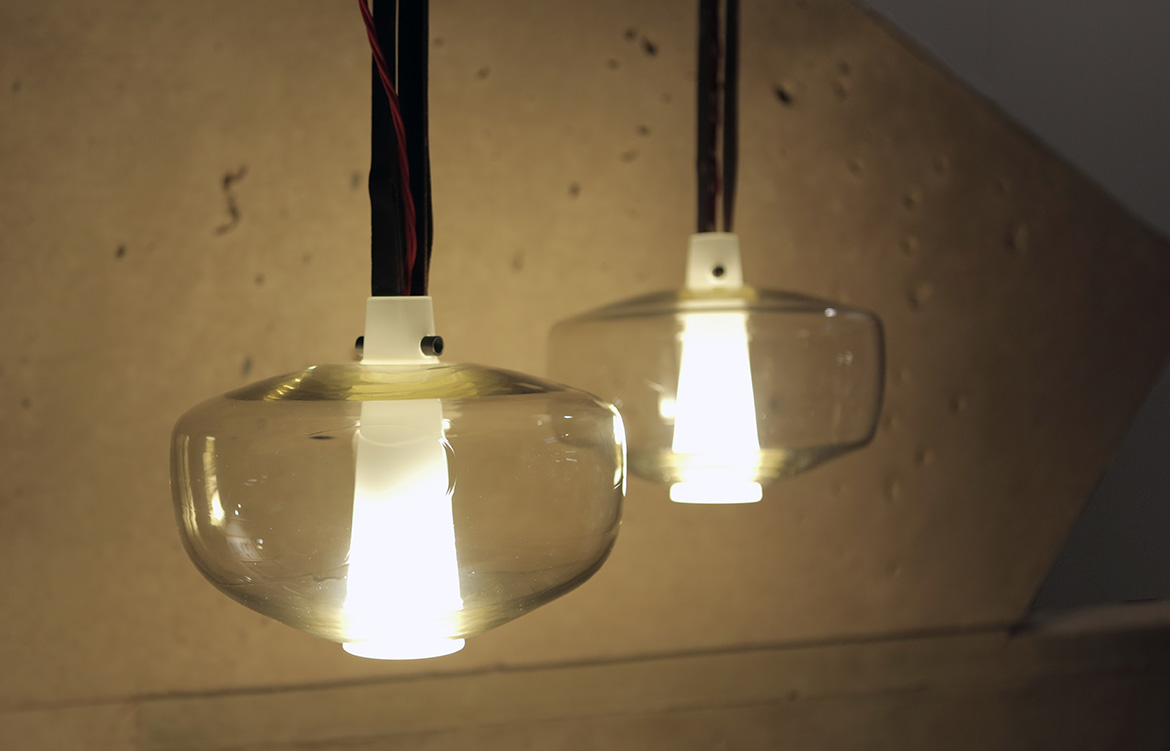 Molonglo Group Workstation lights, designed by Adam Goodrum
Cover image: View through Molonglo Group Headquarters Boardroom
---