Designer Raimana Jones, of New Zealand studio Atelier Jones Design, worked with the residents of this home to reimagine the kitchen, removing thresholds and opening it into the living space. Seamlessly coalescing with the mid-century lines of the 1950s timber-framed home, the new design lends precise craftsmanship that responds to the potential of distinctive materials introduced.
The dividing wall between the living space and kitchen was removed. Offering structural support, a steel frame was installed in its place. Yet, rather than make the practical structure as inconspicuous as possible, here it is treated as a feature, with the appreciation of an artwork framer who understands how to elevate a subject.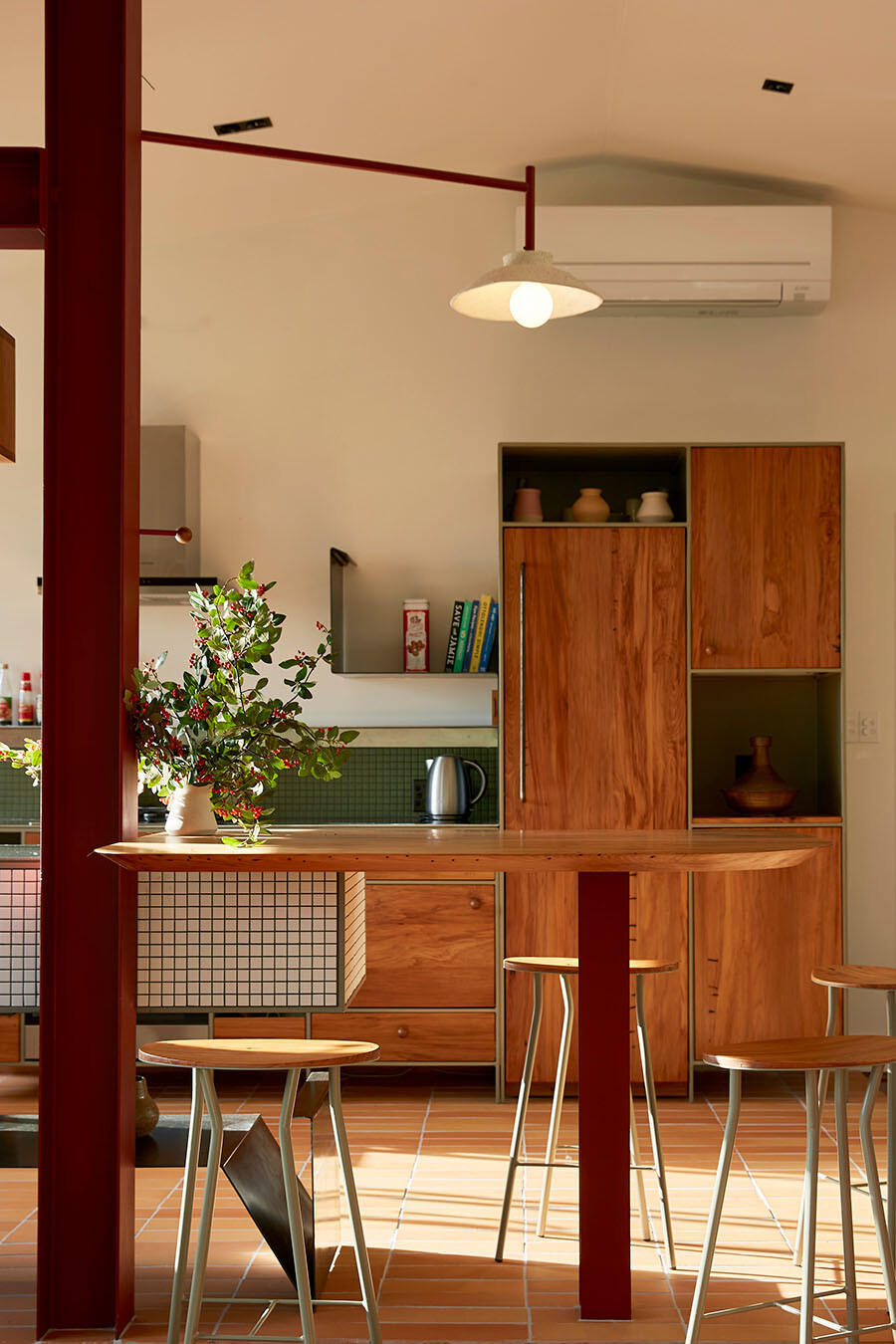 The void through the steel frame connects not only internal spaces but uncovers serene vistas from the kitchen out into the verdant forest-like surrounds. Painted in a deep burgundy tone, the steel I-beams hint at the lush palette of native pōhutukawa trees, bespeckled with bushy red flowers. The frame supports the suspended muted green prep-space and timber peninsula bench that extends out like an arm ushering in guests to gather.
The careful combination of materials and finishes render the kitchen somewhat unconventional with elements of traditional living spaces bought into the culinary setting. Pivot lamps glow warmly with custom-made shades, coated in a mix of black sand and clay echoing the local beaches. Functional steel surfaces were treated with a chemical blackening process to increase water resistance. Salvaged rimu timber, prolific within the local environment, has been recycled and oiled to create distinctive cabinetry that showcases the mottled waves and grains of the wood.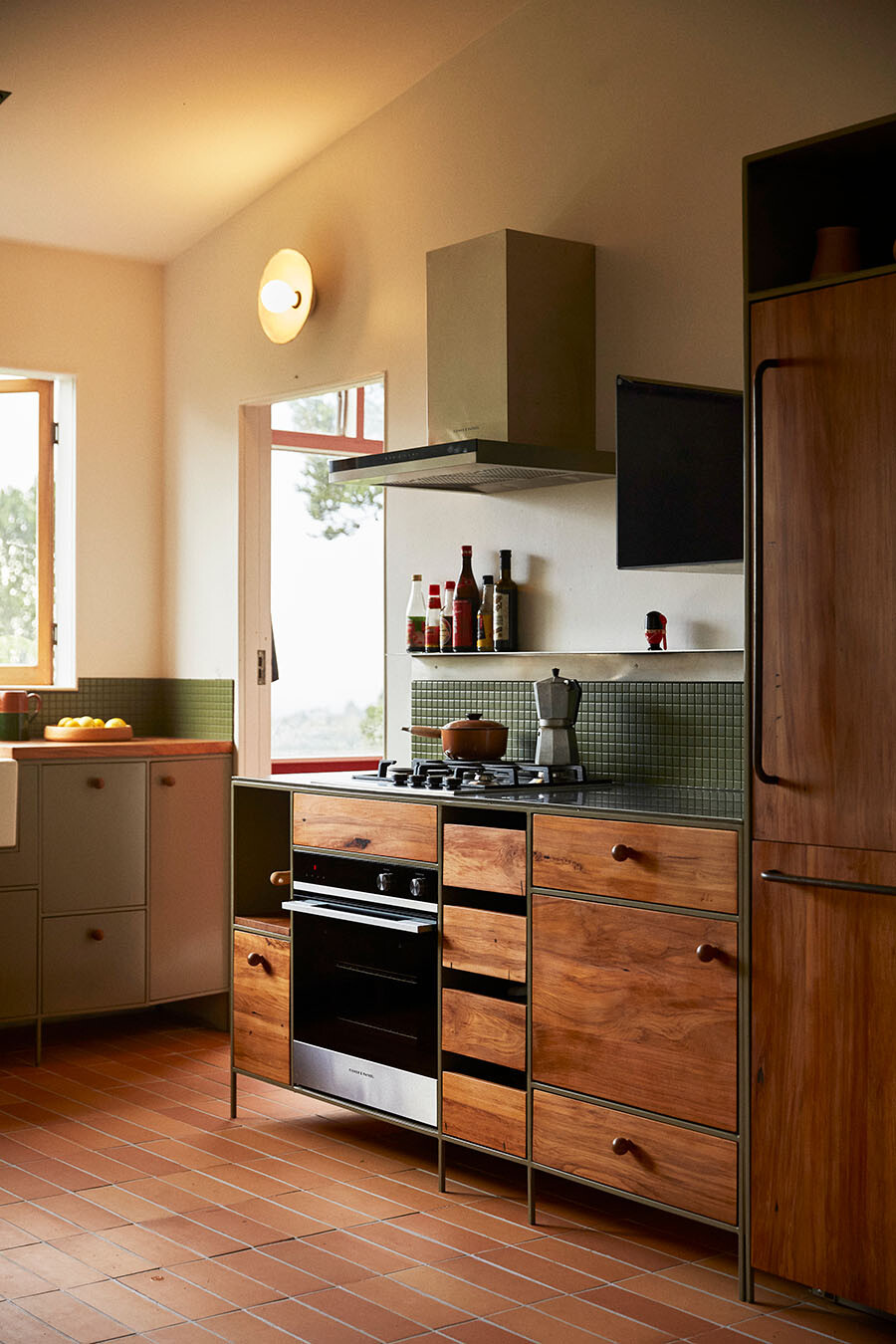 An olive-green tiled splashback, and pastel lichen-coloured powder-coated surfaces bring the lush outdoors in. Strategic shelving celebrates functional objects with frequently used pots, glasses, a pestle and mortar both sculptural and accessible. Tactile hand-turned knobs, magnetic spice jars floating atop the workbench, and a built-in bespoke sliding chopping board, are among the crafted touches that tempt interaction.
A sensory joy to be in, the kitchen celebrates daily choreographies — deftly reaching for pots and pans, brewing the morning coffee on the hob. Aesthetically beautiful, Konini Kitchen has also been crafted with a humility that takes kindly to a little mess, a dish left on a bench, evidence of the movement and life that will see it wear authentically, bettered by every use.
Project details
Interior design – Atelier Jones Design
Photography – Greta Van Der Star
Project lead & designer – Raimana Jones  
Makers – Mathilde Polmard, Raimana Jones  
Collaborators – Tom Lopes, Alistair Munro Design Company, Felix Turvey from Fisher & Paykel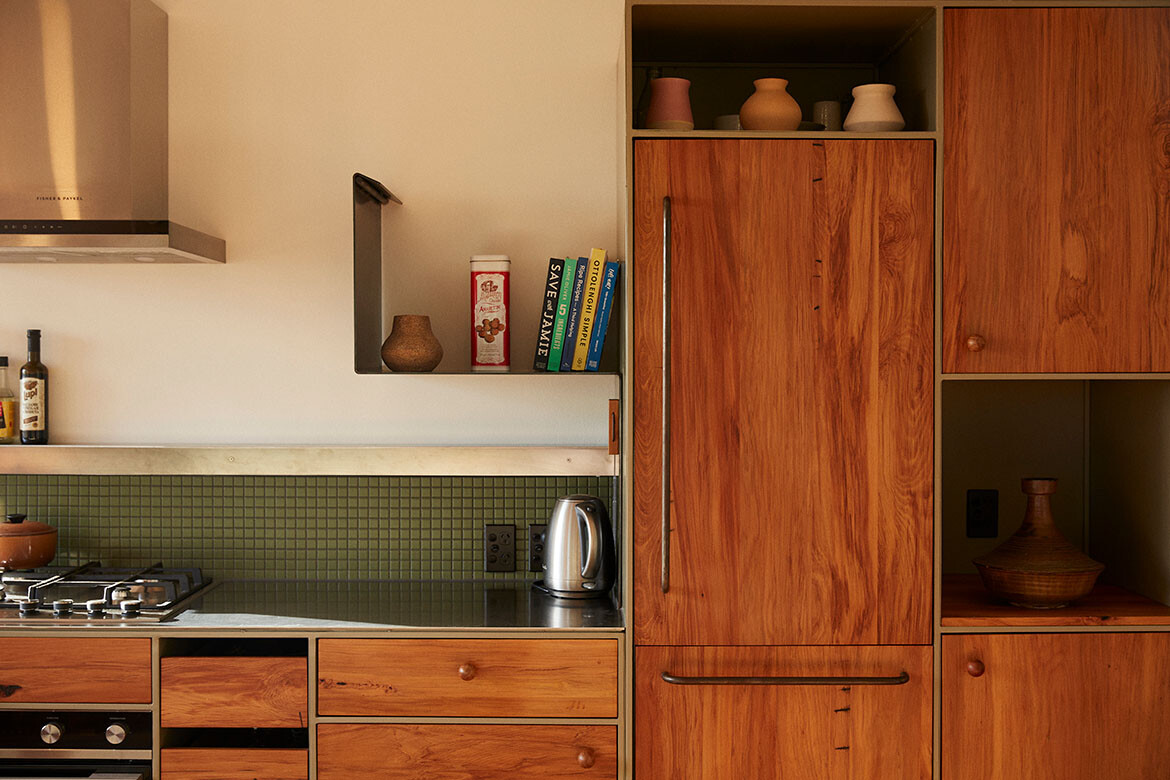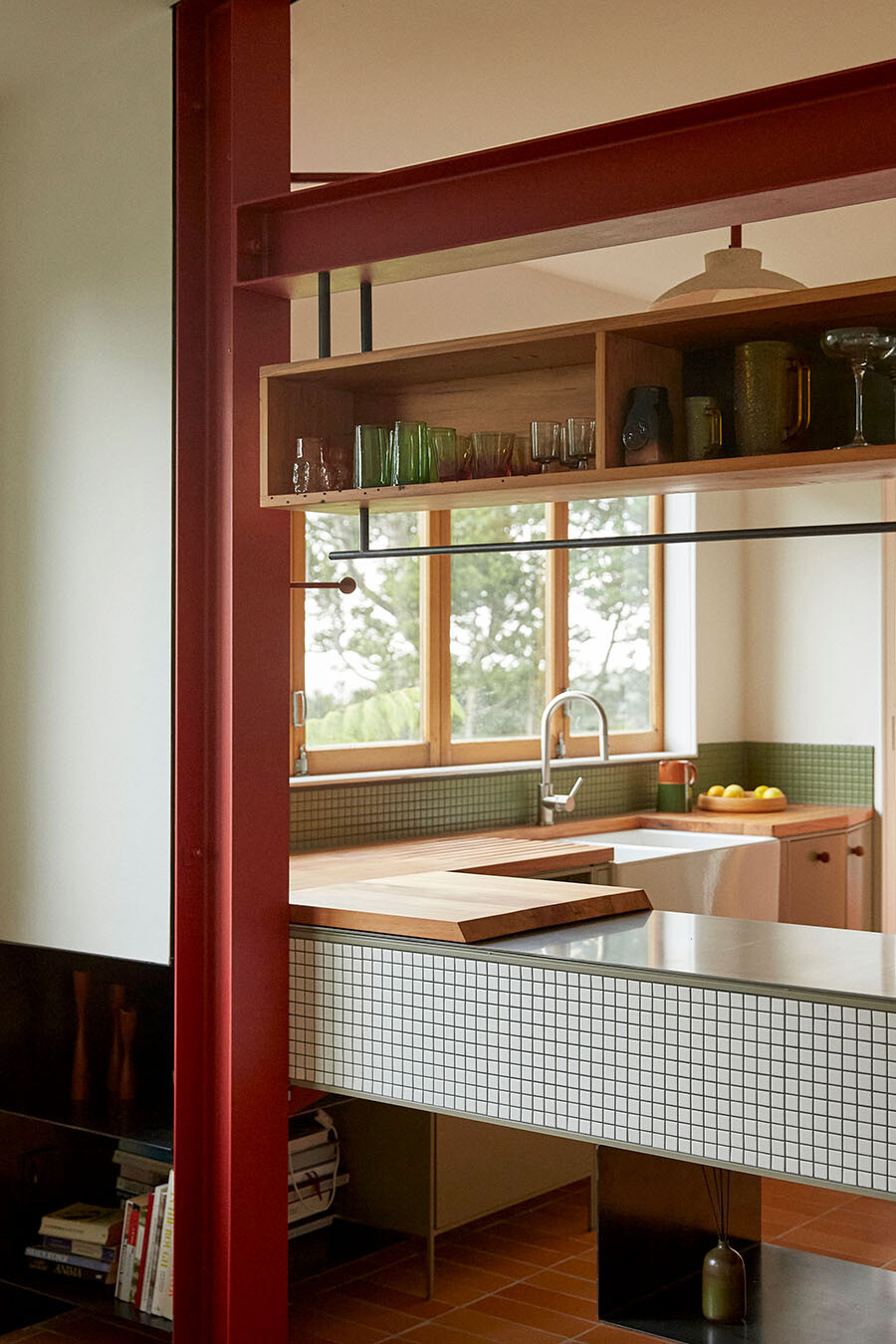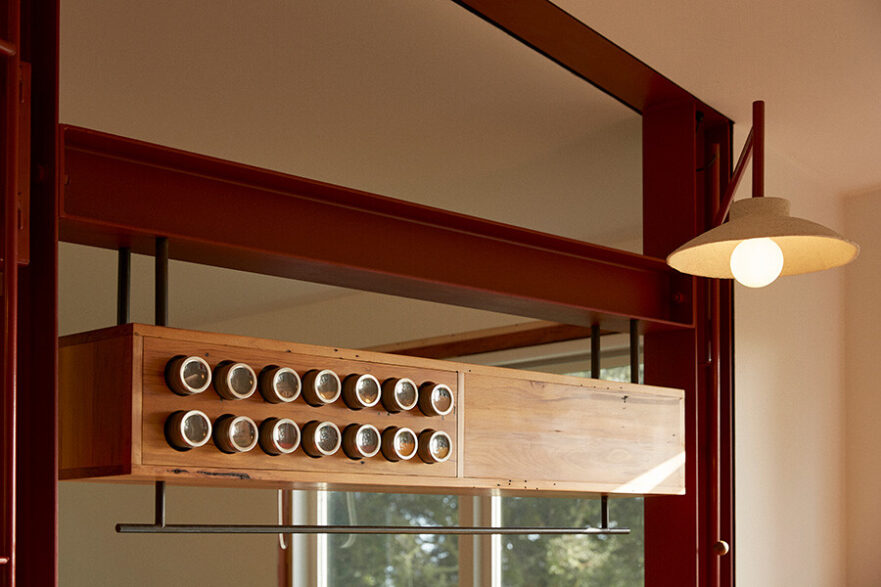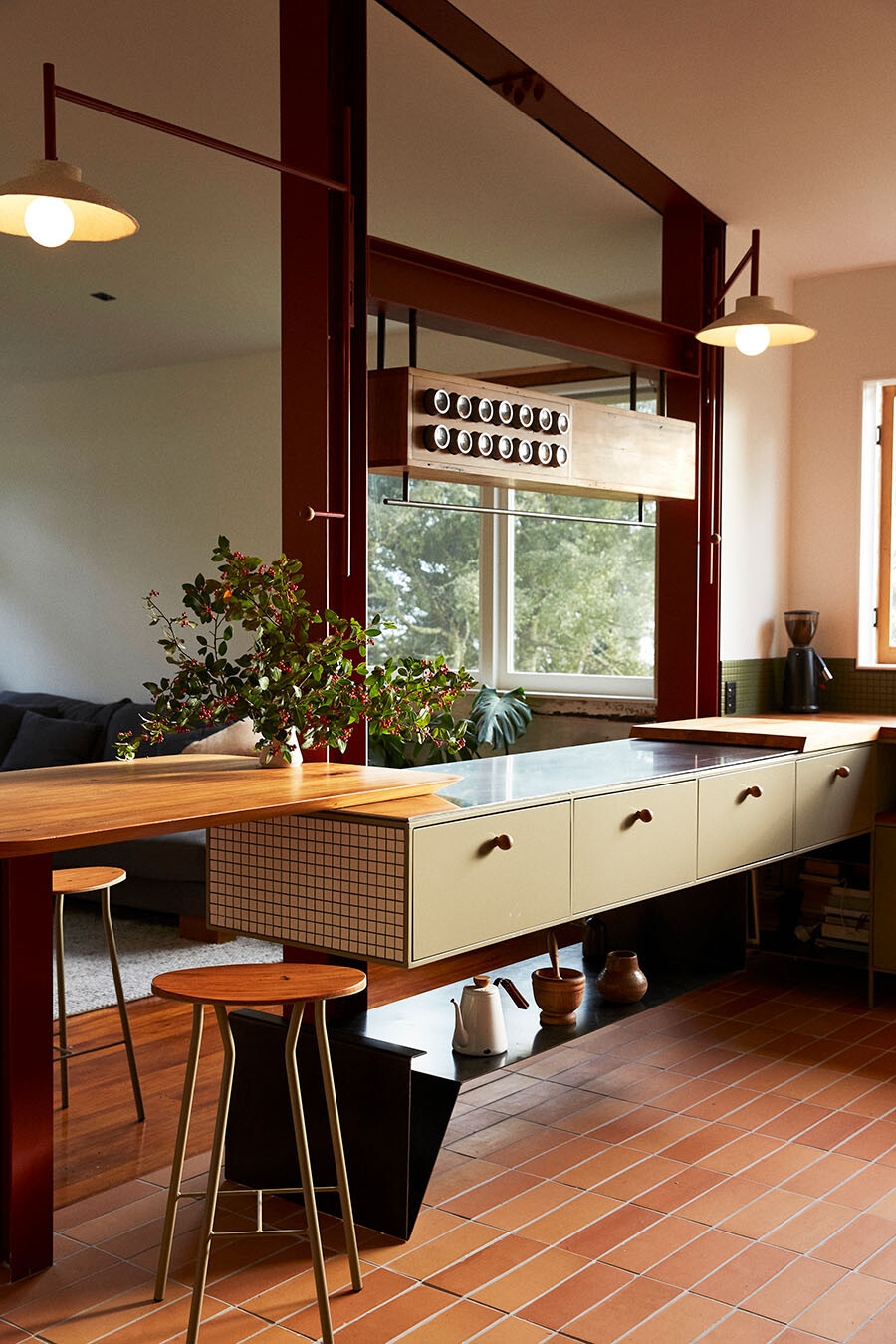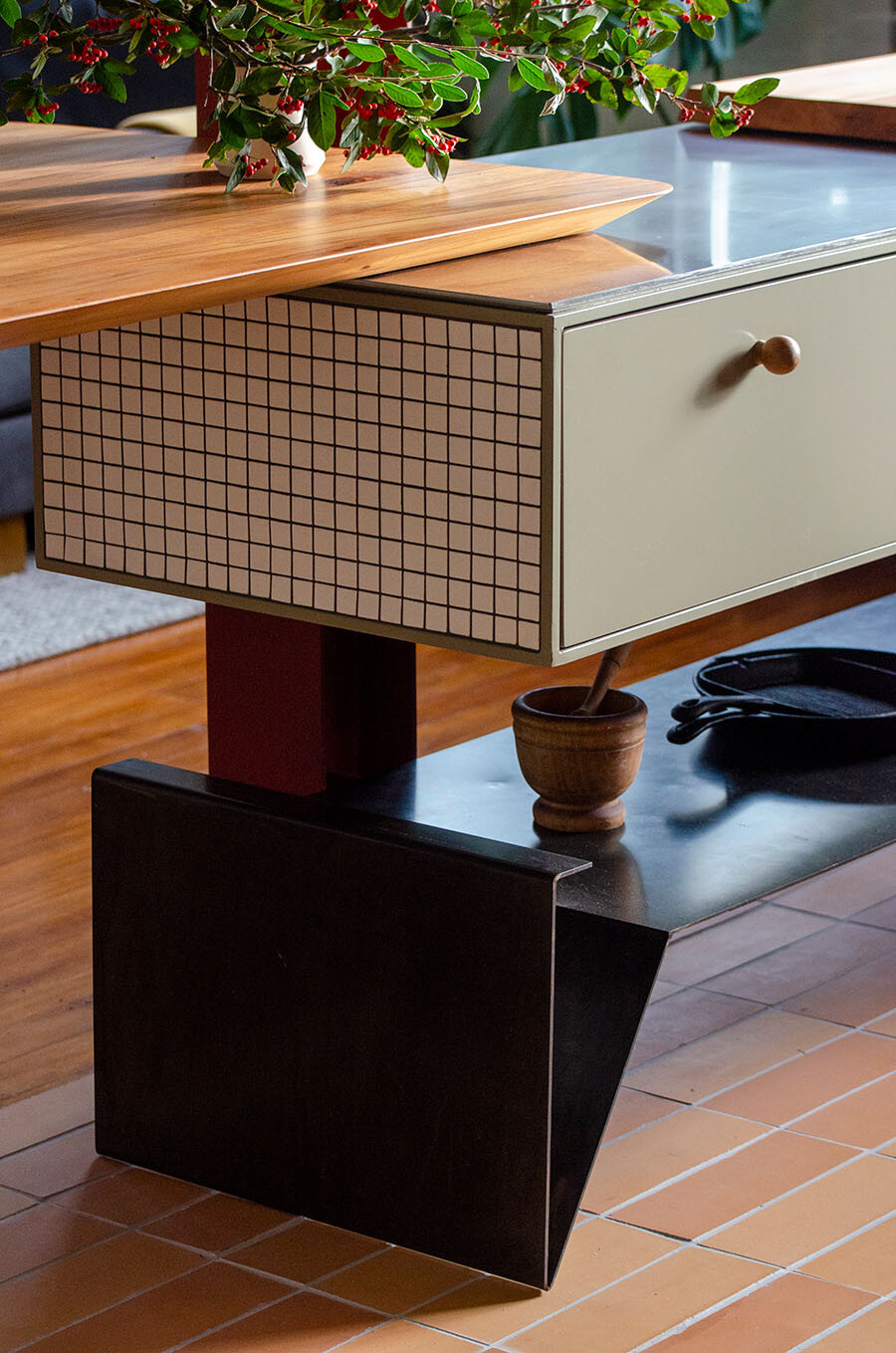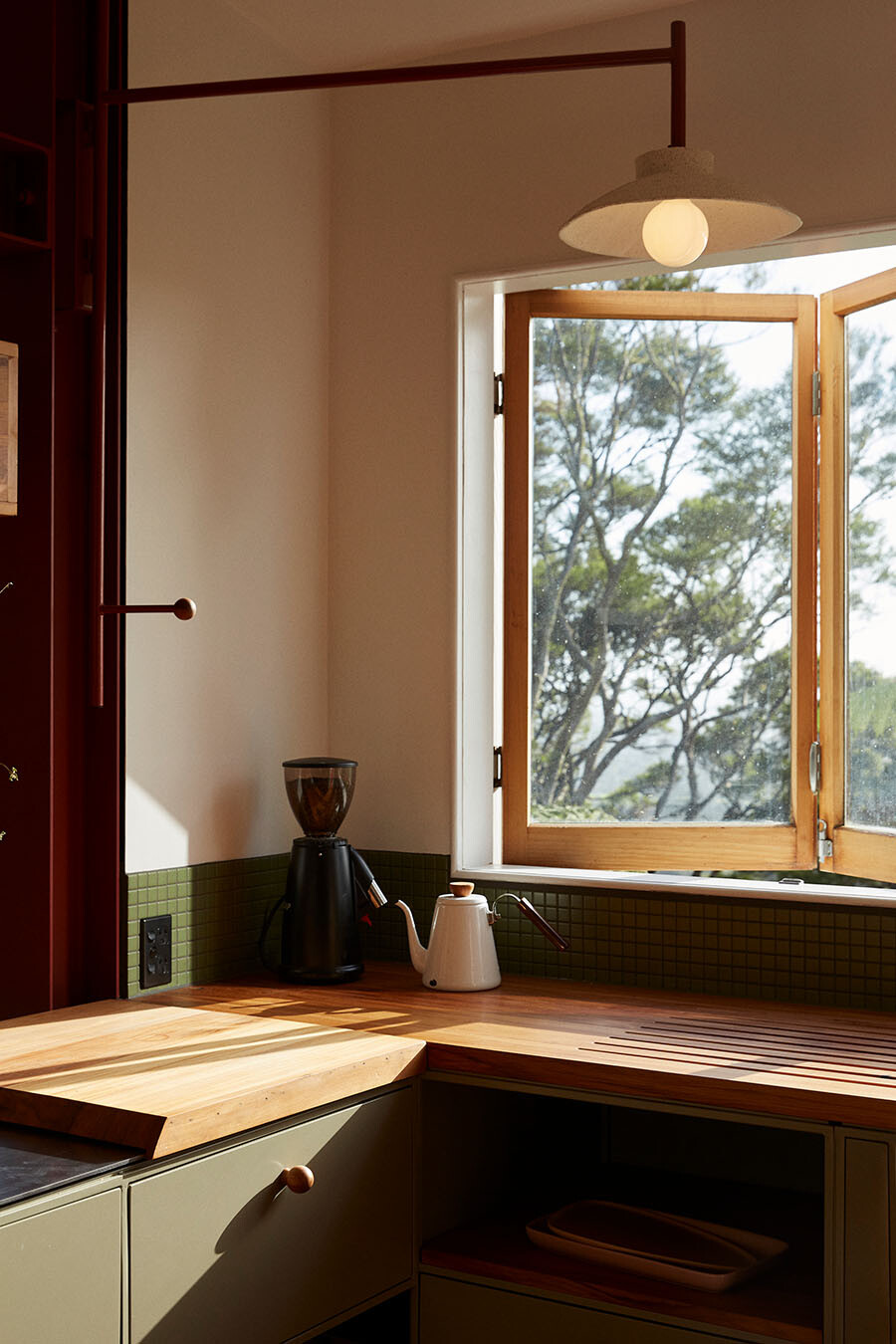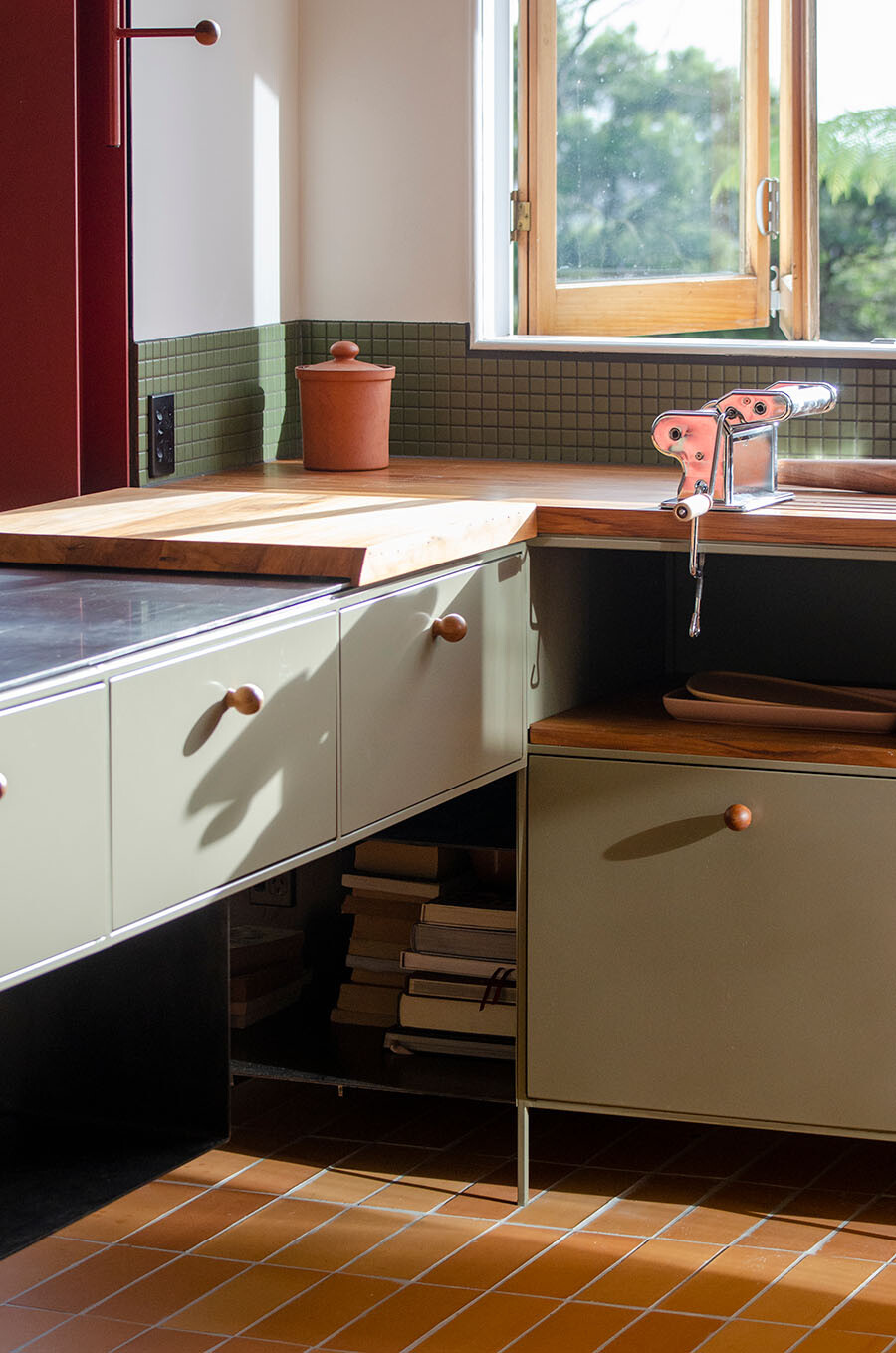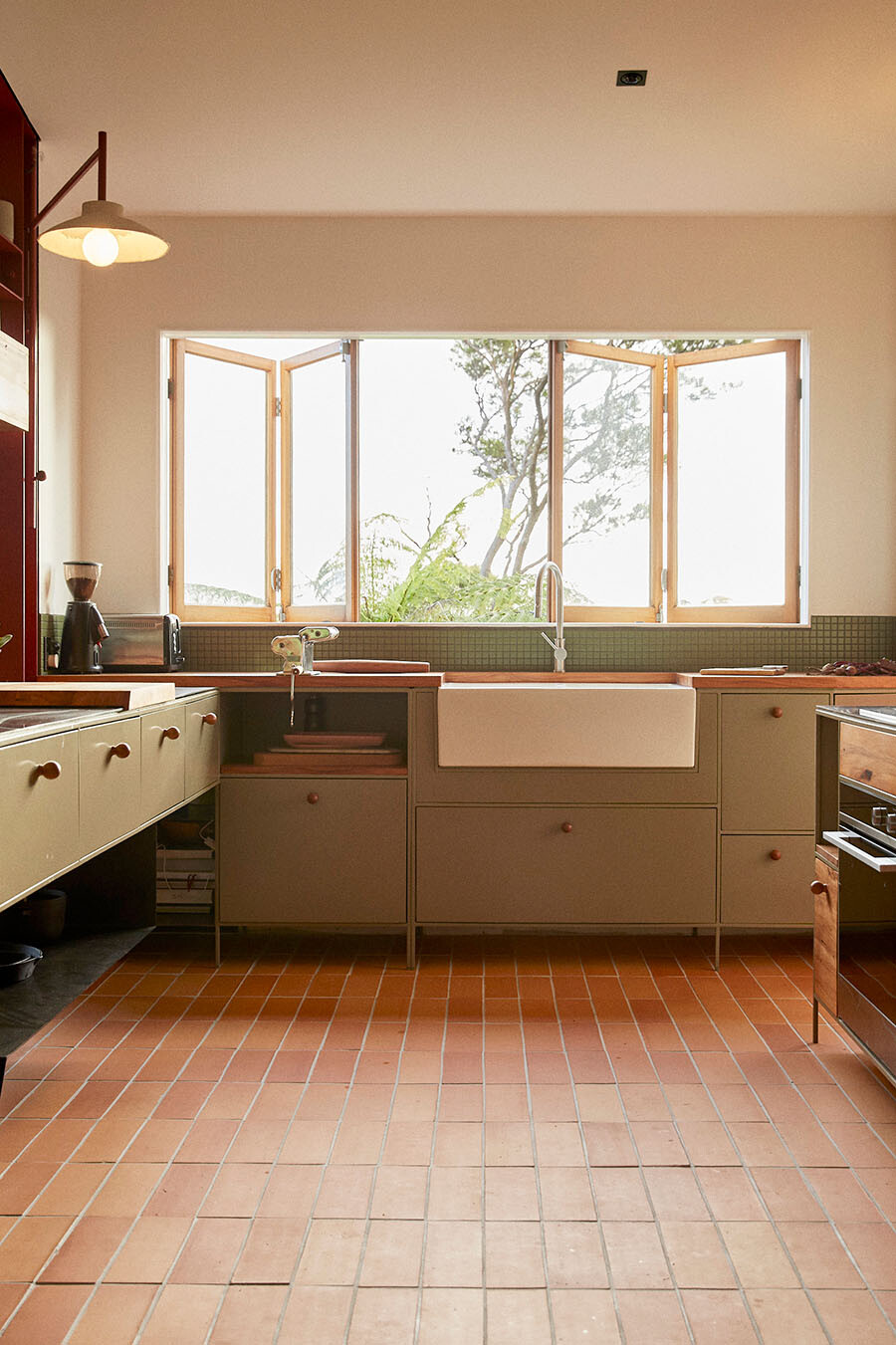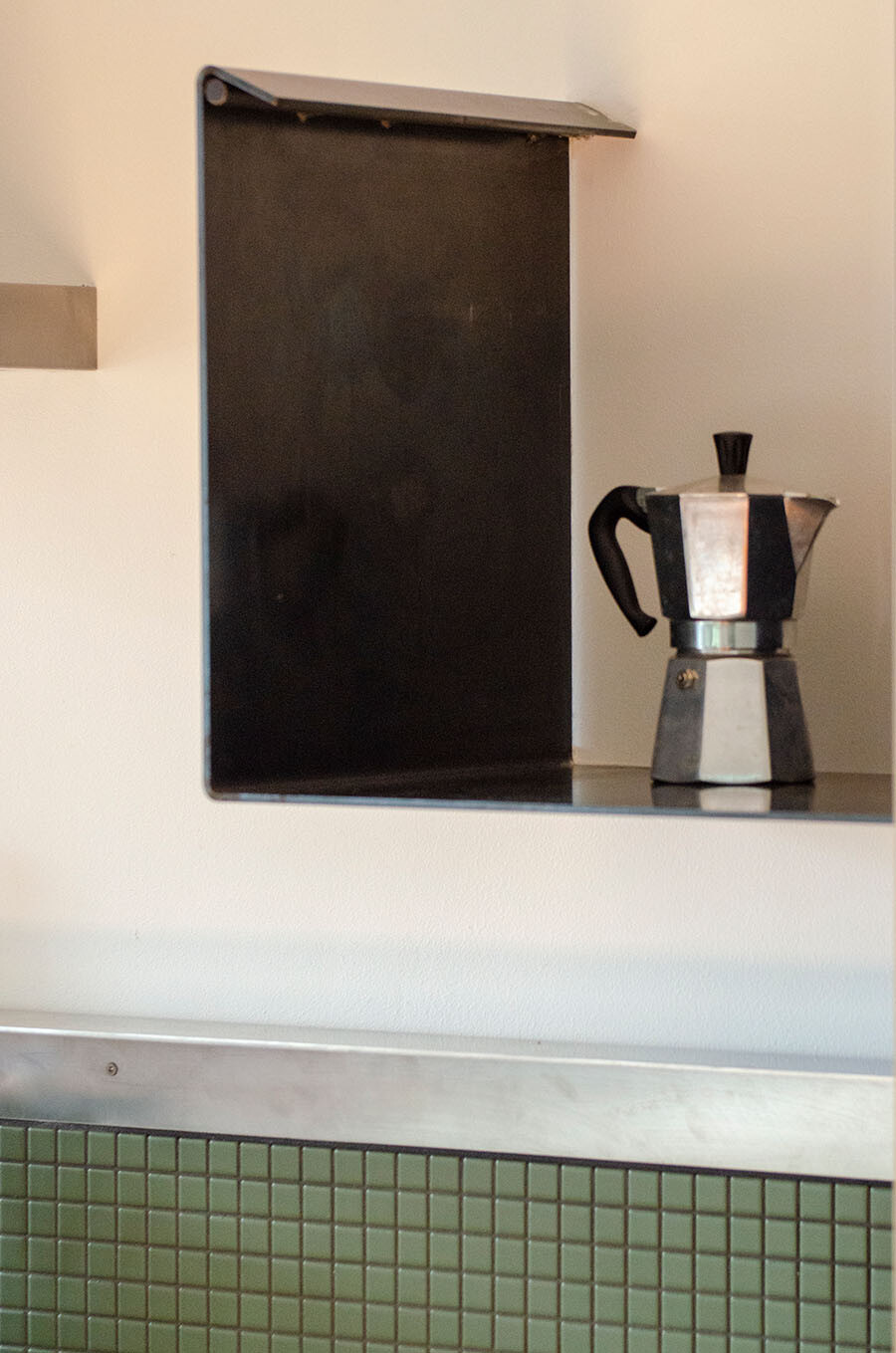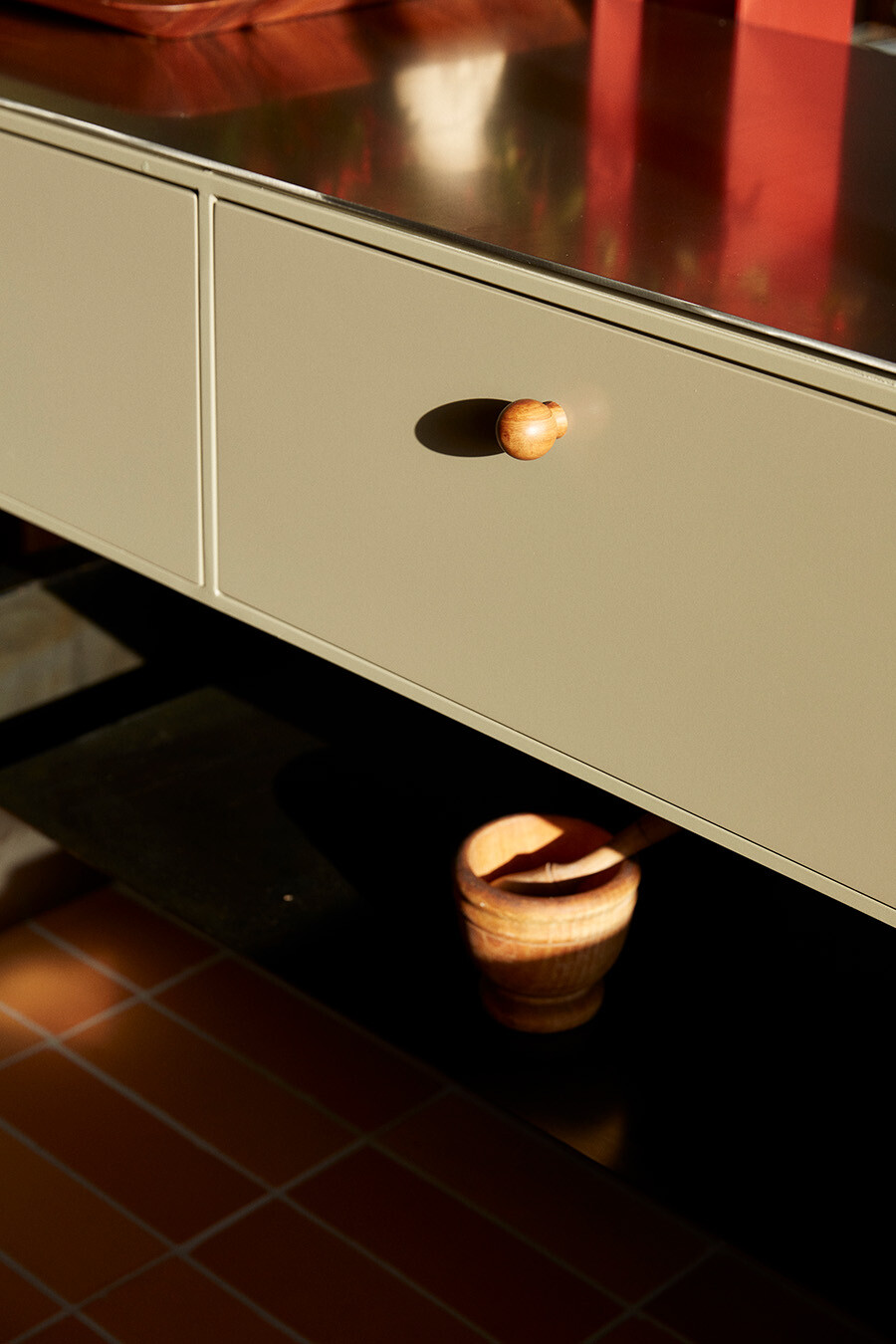 ---