Wanting a bespoke and elegant extension of Besuto, the Omakase restaurant in Circular Quay, Sydney, the below ground pocket tenancy two blocks away in Sydney Place, was, for owner Joel Best, perfectly located. Attracting passers-by to some degree, the design intent is more closely aligned to a very specific clientele. Indeed, the offering stems from Best's extraordinary collection of whisky.
As such, the entry is subtle and tuned to confirming the space as the destination, rather than crowd attracting: "It's leading the clients to an after-dining whisky experience that's quite evocative, so yes it does attract curiosity from the street, but it is more curated to people who enjoy whisky, who are looking for a hidden spot. It isn't meant to be a hustle bustle type of bar," explains Yvonne Li, senior interior designer, Tom Mark Henry.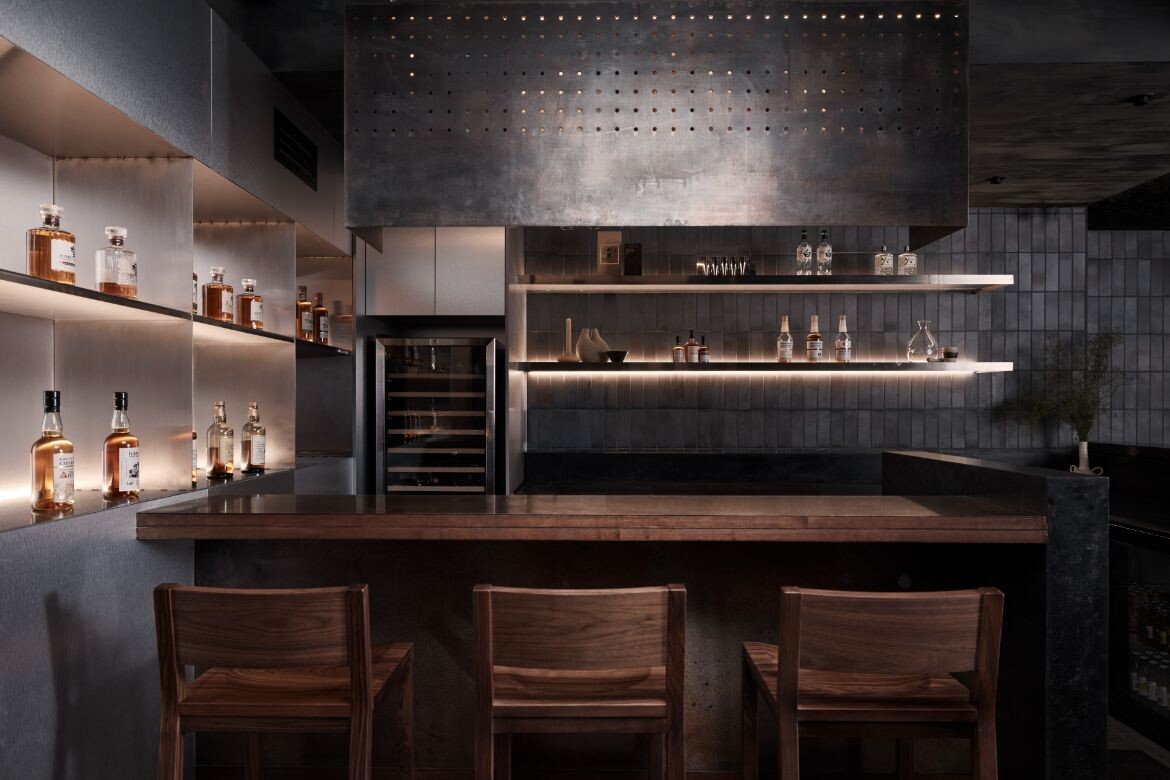 Entering via a slightly Japanese street canopy over fluted glass walls, the descent is via a narrow staircase with an open steel balustrade (much as you would find in Tokyo). The primary focus, however, is the large tapestry filling the facing wall.
"The bespoke custom tapestry by a local artist evokes the imagery of a bar as something that's a little bit mysterious, but also fun and playful, which is much like Joel's personality," says Li. Created by artist Chris Yee, (known for his animated music videos for Sam Smith and Justin Bieber, as well as significant art contributions, most recently at Semi Permanent as keynote speaker and exhibiting artist at Artpace) the tapestry is a contemporary take on traditional Noh theatre with dancing masked figures that have both a modern and traditional wildness. The overall design however is tonally sophisticated with grey and terracotta shades setting a refined ambience for guests.
As the space opens, the polished concrete, steel, timber and leather of the material palette delivers a cool and elegant mood. The three large timber Tomoko Bar Stools (Obodo) at the bespoke timber bar are designed for intimate whisky-tasting flights, where guests can chat with Best and venue manager Jake Errey (sake and wine sommelier and self-confessed whisky geek) about the rare whiskys they are sipping.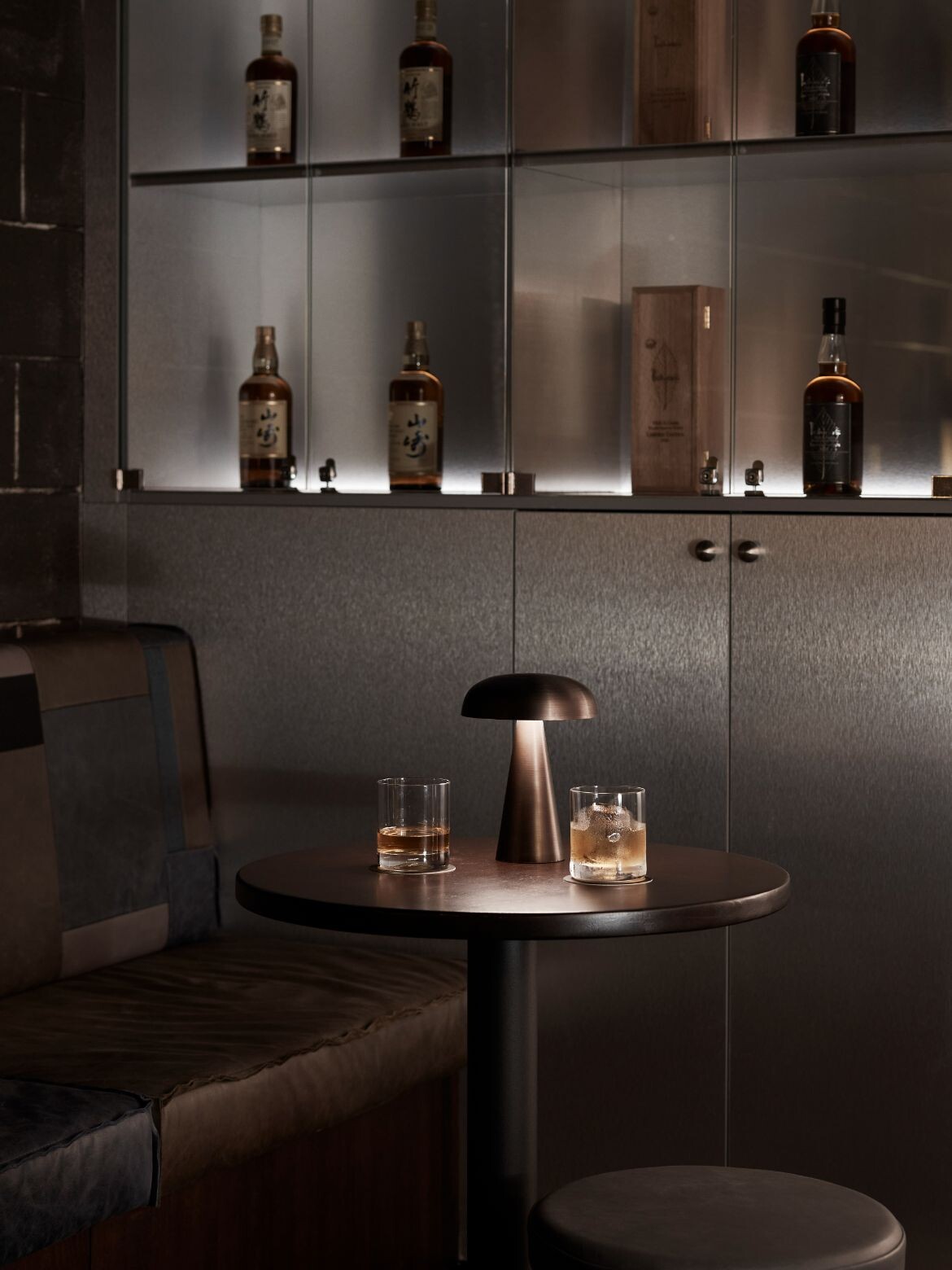 Over the bar is a large steel gantry with a round punctured detail. It is vast and robust and gives the room a decided weight and clarity. This is compounded by the wall of bluestone brick tiles, and steel bar return, while the lighting and sculpture soften the whole. It is an interesting balance that is more suggestive of the Japanese design aesthetic than motif driven.
"The design speaks to the idea of serving Japanese whisky and Japanese-inspired bar snacks. But also, the idea of wabi-sabi: having a lot of imperfections and materials that will age with the bar and be part of the underground, keeping it quite dark and moody," says Li.
Steel is picked up in small table details and in the wall of shelves, with matte and gloss surface finishes gently reflecting the warm glow of ambient lighting. The large wall of shelves displaying whisky bottles has small timber doors that hint at something beyond. These occasionally open to allow delectable treats such as lightly smoked oysters or whisky gelato to be passed through from owner/chef Best's hidden kitchen.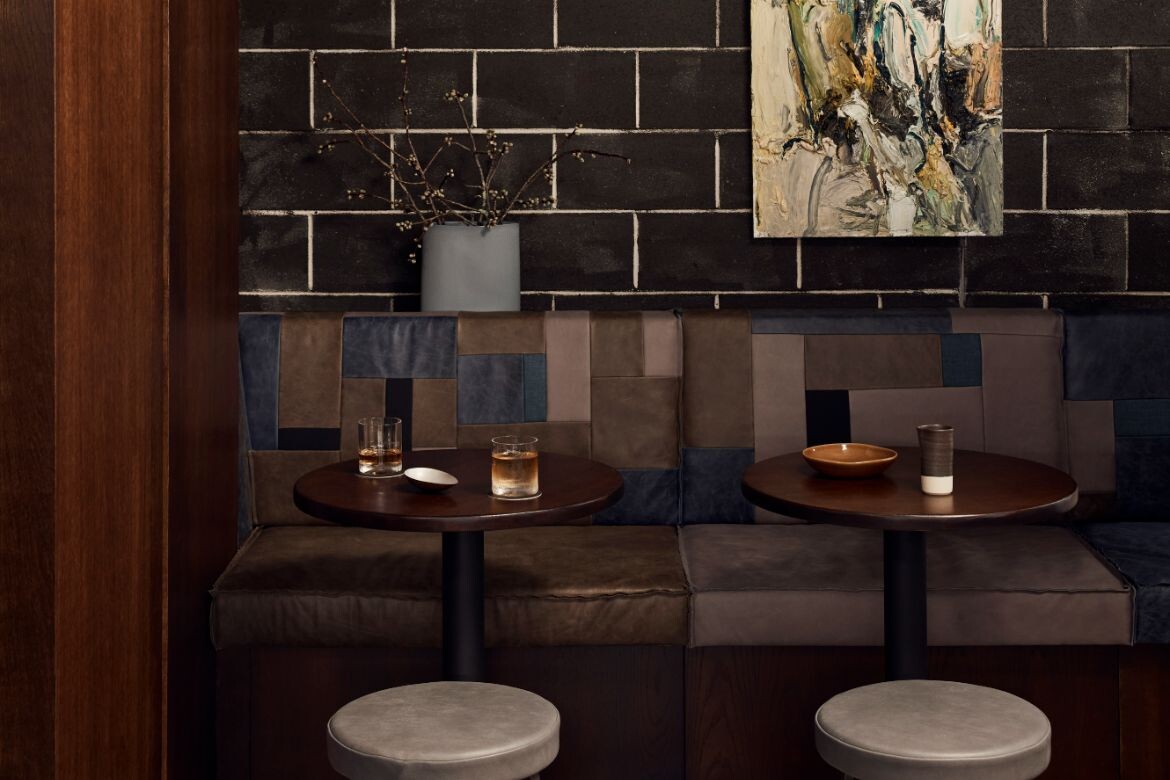 The lounge area surrounding the bar is moody and cool with patchwork aniline leather banquettes (in light to deep greys), low leather Factory Stools (Obodo), options of timber or steel tables, and polished concrete floors.
"We wanted to lean into that raw, robust feeling of the underground bar. So, we kept quite a lot of the materiality as raw as possible to use its own form and thicknesses rather than creating too much finer detailing," says Li. The offcuts from the patchwork have been revisited as a centrally opening Japanese Noren curtain separating the bar from the back of house and bathrooms.
Lighting is impeccably tuned to the underground mood with the rawness of materiality honestly showcased: "Light was used as a medium and materiality to help guide patrons throughout the bar and its touchpoints," says Li.
To the side of the bar return for example is a Bocci 73s Wall lamp (Space) paired with a Morgan Stokes sculpture (Simulation Sculpture 8). Over the point of sale counter is Thomas Maxim's Glass Brick Pendant (Thomas Maxim Studio), in all its minimalist simplicity, while Antoni de Moragas Gallissa's Moragas lamp from 1957 (Santa and Cole), adds texture and warmth to the table tucked behind the column.
"We have quite warm lighting throughout the space to utilise the reflective materials and to help bounce the golden glow without it being downlights or direct lighting. It's all about the ambience and the mood and bringing in that glow of whisky and that golden glow that whiskey evokes throughout."
Project details
Project – Bar Besuto
Interior design – Tom Mark Henry
Location – Gadigal Country, Sydney
Photography – Damien Bennett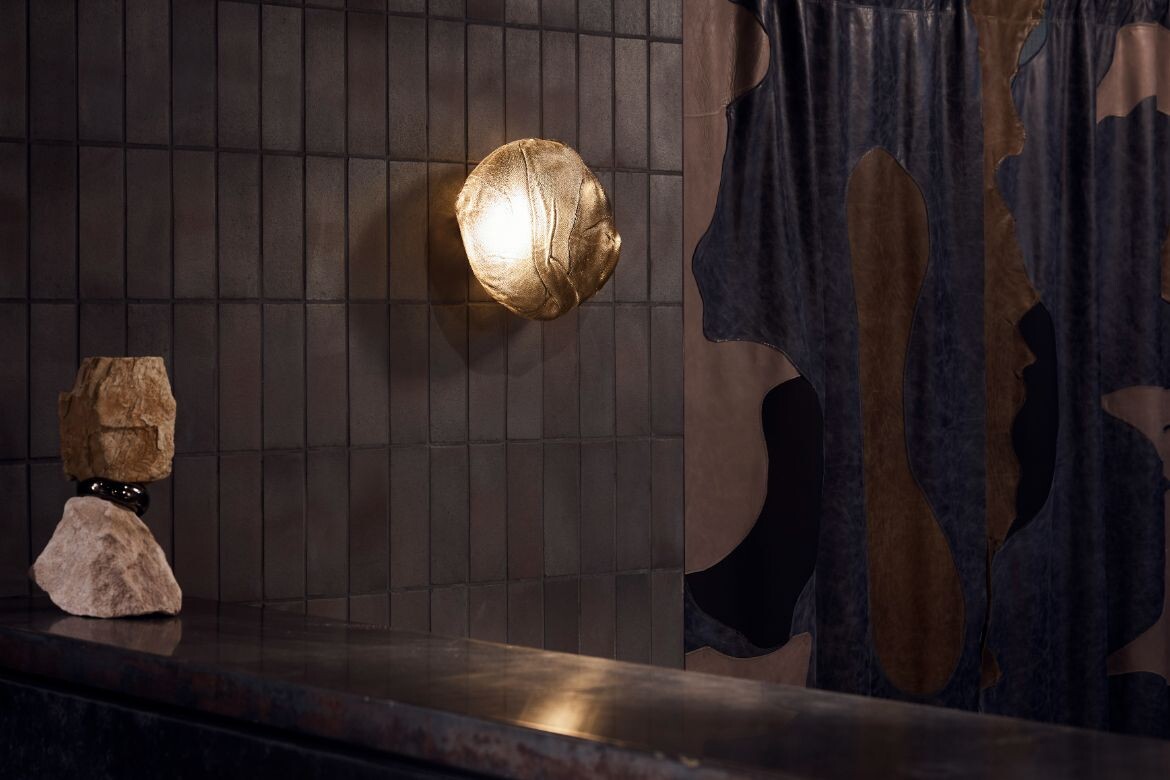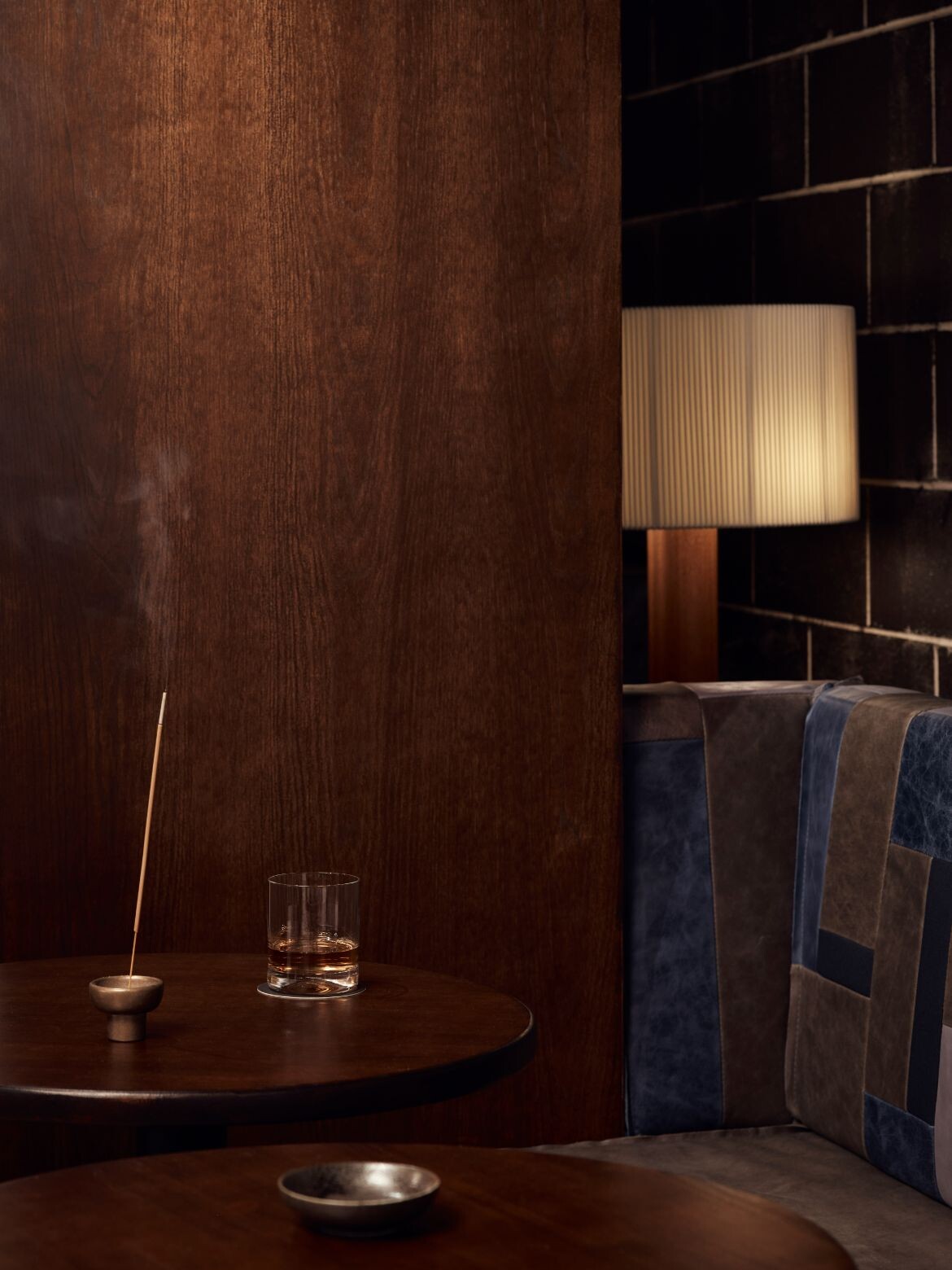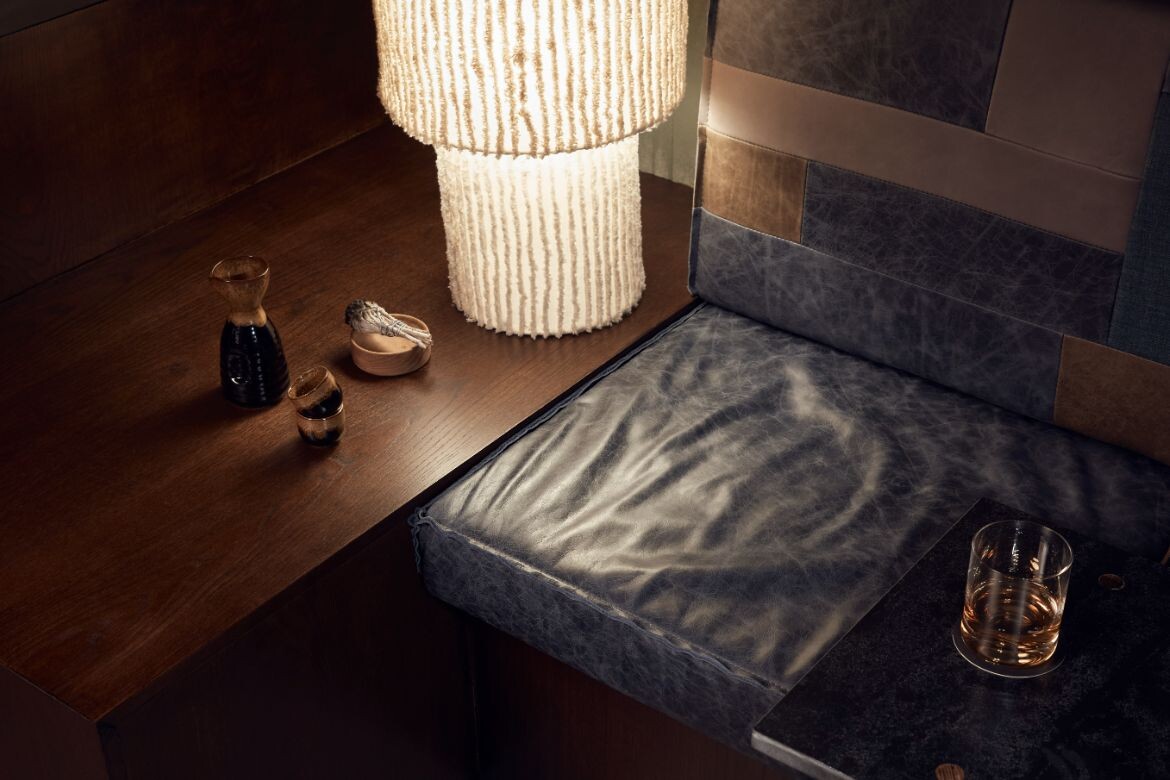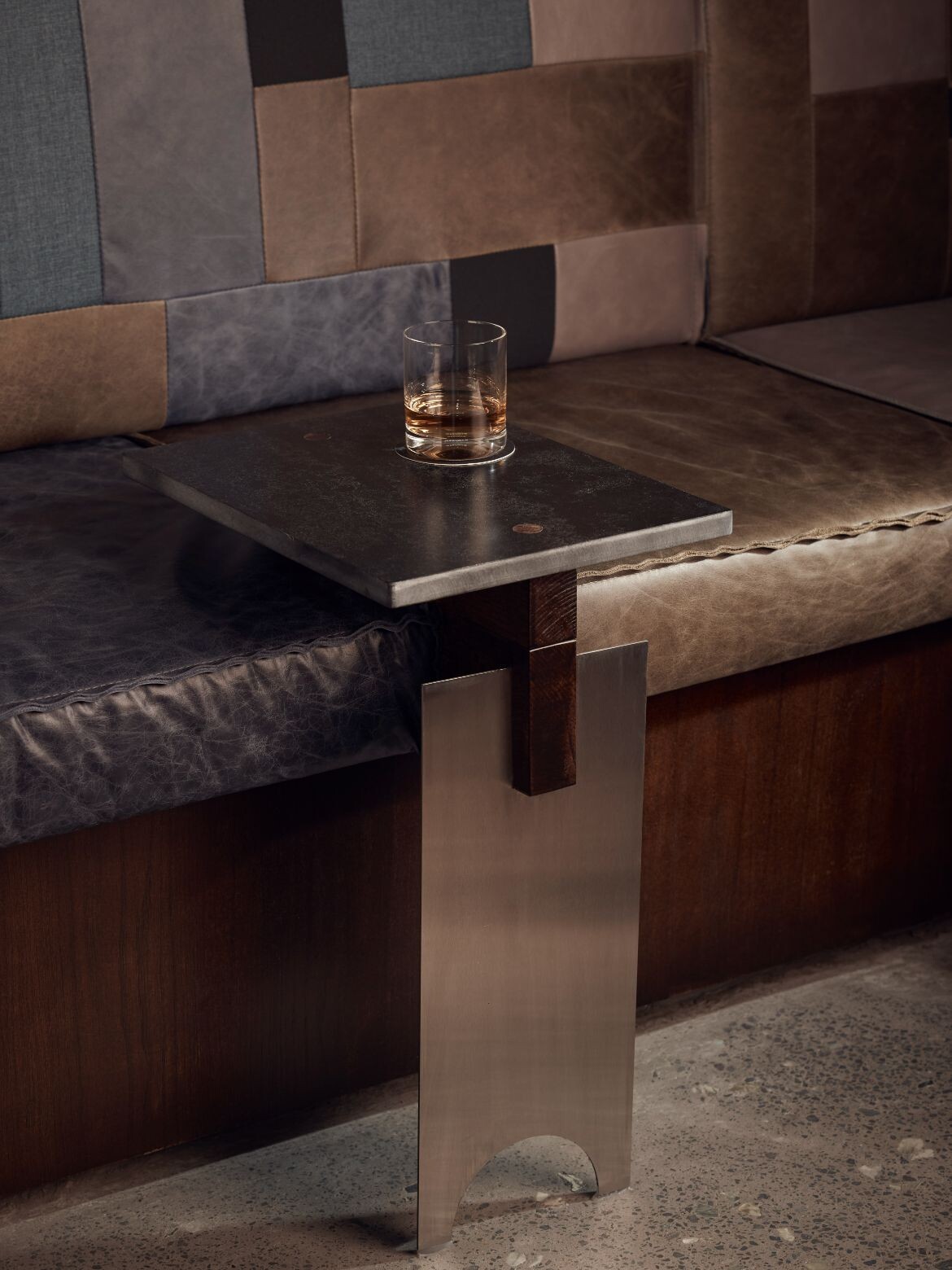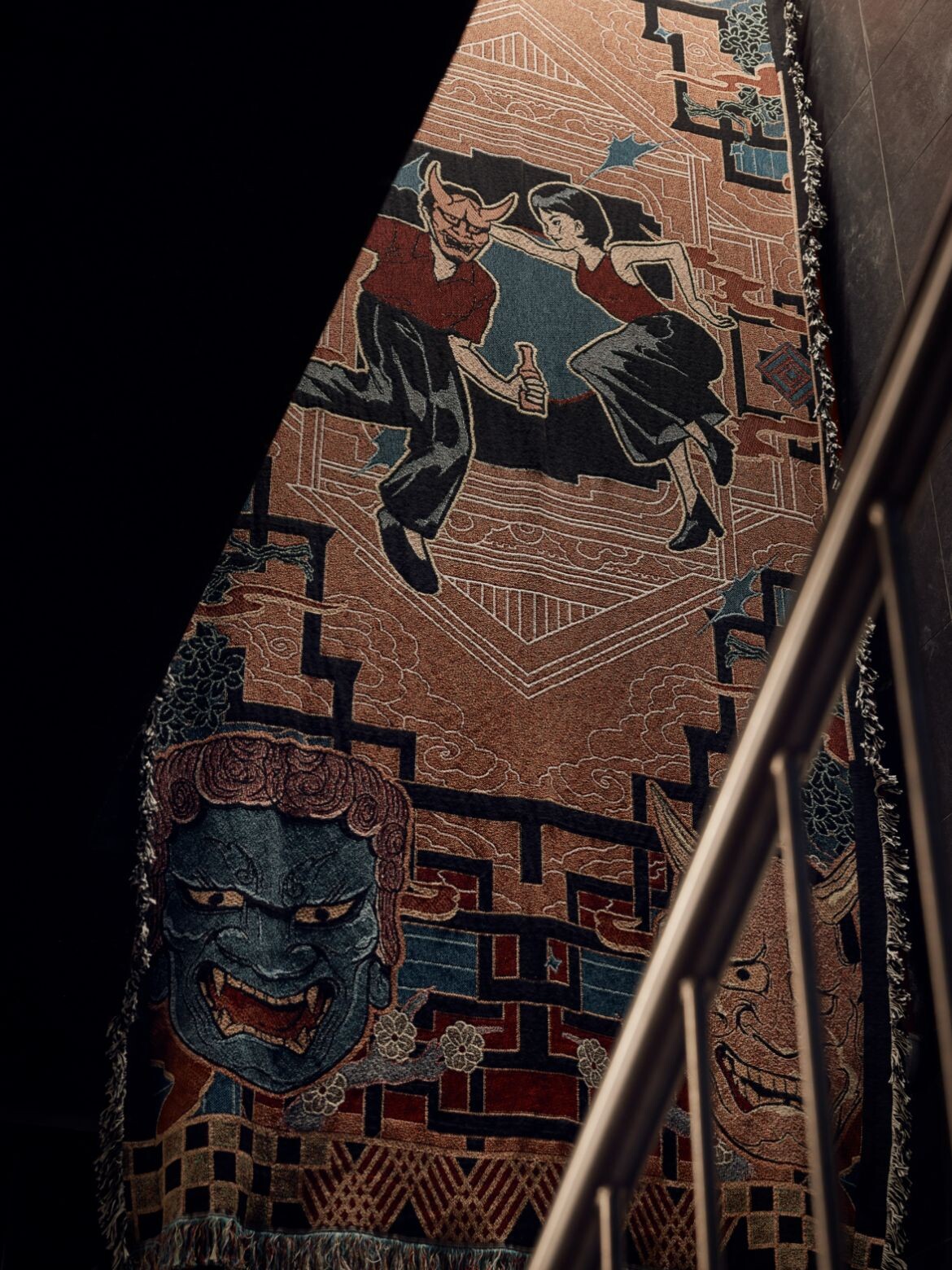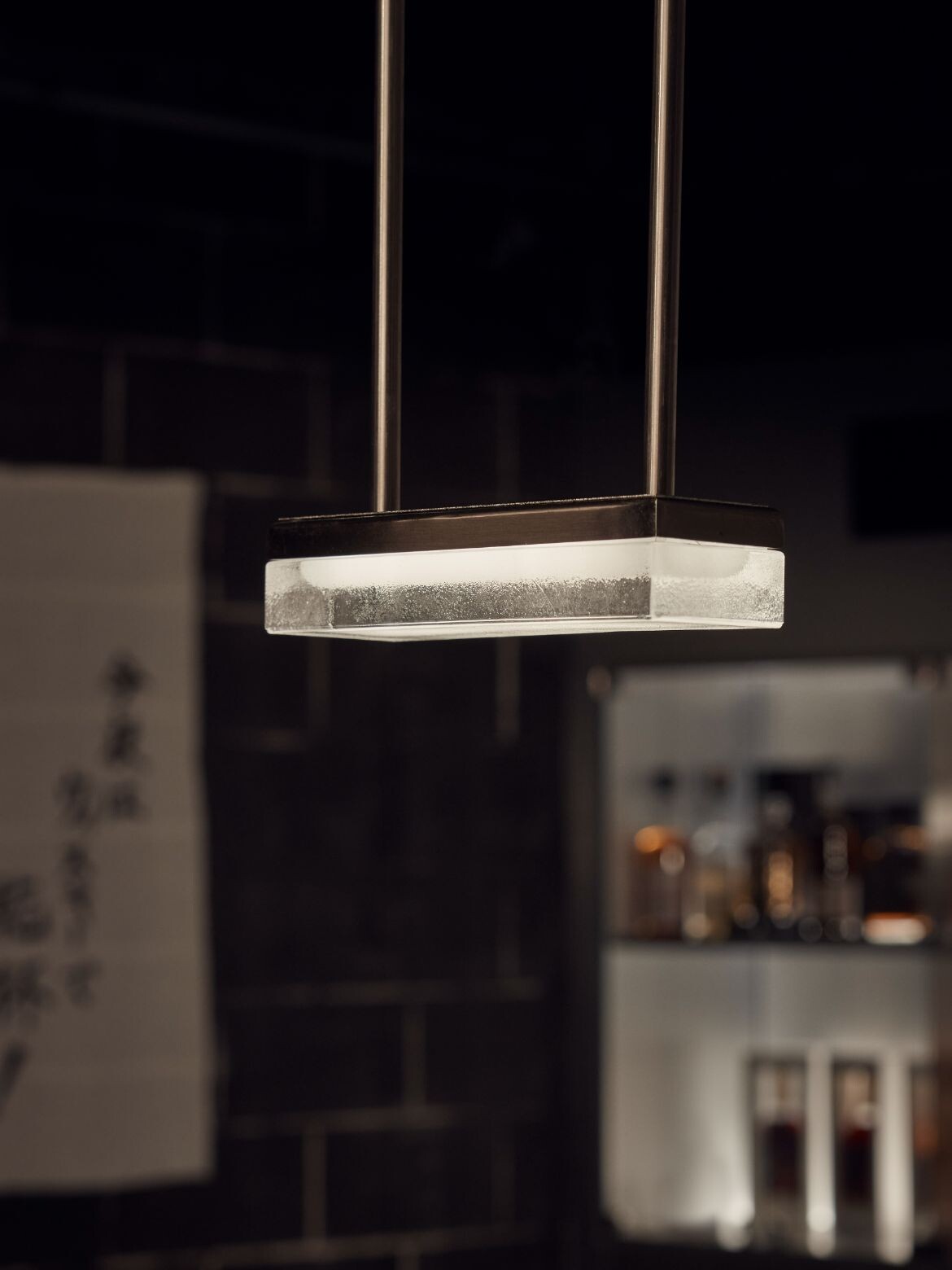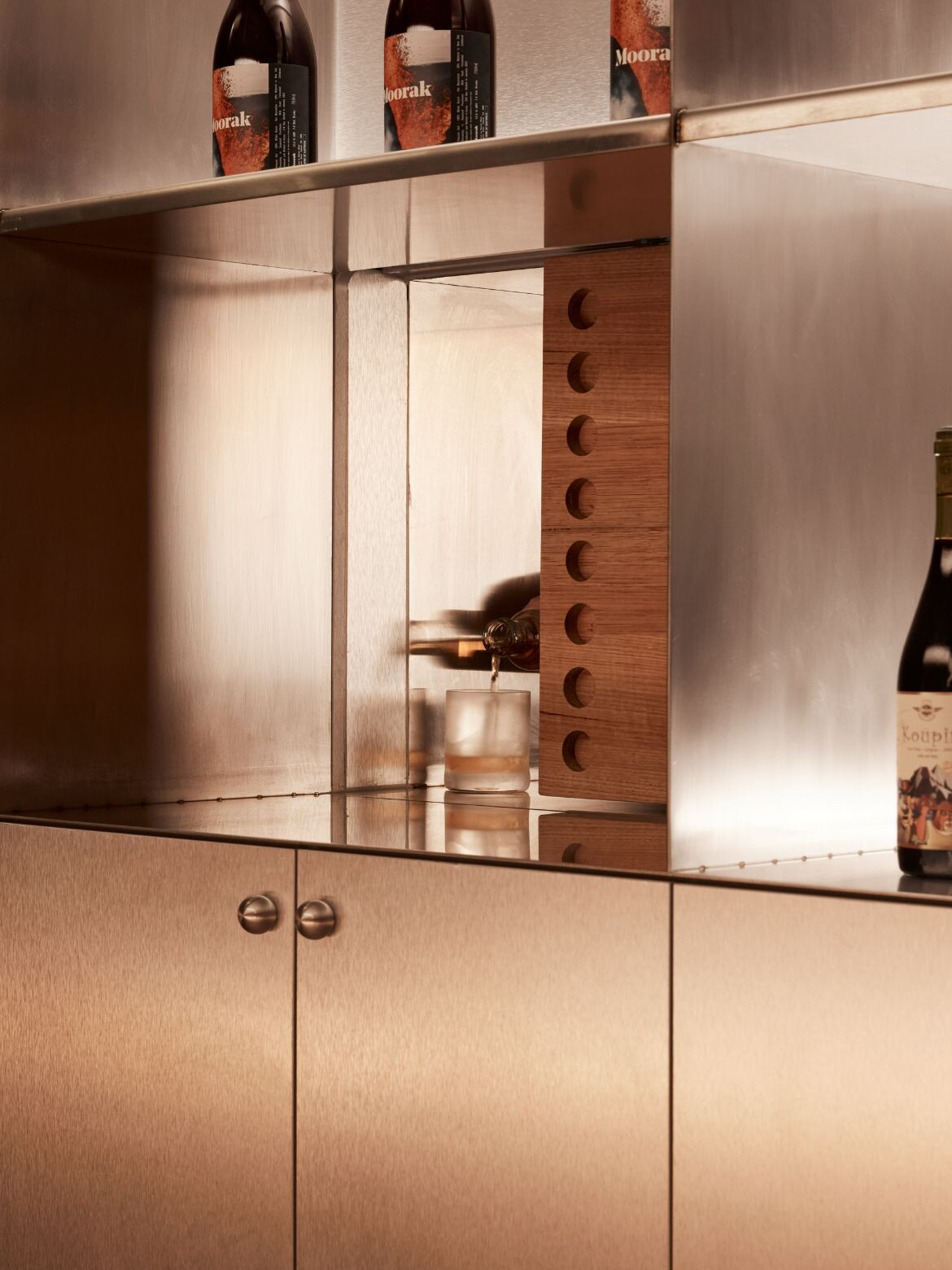 We think you might also like this story on Wahroonga House by Tom Mark Henry Studio.
---