That said, there is absolutely no denying the profound sense of tranquility that reverberates through houses with well-designed brutalist interiors. Archetypally cold, hard materials such as concrete somehow appear softer, more refined. But there's much more to brutalist interiors than just aesthetics. Rather, it is a design philosophy.
As a philosophical approach to design, brutalism prides itself on honesty, simplicity, and functionality above all. In materiality, brutalist interiors are not only brutally honest, but inherently practical too – take brutalism's hallmark material, concrete, for example. Not only is concrete incredibly versatile and enduring, but thanks to its high thermal mass, it plays a core role in the context of passive solar design. The same can be said for many other brutalist-esque materials such as brick and natural stone.
Using such unapologetically robust materials, of course, comes hand-in-hand with the risk of manifesting into spaces that feel cold and austere. But used wisely, they are capable of great softness and personality — just as they do in these eight beautifully brutalist interiors.
Balmain Rock by Benn+Penna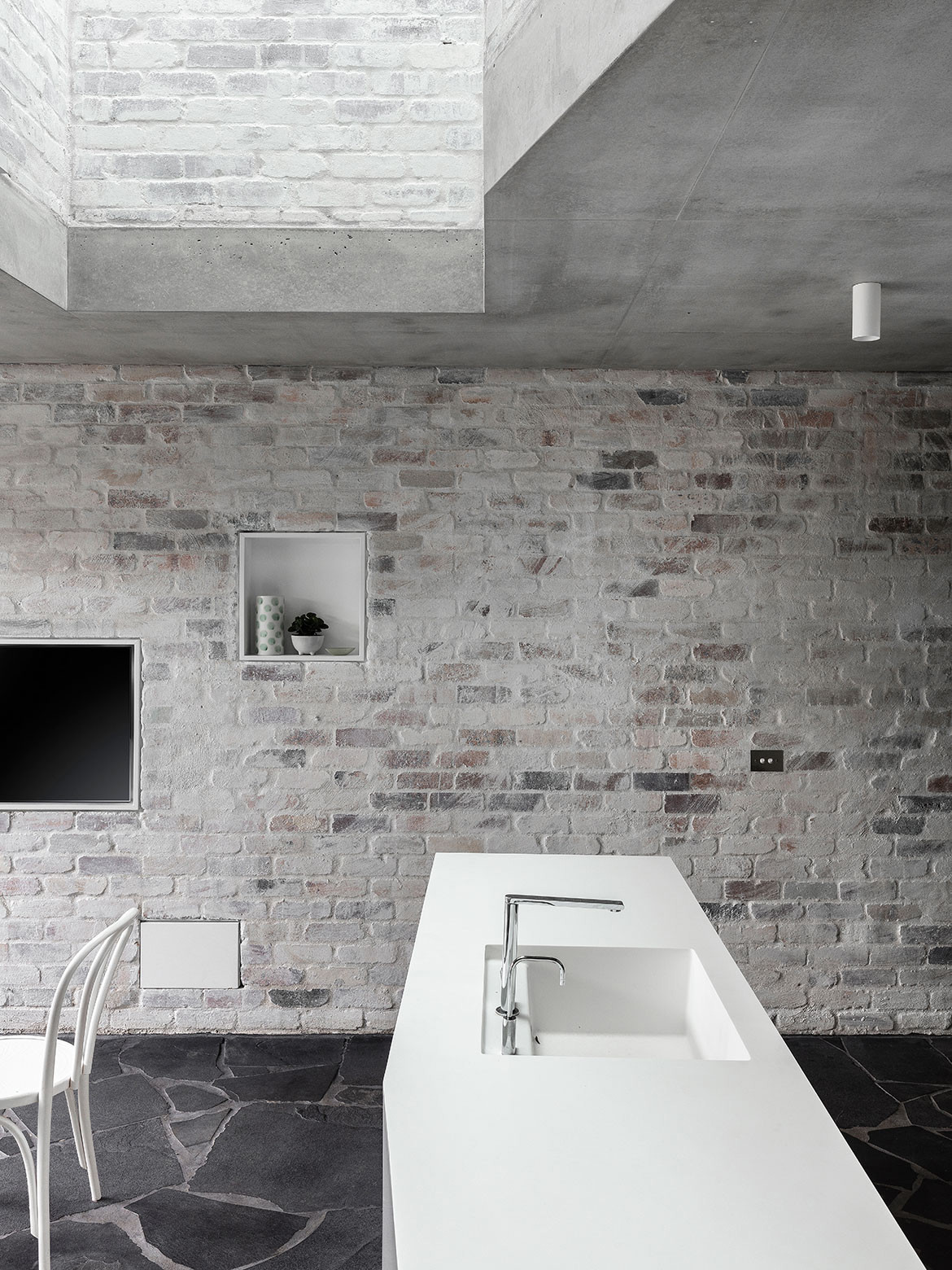 Featuring recycled bricks from The Brick Pit and Corian kitchen bench. Photography by Tom Ferguson.
Behind the façade of a c.1860s sandstone cottage – one of the oldest in Balmain, Sydney – is a two-storey concrete pavilion with spaces and openings as if they have been carved out from a solid block. The kitchen and dining area of Balmain Rock by Benn+Penna looks out to the courtyard and sandstone cottage. Its brutalist interiors are lit from above through a sculpted void in the concrete ceiling, its angular form mimicking the kitchen island and basalt pavers. Light also enters down the rear garden stairs and washes along the subtly skewed brick walls, enhancing its effect.
Red Hill House by Mathieson Architects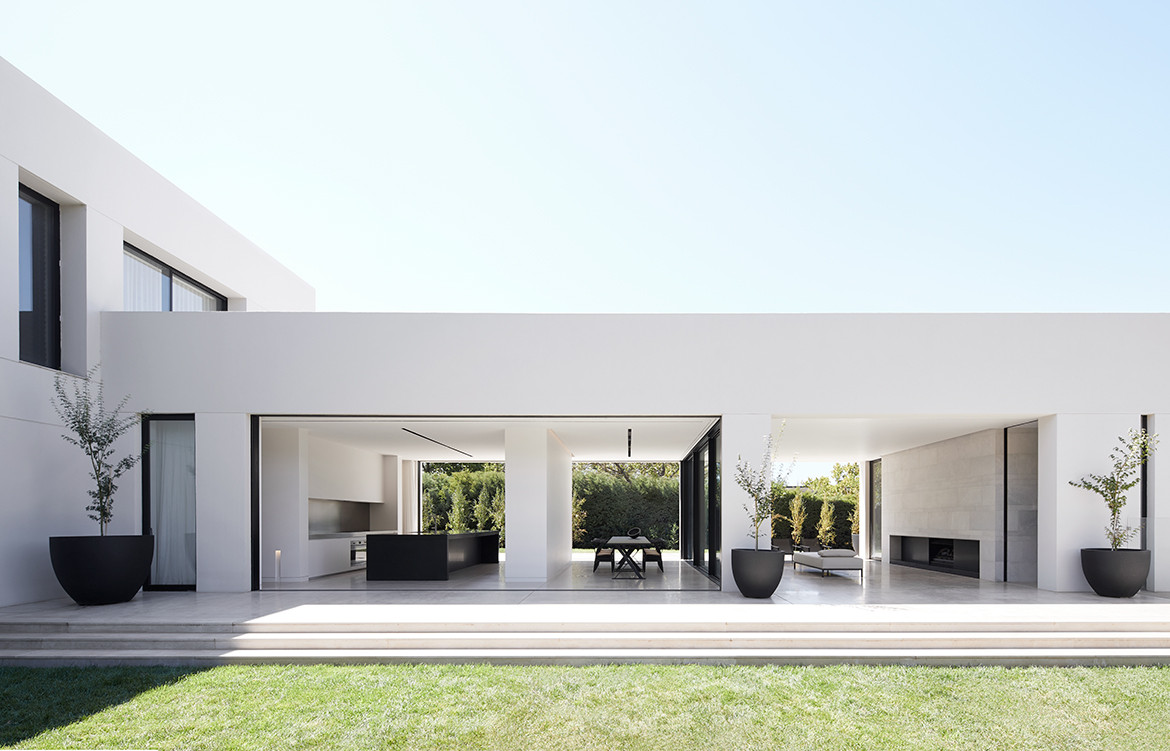 Featuring limestone tiles from CDK Stone. Photography by Romello Pereira.
The exceptionally pared back, brutalist interiors of Red Hill House by Mathieson Architects are defined by a restrained palette of limestone, American Oak, dark stained oak and black granite and sandblasted limestone walls, reinforcing the exceptionally restrained yet luxurious nature of the build.
Coogee Castle by Renato D'Ettore Architects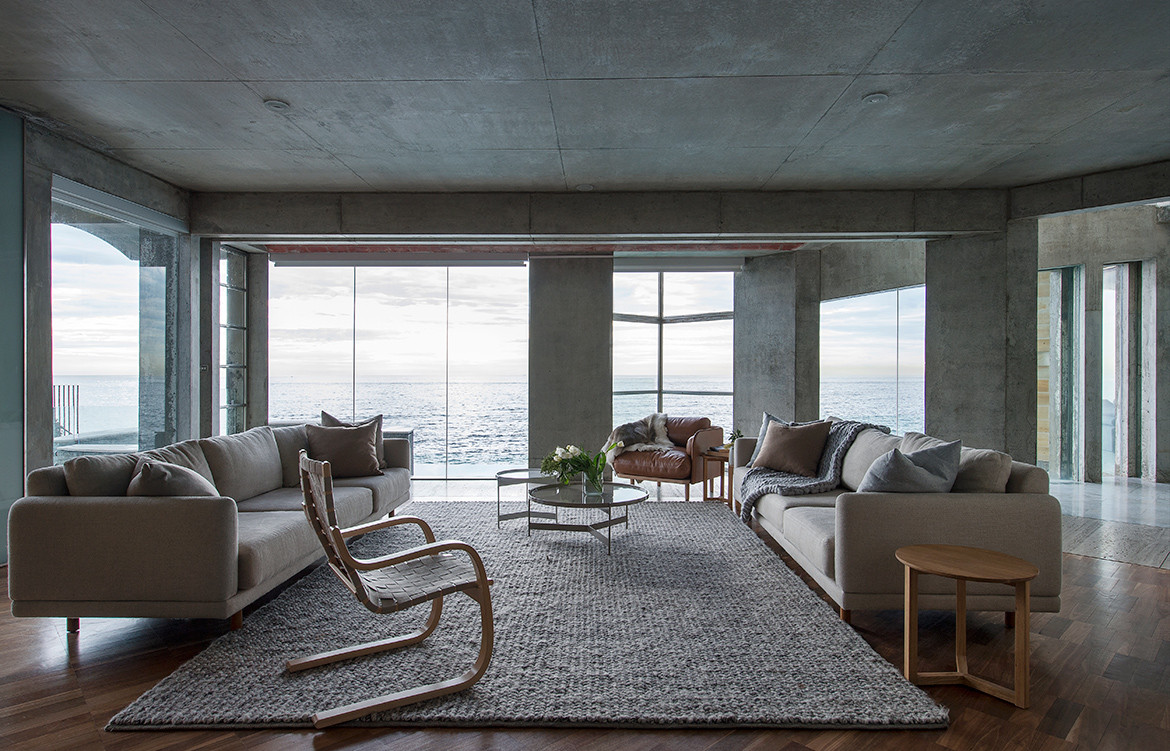 Featuring Armchair 406 by Alvar Aalto from Anibou and Aran armchair by Adam Goodrum from Cult. Interior styling by Malvina Stone, photography by Jody D'Arcy.
The concrete, fort-like façade of the Coogee Castle is architecturally in harmony with the dramatic cliffs and coastline native to the eastern seaboard, yet hints at architect Renato D'Ettorre's heritage: "You can see the influence of Italian architecture and materials," says Coogee Castle's owner, Christine. Teamed with interiors boasting marble, travertine and wooden parquetry, and interior stylist Malvina Stone could have ended up producing a cold and distant interior. 
Mermaid Beach Residence by B.E. Architecture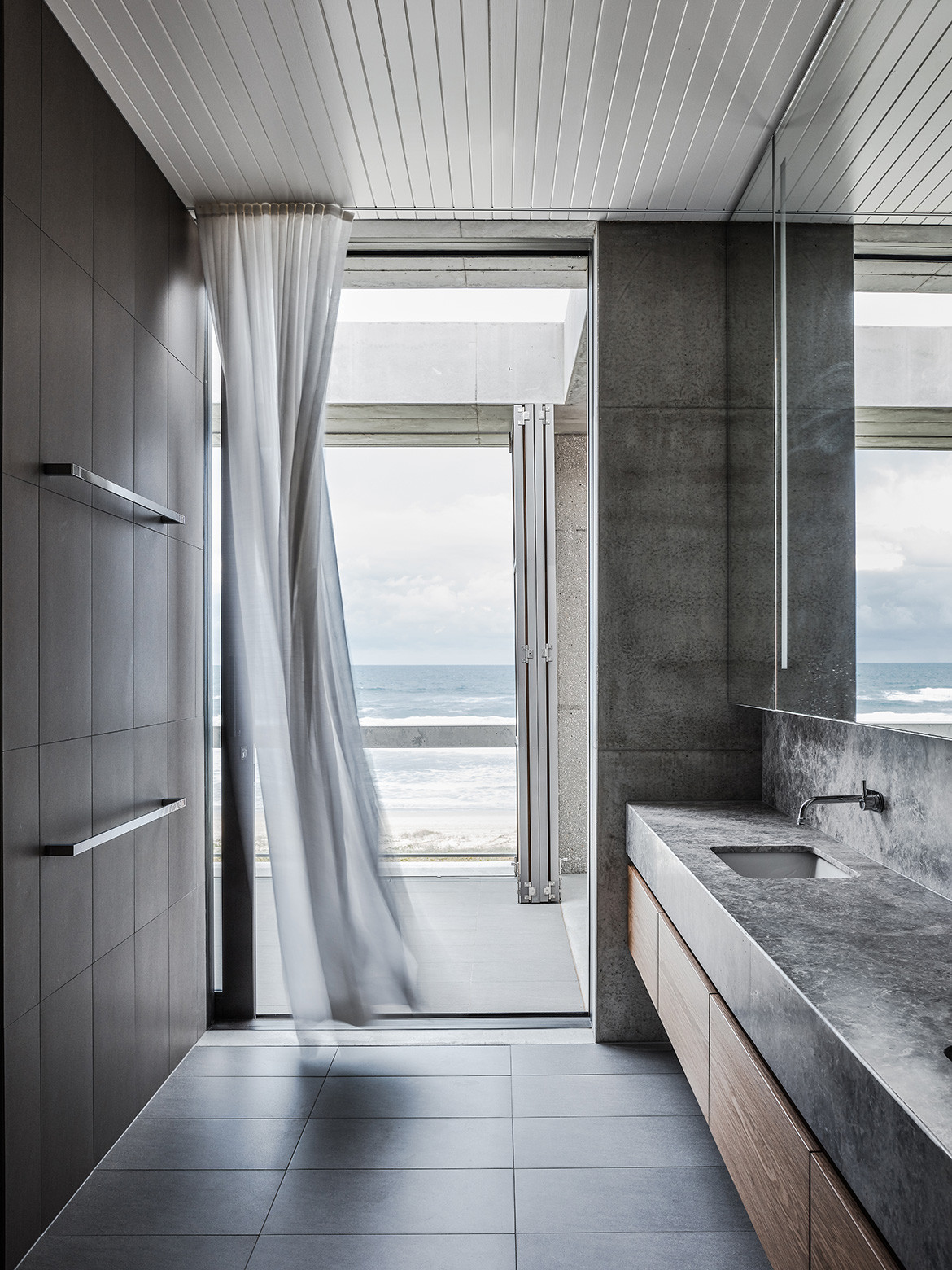 Featuring Tortora tiles from Signorino and Sleek Concrete from Caesarstone. Photography by Andy MacPherson.
The minimalist form and brutalist interiors of Mermaid Beach Residence by B.E. Architecture is like a well-tailored suit: everything is clean-cut and functional, with the addition of surprising and thoughtful details that simultaneously soften and elevate the experience of the wearer (or, in this case, the family that lives there). B.E Architecture chose off-form concrete as the primary material for the building; not only is it aesthetically timeless, it is also durable: capable of wearing the weathering punches of the coastal climate with resilience and grace.
Salmon Avenue by FGR Architects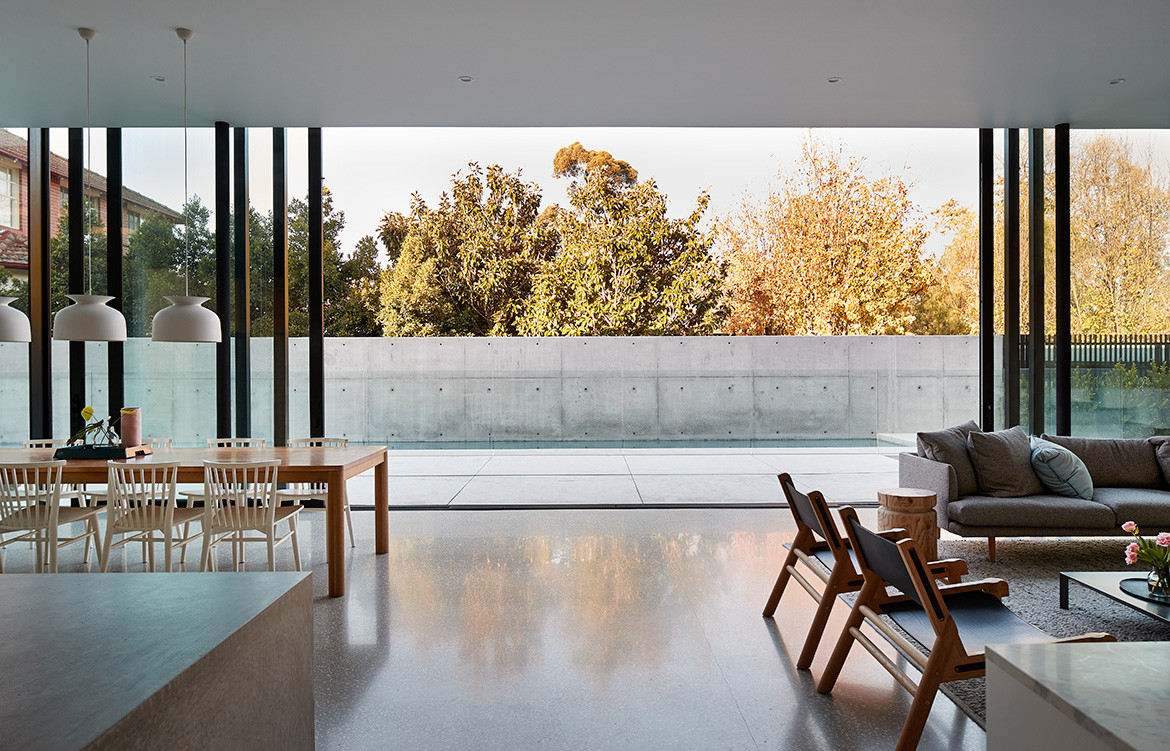 Featuring Harvest armchairs in blue leather from Jardan. Photography by Peter Bennetts.
Although discreetly nestled in its streetscape, this concrete home is an unexpected find in Melbourne's middle ring suburb Essendon, where red brick period dwellings dominate. FGR Architects not only ensured that the home is robust and family friendly but also offers many opportunities for sanctuary. Perceptions around concrete being cold to live with are dismissed here. "Visitors to the house see the concrete façade and they're not sure what to expect, but with the windows, timber and soft furnishings it's surprising how warm the house is," says Ainsley.
Gordons Bay House by PopovBass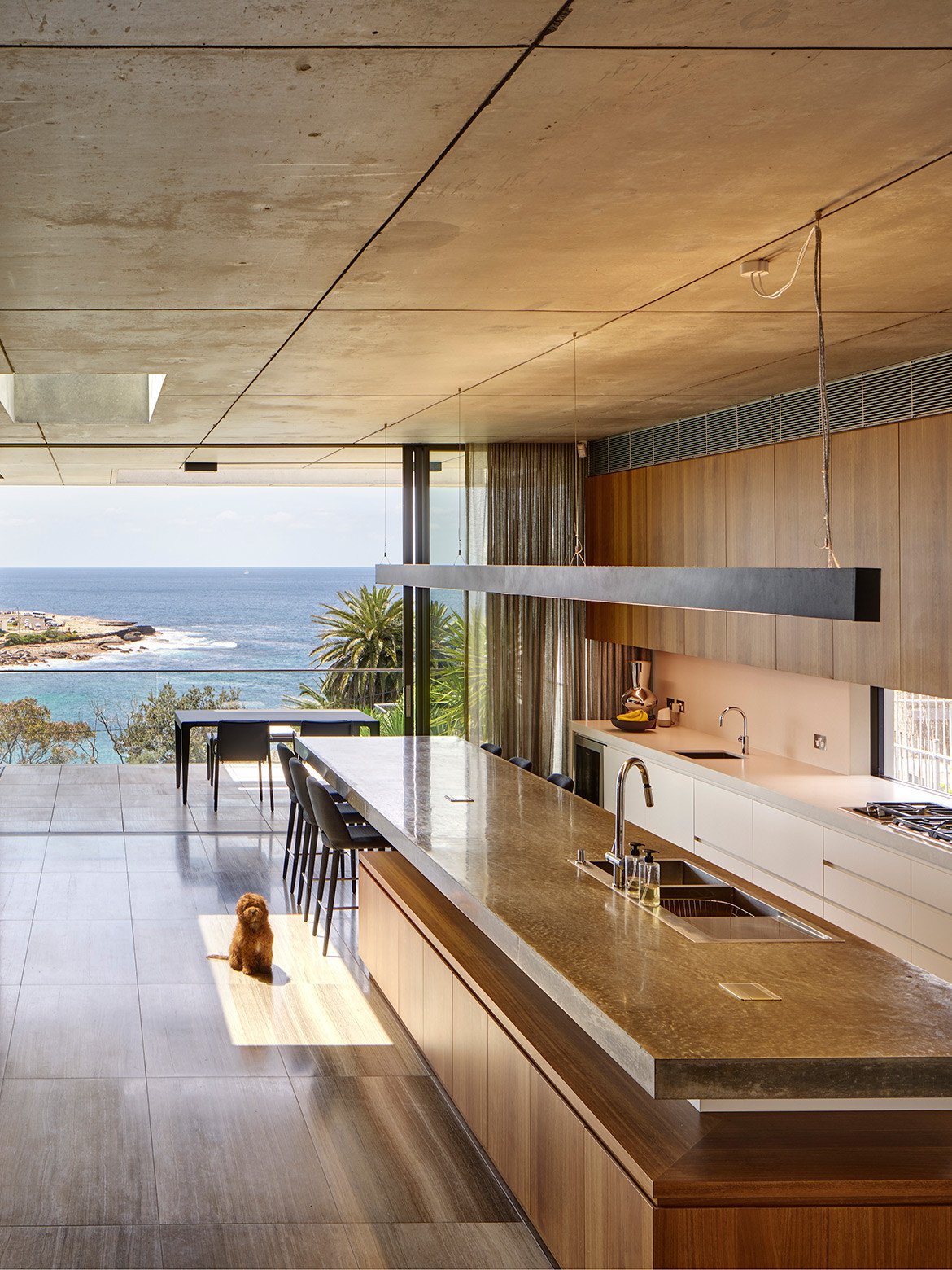 Featuring Cesar White marble floor tiles from Worldstone. Photography by Michael Nicholson.
A classic exercise in refuge and prospect, this house by PopovBass on a stunning coastal site is also a celebration of concrete's domestic potential. The beautifully detailed ceiling in the main living/dining space elegantly complements the cross-cut marble floor – cut with the grain to highlight the lines producing a lovely softness – and the polished concrete steps down from the entry. This palette is softened by the judicious use of Tallowwood detailing from the front door and frames of the vertical slot windows looking into the garage, to the stairs leading to the upper level, the kitchen cabinetry and the rear dining area wall.
Kasai Road by ipli Architects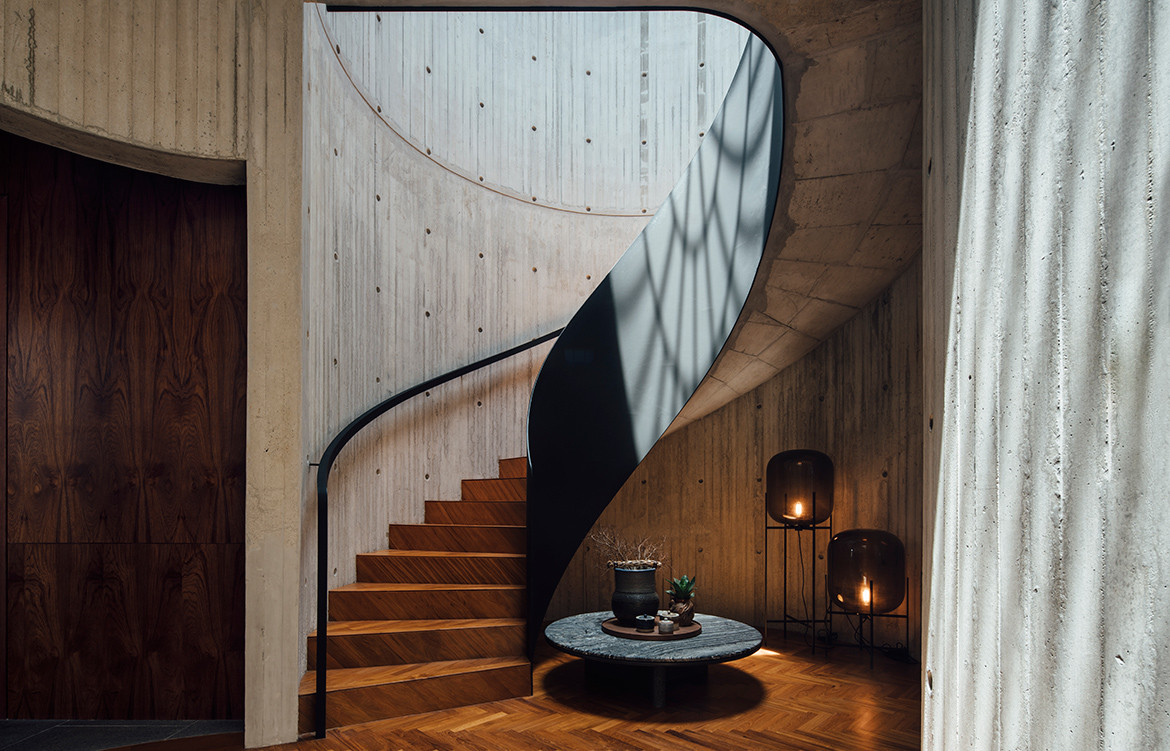 Featuring Oda by Pulpo floor lamp, available from Hub Furniture. Photography by Studio Periphery.
Kasai Road by ipli Architects has two parts: the upper and the lower. Concrete/cement is used as the single material that defines the lower part of the house. "But we needed it to feel natural and to blend in with the landscape," says architect, Tay Yew. "The walls and columns are created using board marked off-form concrete. The concrete picks up the textures and imperfections of the timber form-work beautifully."
A standout feature in the home is of course the grand staircase, which sets the tone for the curvature found throughout the space. Actually a figure-of-eight, the staircase touches various spaces throughout before finally opening up via skylights at the top.
Powell Street House by Robert Simeoni Architects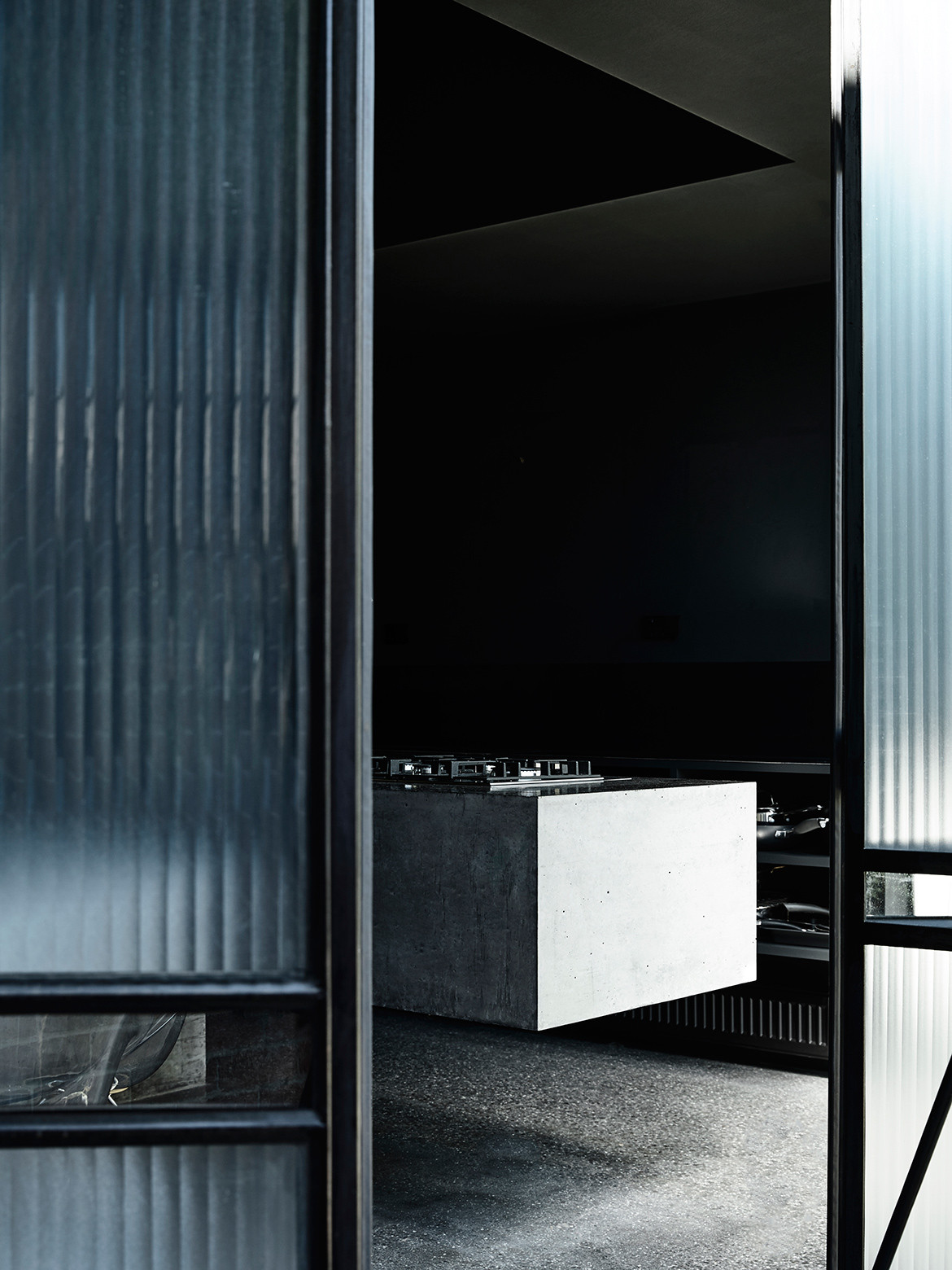 Featuring polished concrete flooring and floating concrete island bench cast in-situ. Photography by Derek Swalwell
The client for this Alts & Ads project in Melbourne was none other than esteemed architecture/design writer and Habitus' contributor, Stephen Crafti. Stephen coveted architect Robert Simeoni to give new life to his recently acquired dilapidated, c.1930s duplex, and from the get-go, they focused on ideas over finishes. 
"I wanted to add something that was strong enough to connect the old with the new, almost a solitary object or a piece of sculpture," says Robert. "There's a certain quietness to the spaces, particularly with the muted light. I felt the new addition also needed to include that stillness."
Tags: Andy MacPherson, Anibou, Benn+Penna, brutalist design, caesarstone, CDK Stone, Concrete House, corian, cult, Derek Swalwell, FGR architects, hub furniture, ipli Architects, jardan, Jody D'Arcy, Malvina Stone, Michael Nicholson, Peter Bennetts, polished concrete, PopovBass, Redgen Mathieson, Renato D'Ettore Achitects, Robert Simeoni Architects, Romello Pereira, Signorino, Stephen Crafti, Studio Periphery, The Brick Pit, tom ferguson, Worldstone
---