Pronounced hoo-gah, hygge is as much a mood as it is a philosophy for elevating everyday living. But no matter which way you use it, the essence of hygge does not change, pertaining to a quiet yet wholly-felt sense of contentment with one's everyday experience. Intrinsic to such contentment is an underlying balance of safety, security, and spontaneity – herein lies the key to putting this Danish design philosophy into practice.
When it comes to living a hygge life, there are few better gurus of Danish design philosophy than Miek Wiking. As chief operating officer for Copenhagen's Happiness Research Institute, he ought to know a thing or two about creating the conditions for contentment. In his book, The Little Book of Hygge: Danish Secrets To Happy Living, Miek explains that some of the key ingredients are togetherness, relaxation, indulgence, presence, and comfort. "You know Hygge when you feel it," he proclaims. But that's enough about how it feels; we want to know what it's made of and what it looks like.
The architects and designers of each of the following spaces may not have been knowingly bringing a Danish design philosophy to life, but each has an undeniable sense of Hygge, through and through – you'll know it when you see it.
Imperfect Residence by NC Design & Architecture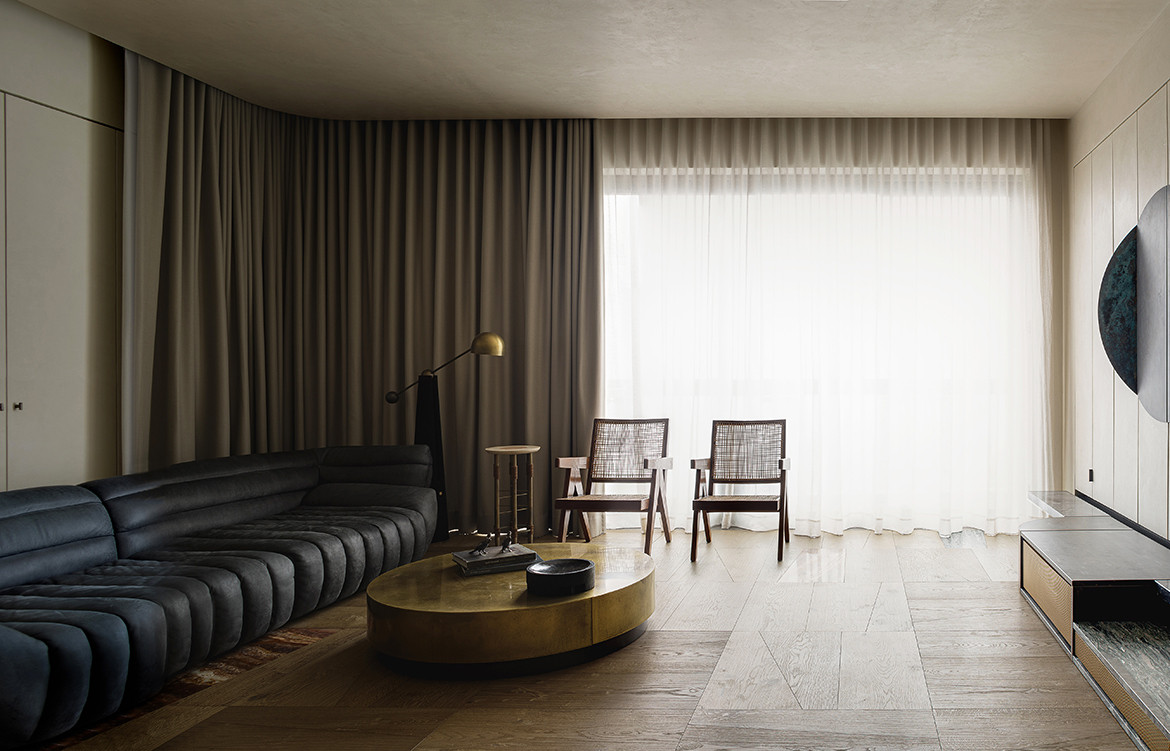 Tactile sofa by Vincenzo de Cotiis for Baxter. Photography by Harold De Puymorin
The Japanese notion of wabi sabi may have been NCDA's guiding principles in designing Imperfect Residence, but the end result has an interior design aesthetic aptly described as hygge. The soothing tonality of plaster cement rendered walls and ceiling become one with hard paneled timber flooring as if to cocoon anyone who enters the living room. Natural light pours in through an aperture that renders almost an entire wall opaque. Inhabitants are free to let the world in or retreat from it as they please, thanks to a generous run of muted, sage green Kvadrat fabric curtains that cascades, from a deep recess at the edge of the ceiling, down to the floor.
And then there's the Tactile sofa. Designed by Vincenzo de Cotiis for Baxter, the low form, soft leather and embracing curves of the Tactile sofa make for a piece of furniture that is truly immersive in experience.
Lantern House by Timmins+Whyte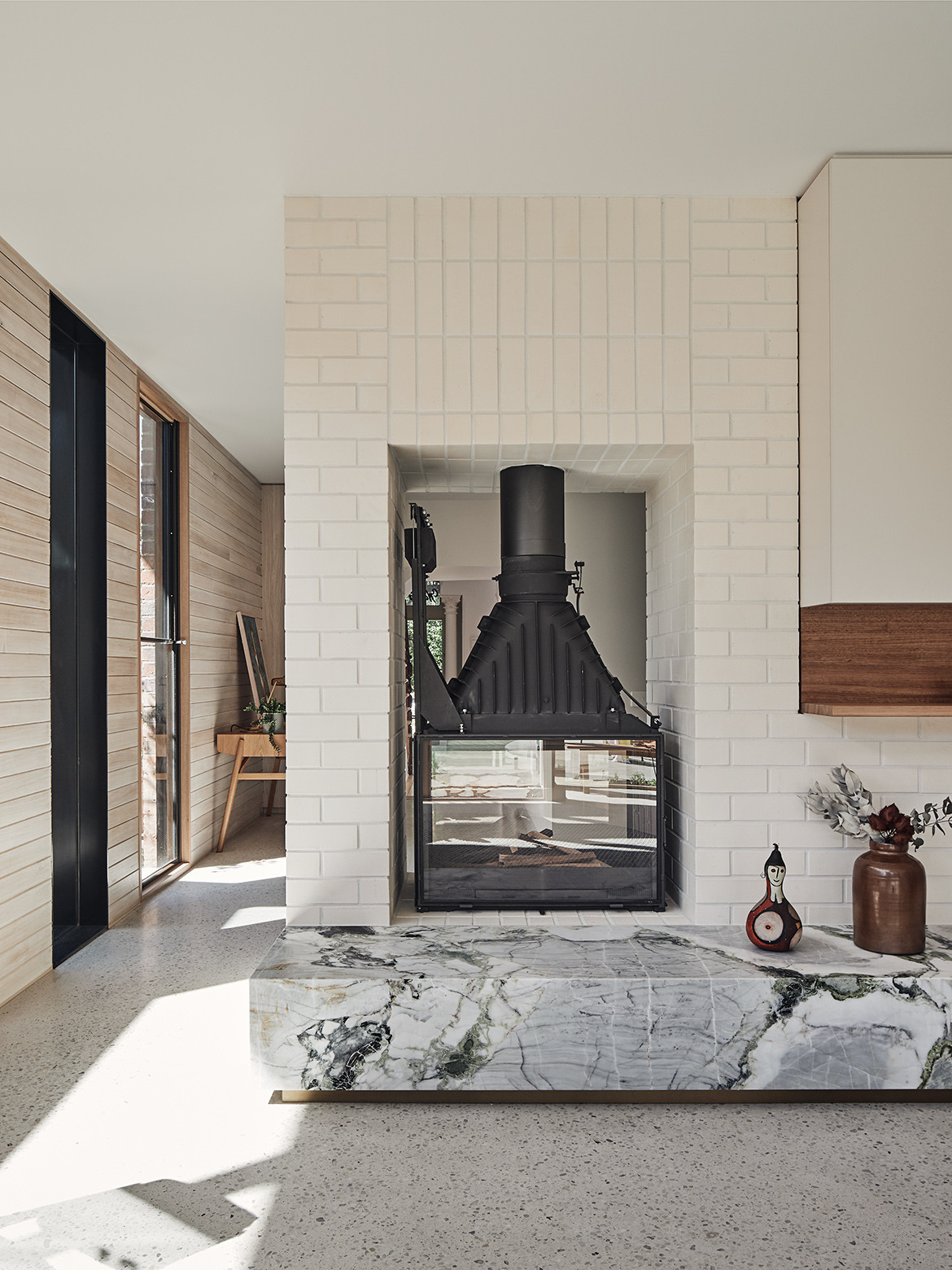 Bowral 76 in Chillingham White from Austral Bricks. Photography by Peter Bennetts
Timmins+Whyte Architects' modest extension to a Victorian terrace in North Melbourne is characterized by a prevalent sense of calm; akin to the tranquility of a day spa. Though its surface materials are, by nature, hard and dense, an enlightened tonal palette makes them feel soft and unfussy. The choice of Chillingham White finish for the quintessential Bowral 76 brick from Austral Bricks is an apt example of Timmins+Whyte's propensity to create an uplifting space from dense materials.
This interplay of solid and soft materiality resonates with the balance of safety, security, and spontaneity so key to realising the Danish design philosophy of hygge.
Bivvy House by Vaughn McQuarrie Architects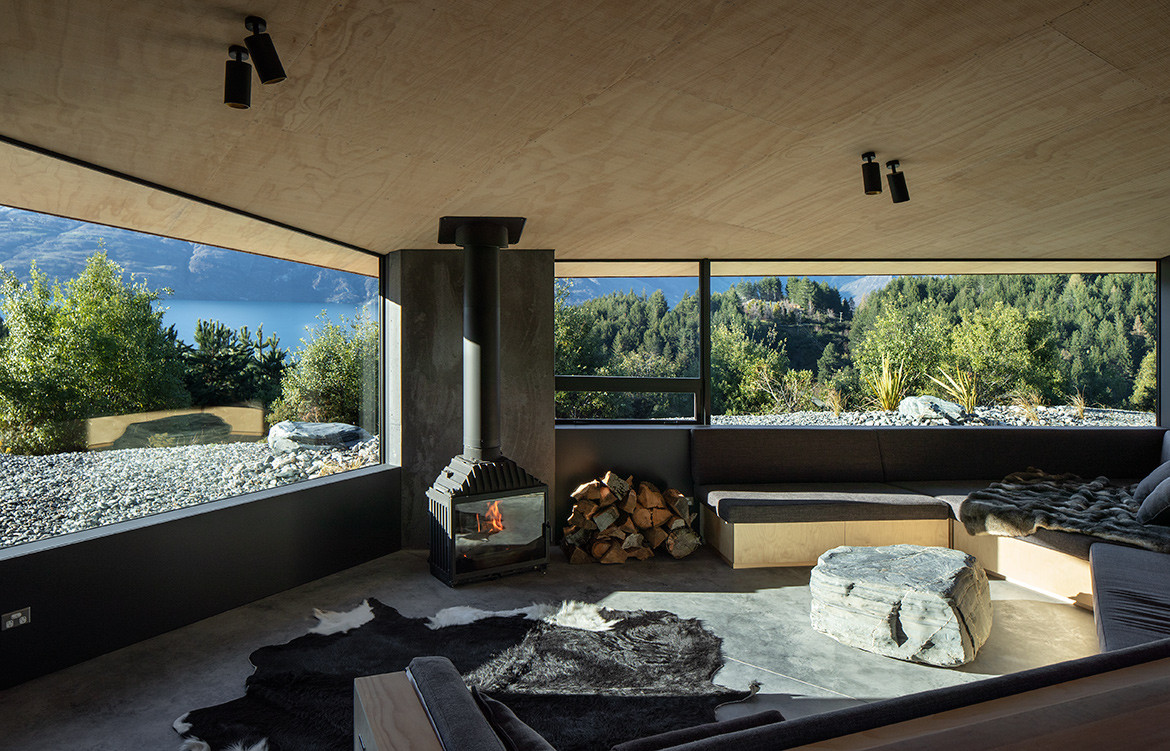 Radiante 692 woodburner, from Cheminees Philippe. Photography by Simon Devitt
Set in the Southern Alps of New Zealand, Bivvy House by Vaughn McQuarrie Architects is the architectural epitome of hygge. Though the Danish design philosophy was never mentioned or discussed by name, from its beginning brief, Bivvy House was always intended to cultivate a sense of contentment. "A space to eat, a space to sleep, a space to wash, a space to play, a space to read and to share with friends," was the client's request.
With concrete for its high thermal mass, the house's social spaces feel solid, hunkered down and reverberate with a slight echo. Stepping down into the lounge, a panoramic lake view opens up via a wrap-around ribbon of window, positioned perfectly for seating height. The space is anchored by a Radiante 692 woodburner, from Cheminees Philippe, creating a cosy atmosphere sure to send anyone into a trance of stillness and content.
Rammed Earth Retreat by Thais Pupio Design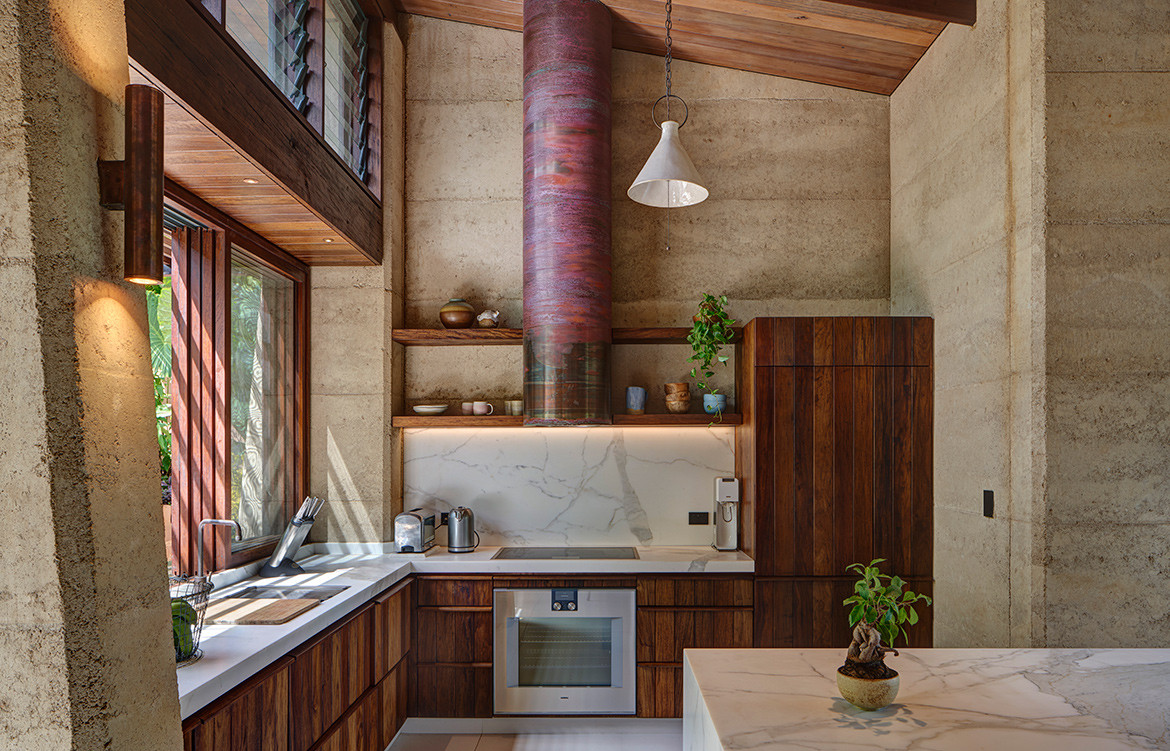 Stabilised earth for walls from Rammed Earth National. Photography by Michael Nicholson
When the owners' of this Byron Bay retreat briefed architect Thais Pupio on their design aspirations, their specific words were, "something inviting, earthy and modern." The resulting abode is every bit an example of a hygge house; comfortable, carefree and nurturing.
Made of stabilised earth, sourced locally from Rammed Earth National, the promotion of wellbeing – that of both environment and occupants – is built in to its very walls. Inhabitants are able to feel as if they could be in a hidden villa in Mexico, a weekend getaway in Brazil or a retreat in Thailand, such is the design's highly evocative nature.
Huru House by WireDog Architecture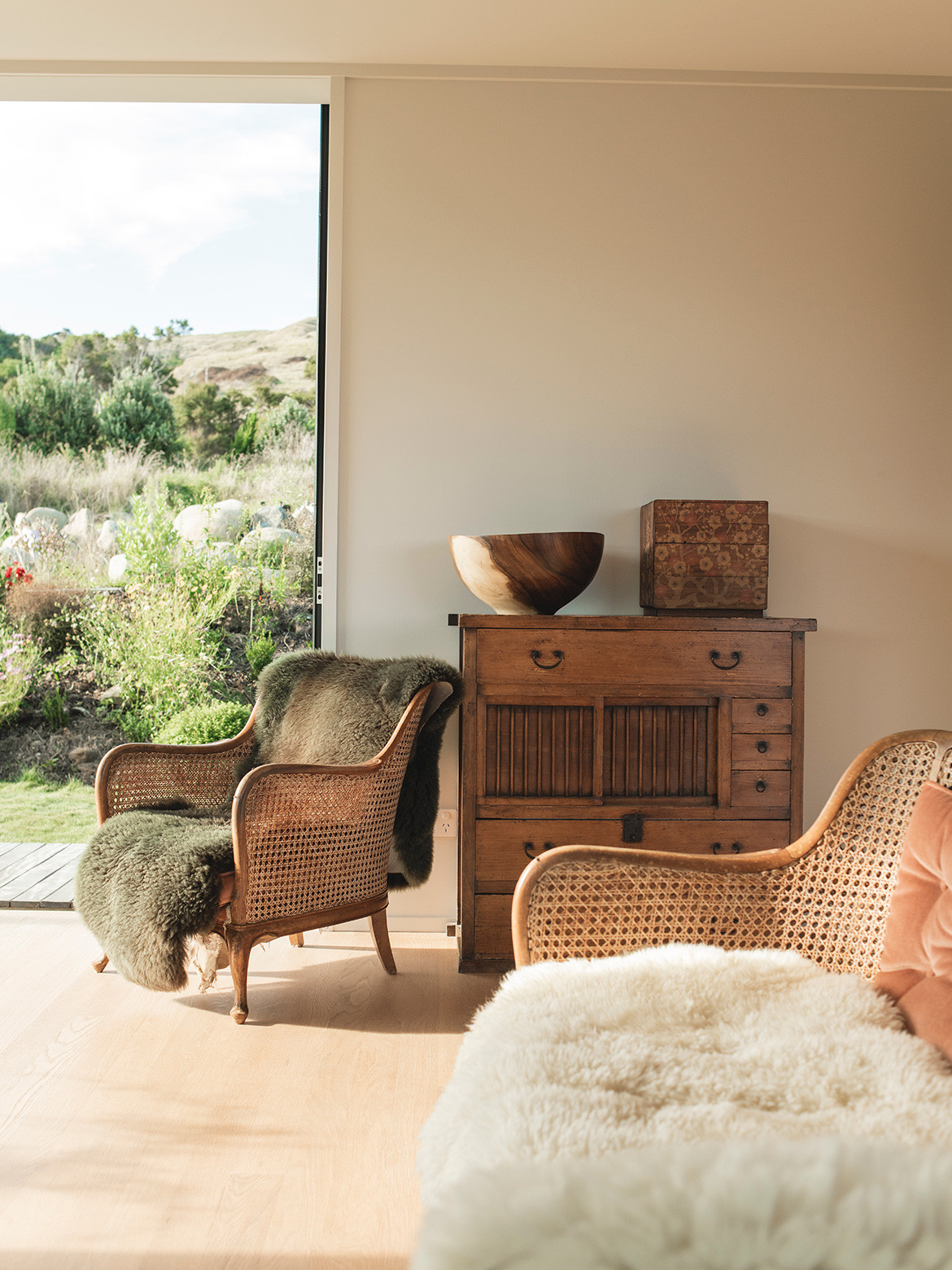 Photography by Strike Photography
With Japanese modernism central to its design inspiration, it's no surprise that Huru House by WireDog Architecture is resonant of Danish design philosophy. A hygge-like atmosphere however is most profoundly felt in the living room of Huru House. Furnished by a modest yet eclectic collection of coveted antiques, the interior design conveys an evergreen soul.
At one with its picturesque landscape, Huru House provides all the key ingredients for hygge living: togetherness, relaxation, indulgence, presence, and comfort.
Seed House by Fitzpatrick+Partners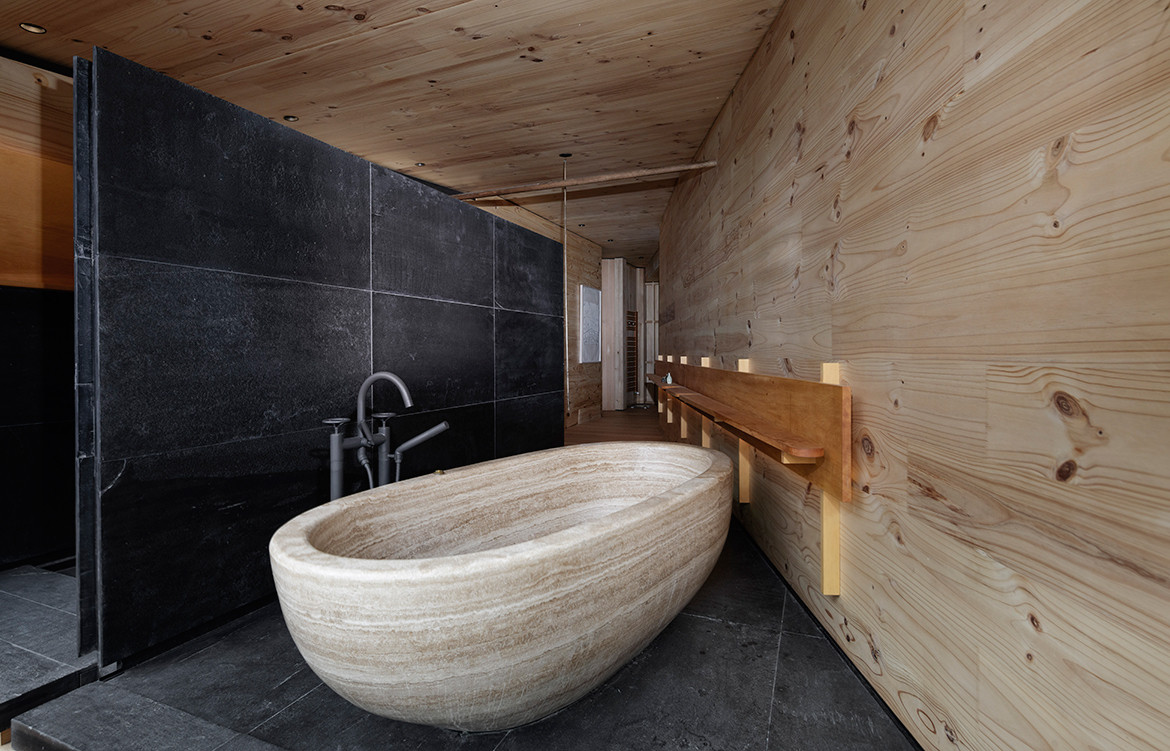 Natural stone bathtub in travertine from StoneBase NZ. Photography by John Gollings
Designed by Fitzpatrick+Partners, Seed House is a splendid example of hygge in the context of residential design. At any point, one feels part of a whole while still enjoying private spaces. In the main bathroom, this is achieved by means of a monumental natural stone bathtub, carved from Greek travertine by StoneBase NZ, surrounded by stone and timber – walls, floor and ceiling. The resulting cavernous space has an almost sedative atmosphere, repellent of any potential cause of discontent.
---