In the past decade, the Australian design market has seen revolutionary feats of trailblazing innovation, craftsmanship and artistry step into the scene. Emerging design thinkers and creators are redefining the country's design story, transforming it into an exciting chapter for the next generation of collaborative creativity.
Gone are the days where aesthetics were the sole driver in making design impactful – the intent, how it speaks to the greater company and its influence on the future defines the uniqueness of a design. Great change is difficult to achieve, big or small – but the Australian scene is rapidly discovering the movers and shakers who are ready to challenge the status quo. With voices of empowerment, passion and discovery, these minds are ready to see Australian design move into spaces out of its comfort zone and towards a new age of people who are doing things differently.
In collaboration with pioneering brand, Caroma, local Australian companies of Port Stephens Joinery and Evostyle have joined forces to disrupt the traditional views of our everyday wet space in a new, timeless collection.
With an inspiring heritage of nearly 80 years, Caroma marks a milestone and takes a step into a bold new chapter with the new Elvire Collection: a celebration of the Artisan and the masters of the design chain. Designer Luke Di Michiel explored concepts of biophilia and sustainability inspired by the Australian landscape, natural materials and the knowledge from local designers and manufacturers for this one-of-a-kind collection.
The story of Elvire is one about rediscovering the beauty of Australian nature through honest materiality and uncovering the artful process of skilled craftsmanship. In this two-part series, we had the pleasure of speaking to head designer, Phillip Gray at Port Stephens Joinery on the process from start to finish; the eureka moments with Caroma; and the path towards a more sustainable, brighter future.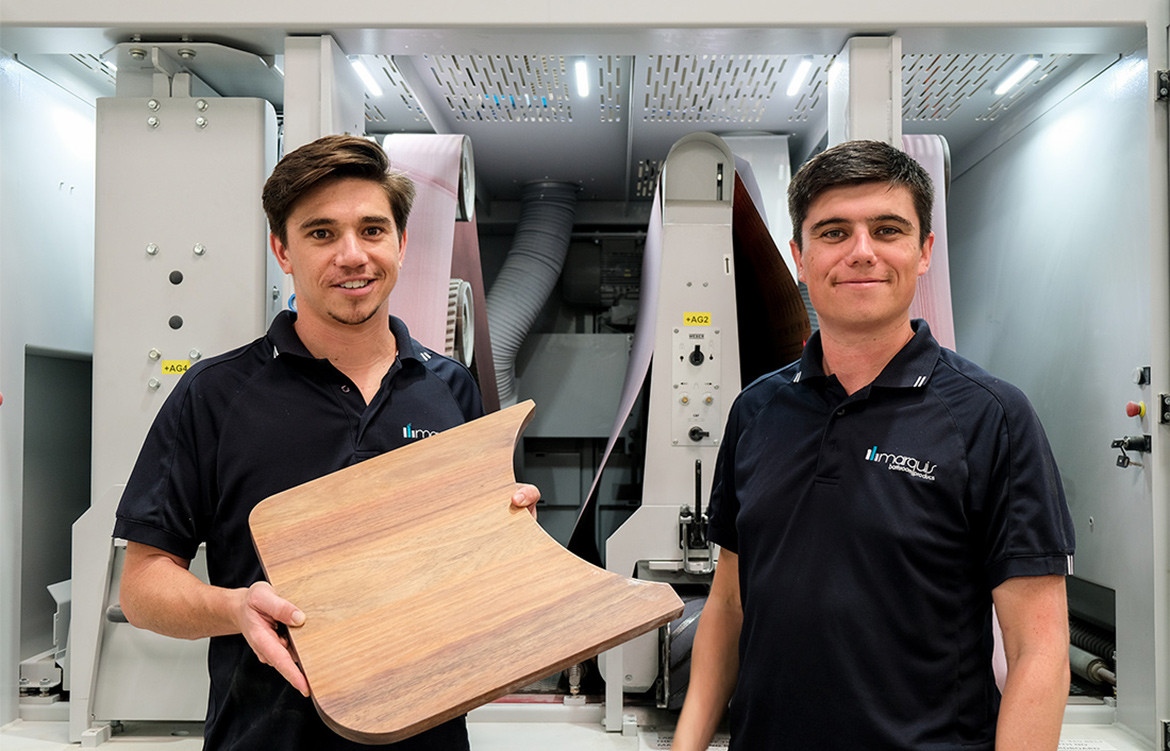 –
Habitusliving: I understand that Port Stephens Joinery has gone through exciting changes since its inception. Can you give us a background on your role and a brief history of the company?
Phillip Gray: When we started 40 years ago, we were purely a kitchen company doing local kitchen installations. About 10 years after, we started making bathroom vanities as a side project to feed our interest in that area of design. It just kept growing throughout the next 30 years and became the primary business of Port Stephens Joinery. Now here we are, decades later and we don't touch kitchens anymore – we're the proud makers of genuine bathroom products.
What inspired the change into the bathroom space?
Over those years in the beginning, it originally had a lot to do with people like Caroma being involved in and out. Caroma is adamant about keeping things locally and celebrating boutique, handcrafted businesses that showcase the best of Australian design and we were thankful to be on their radar. We've had associations with Caroma for a good 30 years where we explored so many different aspects of design and that relationship kept us at the front of their minds.
It's amazing that Port Stephens Joinery and Caroma get to go on this great, new adventure together to redefine how we see the bathroom environment once again.
We are so thrilled to be a part of it all. When they first came to us to speak about the collection, they were talking about taking control back of their brand and reintroducing the greatness of Caroma. They were so determined to show the best of what they can do, but taking that extra step further and doing something out of their comfort zone. Their idea of designing one whole big collection all at once was something new to all of us.
It took two years from there but we worked very hard throughout and got it up and running.
It sounds like the long process really allowed you to have the perfect amount of time to refine it to the beautiful collection that it is today. 
Definitely taking the slow and steady approach was what a collection like this needed. It wouldn't be the success that it is if we rushed it all. Luke and the rest of Caroma just simply made a decision that this whole thing will work no matter what ­– so we had to respect that and do everything thoughtfully and carefully.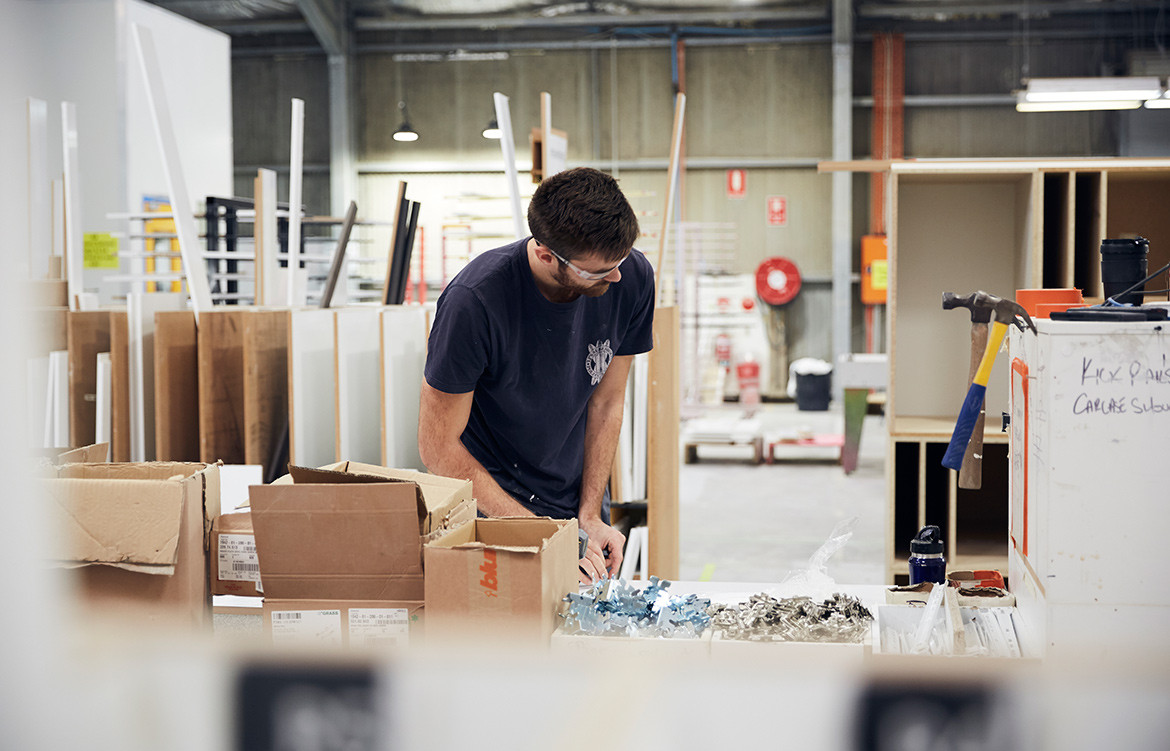 What would you say is the company's design philosophy? And how do you embody this across all your creations?
Often, we honestly just kick around ideas together and when we think we find something that looks good to us and something that we genuinely wholeheartedly believe in, we'll go ahead and just make it to see how it is.
We're a family company, with my parents starting it back in 1979. Now, my brother and I are running it and we get to make things that we love everyday. We don't follow any philosophy per se, but a lot of it is based on what we think is good, what we believe in and what we want to show the world.
That's a very refreshing way to look at design; designing something that has meaning to you. Where do you usually get your inspirations from?
We used to get a lot of our initial inspirations from Europe, but over the last 5 years, we've been really inspired by the Australian design scheme happening right now. We have slowly moved on from following trends overseas – and don't get me wrong, everything happening overseas is so incredibly exciting and innovative. But when it finally came to us hearing about what was going on in other countries, we realised that it wasn't new anymore and the rest of the world has already moved on to the next trend, making it hard for us to showcase innovation on our side of the world.
Do you think Australia is in the motion of creating its own design narrative?
Australia has definitely started to branch off into its own thing in the last half-decade. It's operating a bit differently than the rest of the world and we get to be in the middle of this evolution. We moved through the all-timber phase pretty quickly into design schemes heavily centred on pastel, matte and stone.
What Elvire ended up with is right on-trend at the moment – it's very much about the highlights and intricate details as oppose to the whole item being in a piece of wood. Nothing's uniform anymore, everything's a bit more broken up and individual. This collection highlights the beauty of a cohesive design language when all those little bits work together. The market here is still growing and it's not a set scene yet.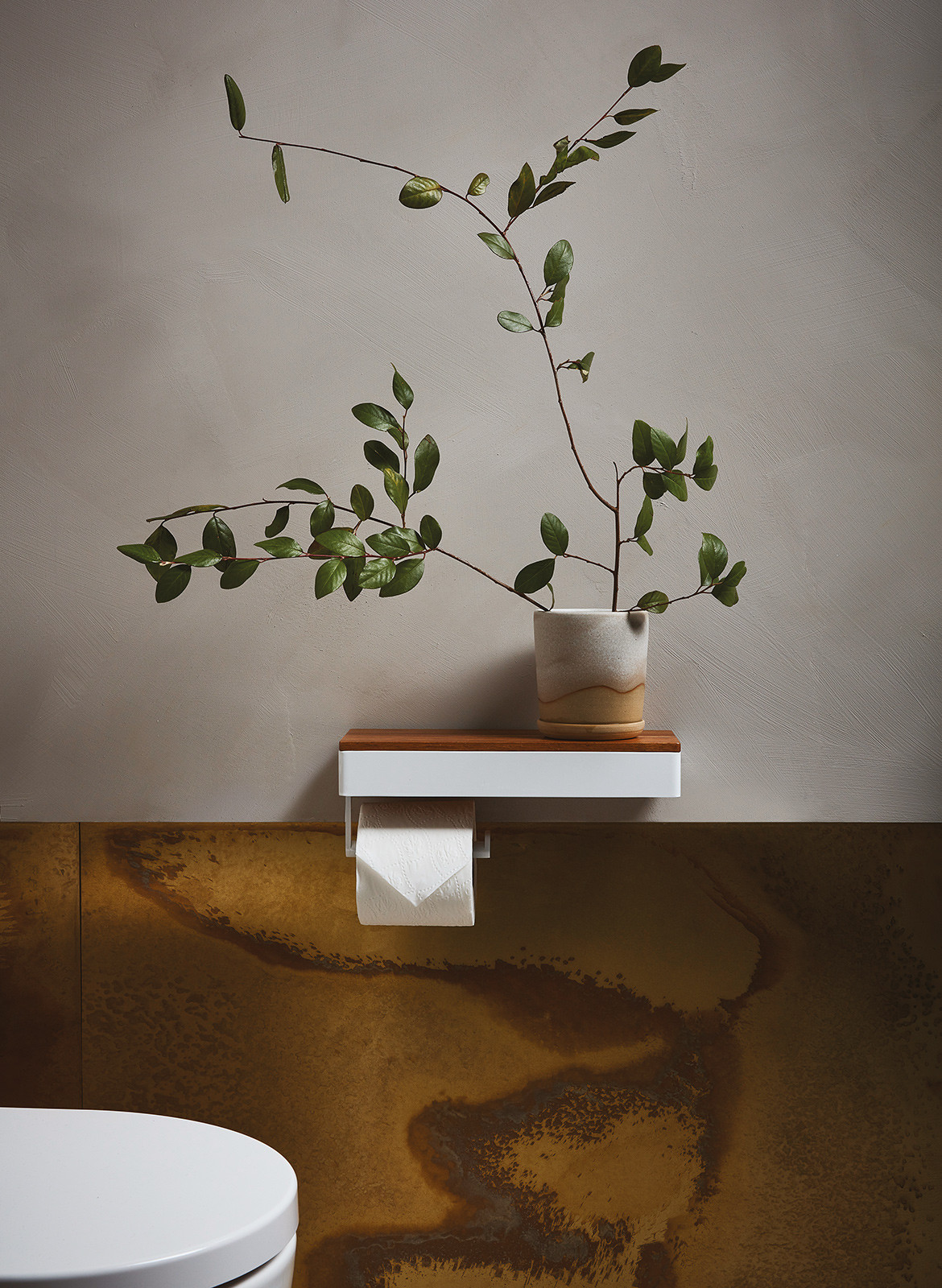 It's definitely setting the tone for the next decade in the future of Australian design. What was your initial response to the Elvire Collection? How did the collaboration with Luke come into fruition?
All I can remember from that first meeting was having this thought of, 'Okay. They're really serious about this and we need to get serious about it too.'
We saw the first design and concept drawings and it dawned on us how serious they were about doing something very high-end – something very different and not out in the market right now – by just using Australian-made products and a material narrative that is beautifully complex and forward-thinking.
This idea ran home with us. We've had people float ideas over us before and it never went anywhere. But Caroma came to us with a complete concept of the whole collection and from the start, we were all in.
It's a collection that celebrates the best of Australian materiality and its local context. What do you think Elvire represents about Australian design and where we are as industry in the present day?
It shows that we're starting to move into our own lane and not following the trends of another country or continent. The fact that we're not just looking at what someone else is doing and wait for that style to arrive is indicative of the growth that's happening within our design industry.
Caroma's confidence in saying this whole collection was inspired by Australia must have been so exhilarating to hear.  
It showed how Australia has developed its own style and confidence to do our own thing and not wait for anyone else to decide that something is fashionable and we're just following along. During the company's younger years, we were a bit more afraid to try things that were out of the box – we thought that we needed to make it what was 'cool' at the time and not be too adventurous.
But once we became more adventurous with colour, timber and stone and materiality in general, it started a whole new chapter for us.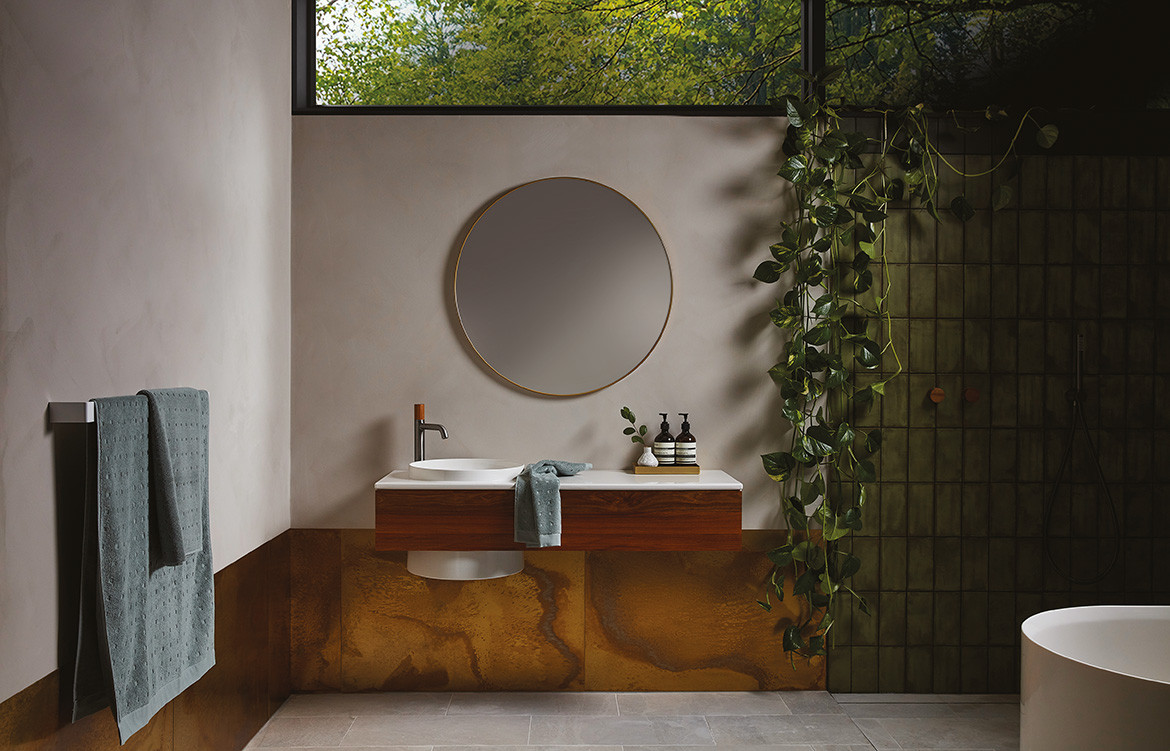 Being in Port Stephens and working with a big name like Caroma push the boundaries for your company in your design philosophies?
It took us awhile to get the confidence that we needed in Port Stephens. It's a small town and we felt as though that these big companies had more experience than we did and that made us feel like we needed to stay within our familiar perimeters. As we got more experience, the industry got de-mystified for us and everyone is just trying to do the same thing – we're all just creative people trying to deliver products that make a difference.
Caroma had a big role in doing this, especially Luke who was there from start to finish. He was incredibly humbled and open to any ideas that we had and he remained positive throughout the whole process, even when things had to be changed and products couldn't be made for one reason or another. We just hit it off right from the start.
Take us through the process. What steps did you take in creating these pieces for Elvire?
From the beginning, it was a very honest and open conversation about what Caroma wanted. They had all these drawings envisioning what the product range was going to look and feel like and we started to understand our role amongst it all. We went back and created our own vision of what we think about the collection and highlighted what we can bring to the table – it was this organic journey of creative minds coming together and how our differences can work together on something great.
The role of timber was prominent throughout. We stepped back and thought, well, how could we make it work and what can we do?
We went to all these different timber suppliers and looked at about 50 different species of timber. We finally found the perfect material of Tasmanian Oak and Blackwood species that encapsulated everything that we would want ingrained into the collection.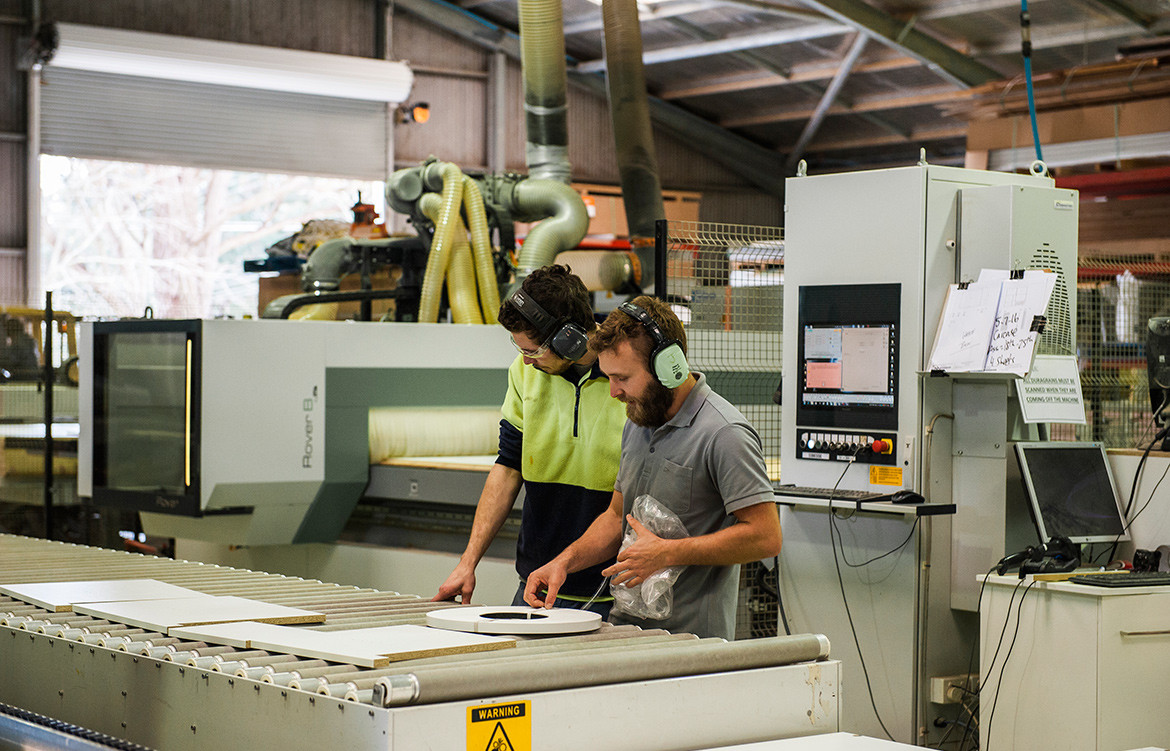 Was it extremely important to you that the materiality spoke to and came from the Australian landscape?
We were all very passionate about the sustainability aspect of this collection so we needed to have something that embodied that. We knew that this was an exceptional, sustainably sourced timber that you can trace back to the forests that are being managed correctly. It made the story of the collection so much more meaningful, because this is an Australian collection designed by Australians showcasing the best of what we have from our earth.
From there, the vanity was created. What they asked for was something we've never done – something very long, flat and wide and to do it in the size that they wanted to achieve, we had to go pick the perfect material.
I know that there were a lot of other exciting materials that supported the timber. How did they become a part of the story?
There wasn't enough strength and durability in the typical materials that Caroma was asking for. We had to go back to phase 1, which lead us to the enamel steel frame that we have specially made in a steel plant on the Central Coast to build the vanity.
This is the only time we've done it and we haven't seen anyone else do it either. When we got those first prototypes back – wow, it was definitely a eureka moment for us. The steel frame put everything together and we had the opportunity to see the whole thing actually become one and it worked!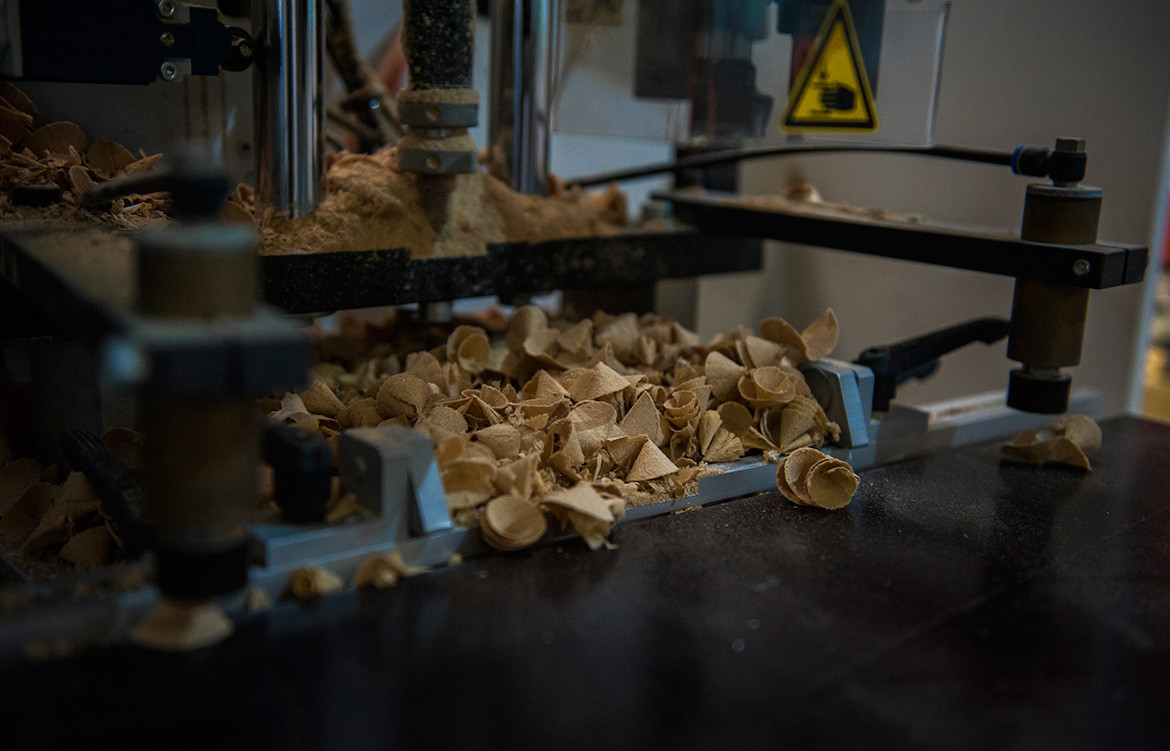 Did you have any challenges along the way?
There were prototypes just clearly weren't working. We had to go through a lot of trial-and-error's to get to where we wanted to be and when we finally got the one that worked, it was a feat of structural elegance that we didn't think was possible until this project with Caroma. That's when we knew we were on the right path to something great and headed for the home run.
There's something so inspiringly unique about the combination of materials working together for this collection and I'm sure it would have felt like a trailblazing moment.
The combination of this steel and Tasmanian timber was a pivotal moment in what we achieved here at Port Stephens Joinery. Working on such a momentous project with Caroma opened our eyes to the charm of timber. Not all the grains are the same and with that, everyone who experiences Elvire is experiencing their own unique piece of Tasmanian timber.
Giving it it's own personal charm for every individual.
It's a fine line to walk between a unique aesthetic with an interesting character, and the consistency of colour and grain that Tasmanian timber does. And we achieved that.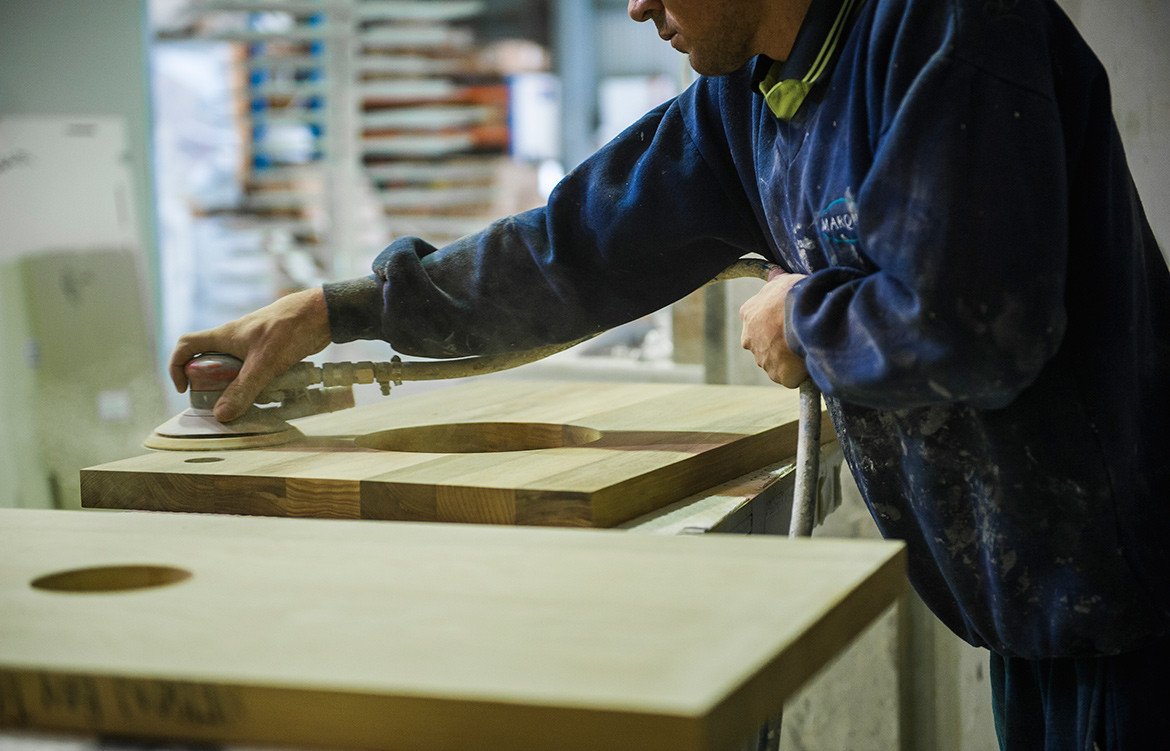 We're in a time where designers are trying to push material boundaries and the topic of sustainability is at the forefront of everything. Sustainability is such a huge part of the soul of Elvire and everything at Caroma. What does the term 'sustainability' mean to you?
Before, sustainability was centred on the importance of recycling, less waste and putting solar panels on the roof. That's what sustainability was in the early 2000s and it was very forward-thinking for that time. Now, it's more about understanding where the products we use come from, where they go and genuinely knowing their impact on the world.
We're trying to source everything we can in Australia through local companies and European companies as well, as their sustainability standards are very high. We're extremely dedicated to keeping this at the forefront of the design process.
Design longevity is also a big part of the sustainable practice and with trends constantly changing, how do you combat this?
We aren't really in the game of showing products that have a short light span, simple as that. We work very hard to combat the idea of going and buying something that was pre-made elsewhere for the sake of the price – the quality just isn't there and in two years, you just end up replacing it. We go the opposite.
Everything we make, we put a lifetime warranty on it and stand by for what it stands for – it'll last as long as you want it to. There's no built-in obsolescence.
I feel as though people nowadays are more aware of sustainability and would happily spend more if it were ethically made.
That to us is the most important thing – it's not just buying for the cheapest or simplest make, but thinking about how you can use that product in a more efficient and long-lasting way. Even though it's a bit more pricey, you get so much more for the value of what you're spending. You know who made it, where it's from and the whole process is a transparent, sustainable journey that you're buying into.
It's more worth it knowing the background and the product's story, rather than cutting corners.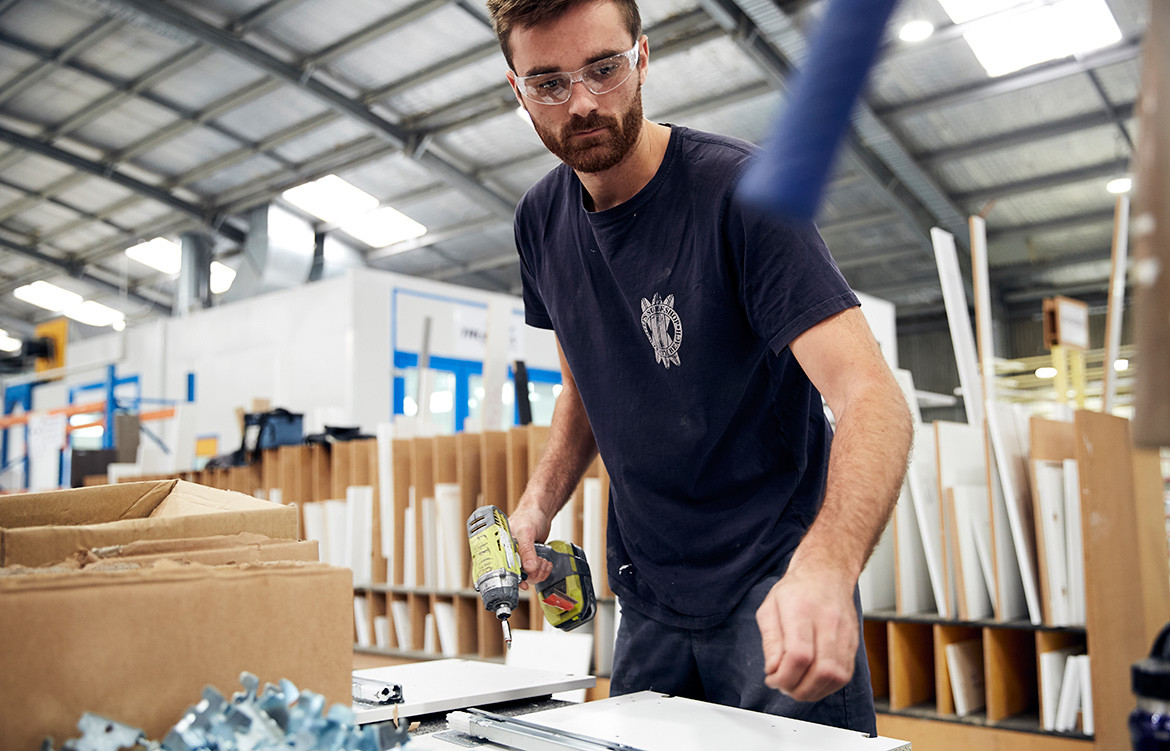 Where do you see sustainability in the present and future state of the design industry in Australia and beyond? 
Partly, I want to say that we're extremely forward thinking and at the higher end, that is easily said because most products at that end have the opportunity to be sustainably sourced and made. But on the day to day, once price becomes the determining factor, all those considerations start to go out the window.
With that being said – everyone is in the process of changing if they're not there yet and we're all just trying to be better every single day and that's what matters. Once we compromise on price and quality, there's a tendency of sustainability being hindered.
It's something that designers would come up against everyday.
Precisely. And it's our role to deliver products that essentially support and improve people's lives and their future. Everything we do here is looking towards the future and where we're headed together.
With Caroma, they're playing with products that represent a space and a time of where we need to be. They stuck with what they wanted and believed in the idea all the way through. Every roadblock that we hit, Luke didn't let it stop us and I don't know anyone else who has the same drive and determination as Luke and Caroma do.
Elvire is a representation of where Australian design is going and what the future holds.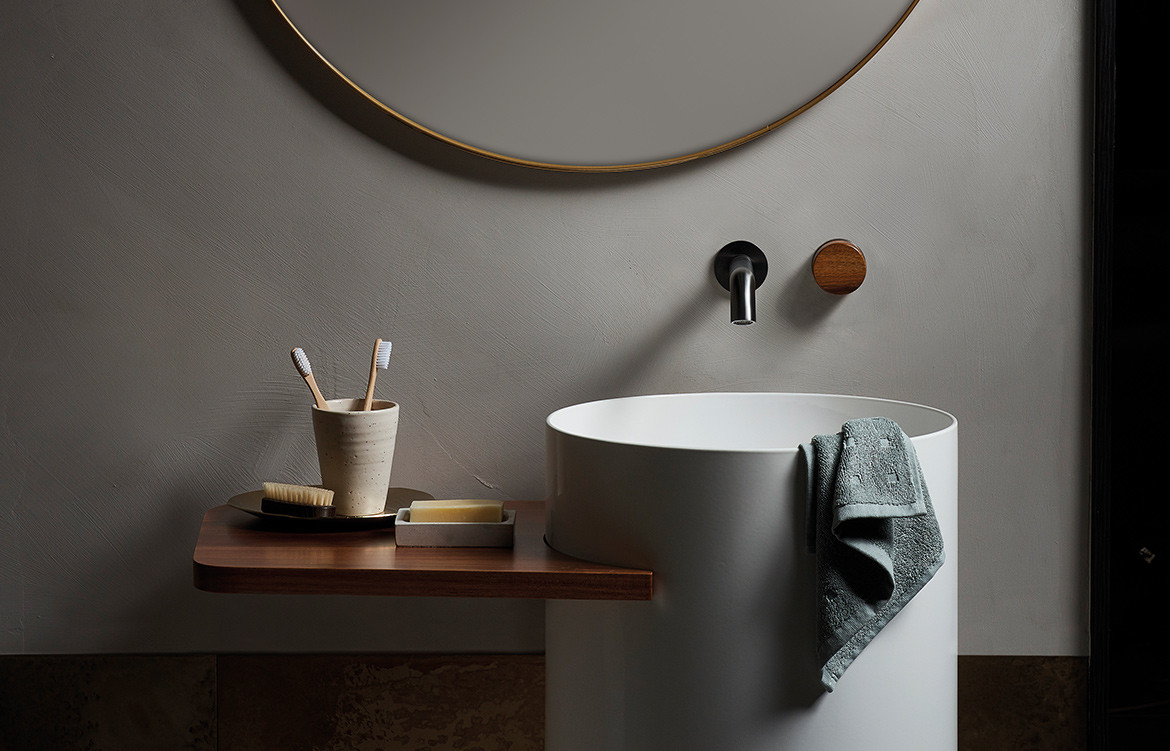 Photography courtesy of Port Stephens Joinery and Caroma.
Caroma
caroma.com.au
We think you might also like to see this spotlight on the bathroomware of the Caroma Elvire Collection.
Tags: bathroom accessories, bathroom design, bathroom products, bathroomware, Caroma, Caroma Elvire, Luke Di Michiel, Port Stephens Joinery, sustainable design
---