While undoubtedly becoming more common, the all-black interior is not something everyone can pull off and the black interior remains at the cutting-edge of contemporary aesthetics. Indeed, it is only the very best architects and designers who are brave enough to venture into a black interior.
But, when they do, the results are absolutely incredible. From inner city apartments to sprawling country estates, black has never looked so good on so many different interiors. These seven projects use black in entirely different ways as some seek to add drama through contrast, while others deepen the shadows for elegant expanses of textural nuance.
Portsea House by Wood Marsh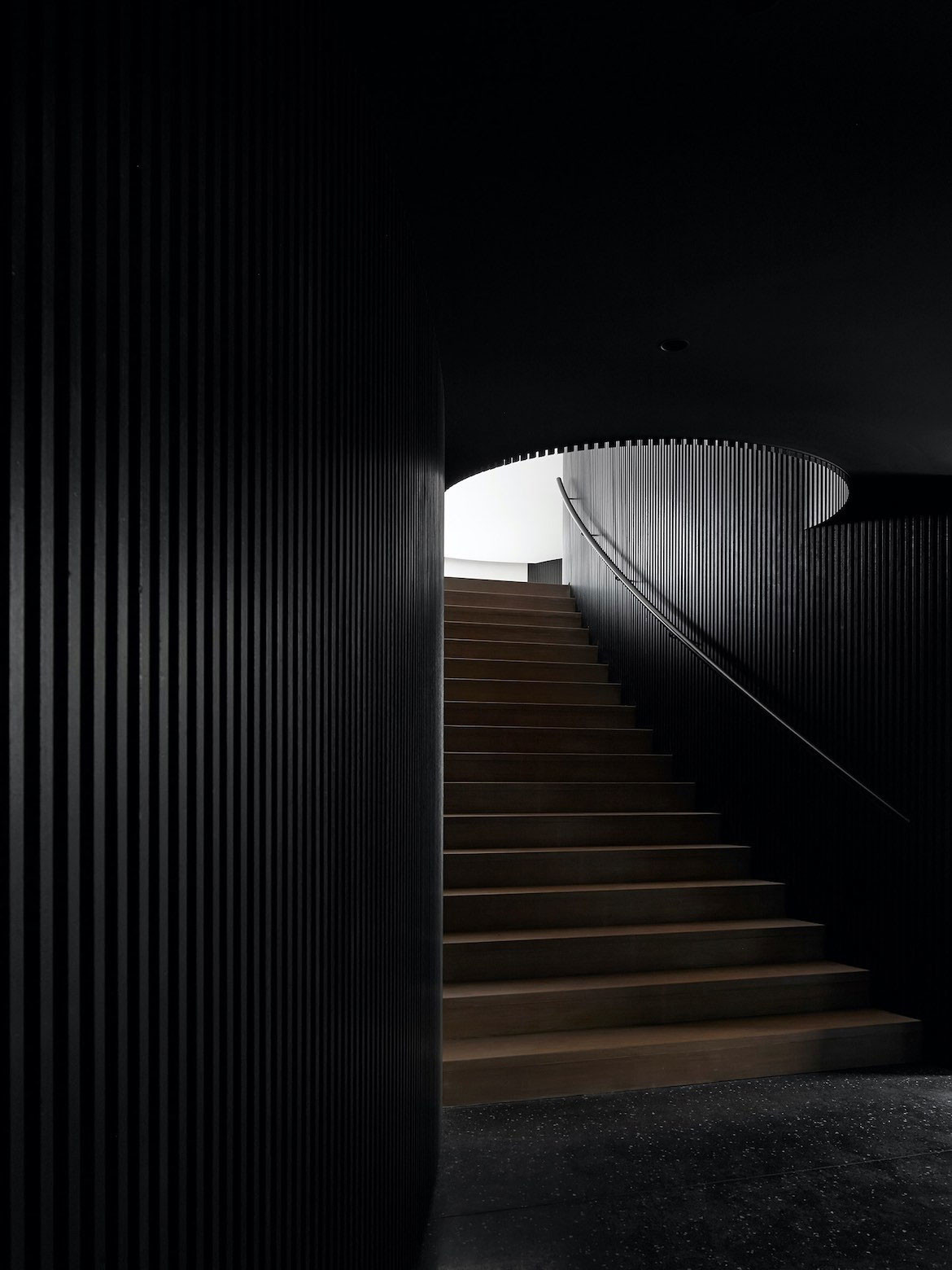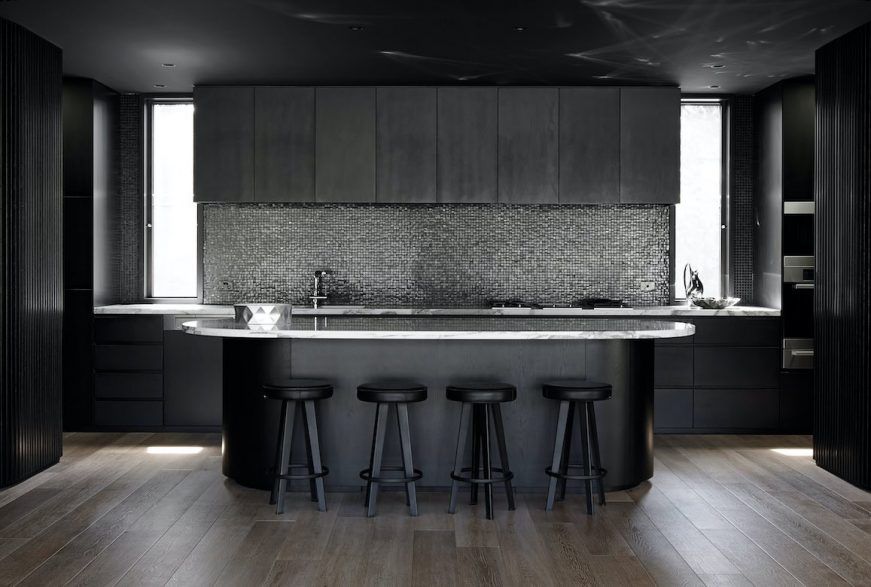 Richly framed by walls of black, a grand staircase snakes from the entrance up to the living area at Portsea House by Wood Marsh. On the first floor in the largest wing of the home, nature and light are brought in through sweeping balcony views and a double-height, curving cylindrical open-air atrium filled with greenery.
The atrium allows natural light to radiate through the interior and acts as the centre point for the distinct wings to meet. Black timber veneer, a dark mosaic tile splashback and Calacatta marble benchtops combine to define the kitchen's sleek moodiness.
Onyx House by Story Design Collective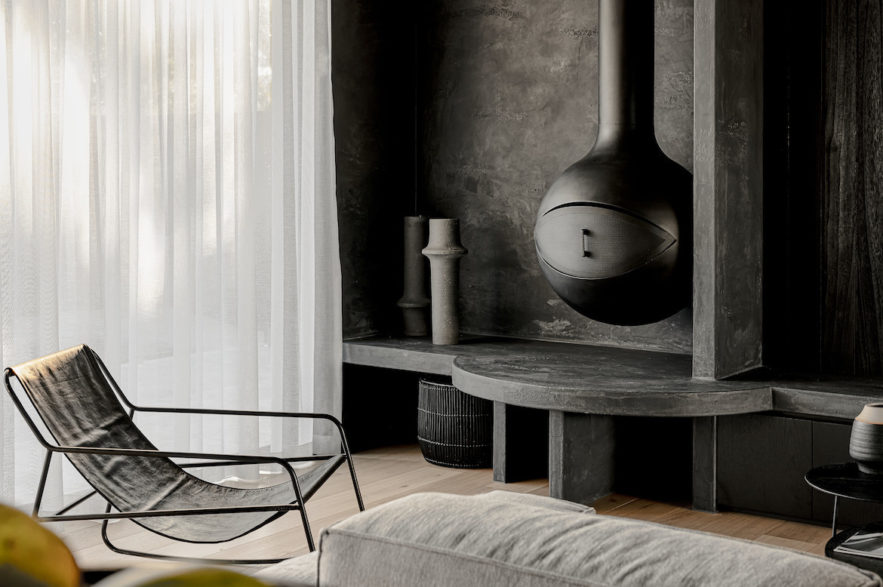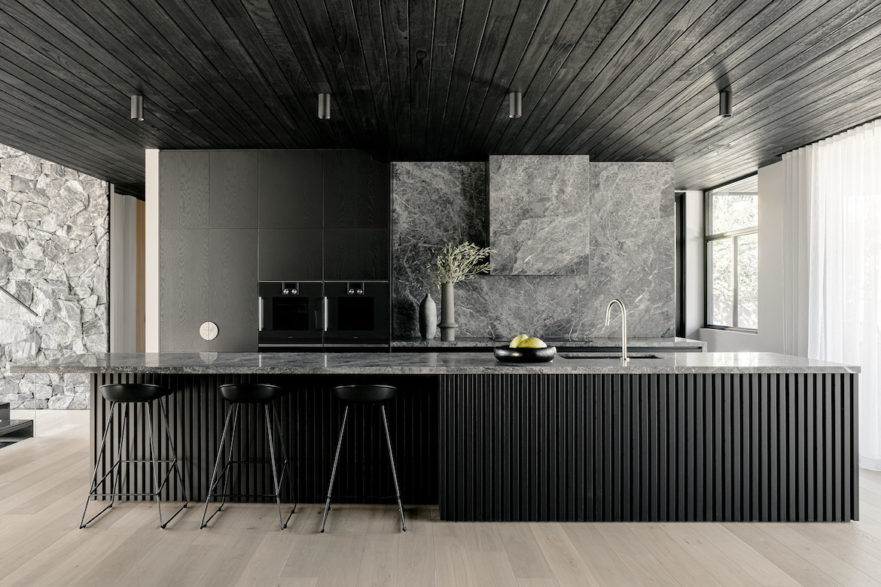 The dark and moody palette of Onyx House dances with inspiration between the materials found in renowned Melbourne architecture and interior design, with a palette that makes it a point of difference in comparison to standard seaside residences: "This colour palette was client driven. It's bold, risky and emotive. Ultimately, they wanted the warmth and sophisticated Melbourne lifestyle to meet beachside Gold Coast living" says Sam Ray, senior building designer, Story Design Collective.
South Yarra Residence by Kestie Lane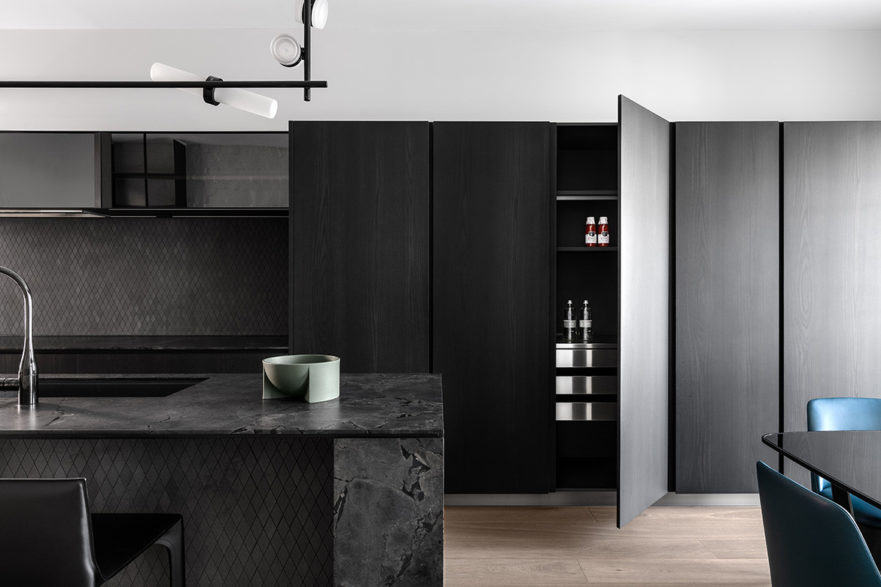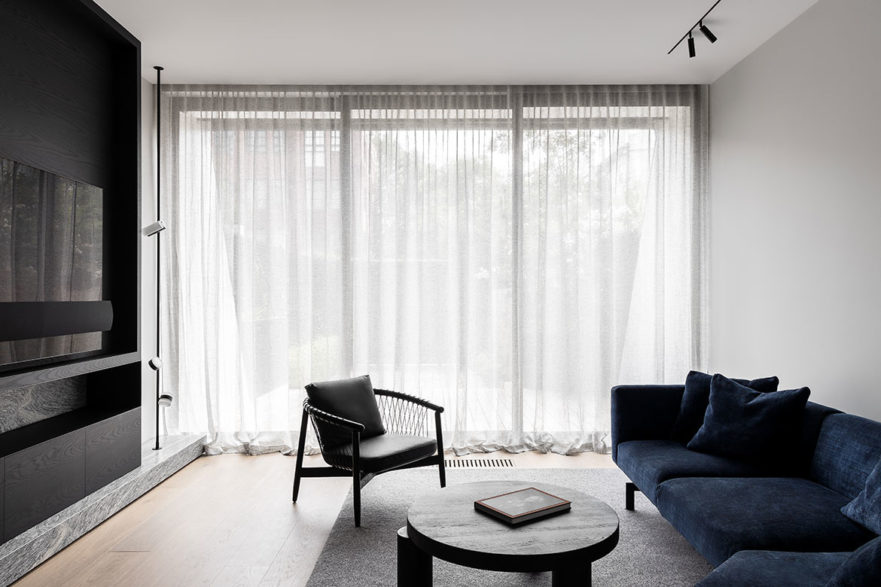 The interiors of South Yarra Residence by Kestie Lane bring black throughout in a series of design interventions.
Exploring black through lighting supports, stone and cabinetry, the strong horizontal of the deep grey and black Argento Grigio granite island and verticality of the cabinetry is broken by the custom Typography pendant light with adjustable light fittings to suit the kitchen workspace:
"We love working with quite interesting stones. The Argento Grigio granite was vein cut so it has a beautiful grain movement in the slabs" says Kestie Lane, who used the same stone for the stairs well: "We intentionally worked closely with Artedomus, to bring that same stone down the staircase to the basement, all the grain pattern matched to appear like it was cut out of one block."
Singapore Shophouse by MAKK Architects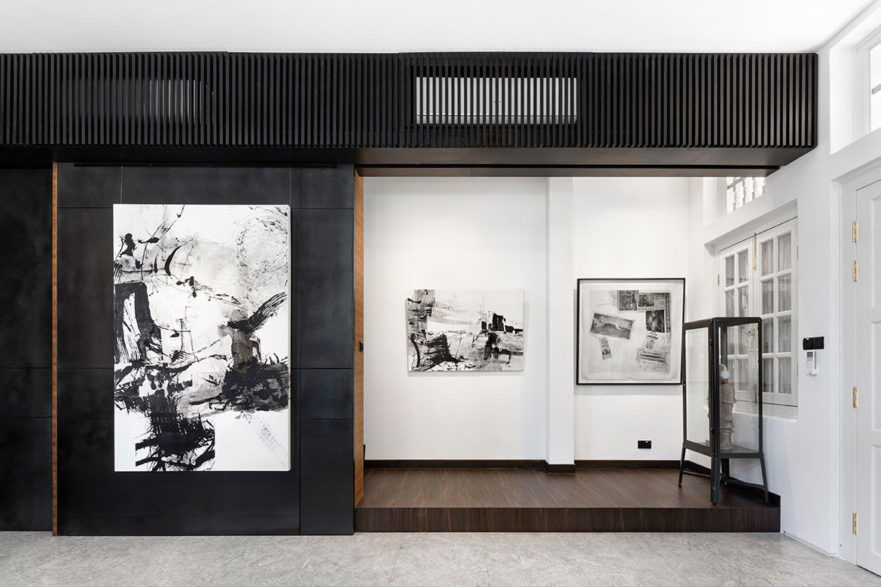 As a home and gallery space to an artist and her family, the brief called for the ability to convert the main living space into a gallery when needed. The tiny kitchen had to be made more functional, and the upper levels had to be kept private, away from the bustle downstairs. Having enough walls to display paintings was also important, as was the need to incorporate a good amount of steel for feng shui reasons.
To enable the main living space to accommodate two distinct events, large steel-clad sliding panels have been installed. Defined and framed in black, these moveable walls allow the owners to keep the public zone open, or contained and private with ease. A black staircase similarly demarks public and private zones.
Clarke Street by DKO with Slab Architecture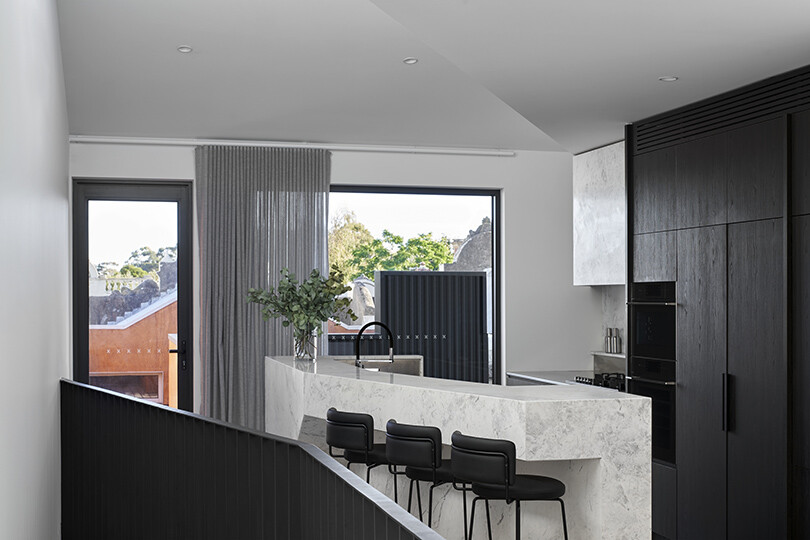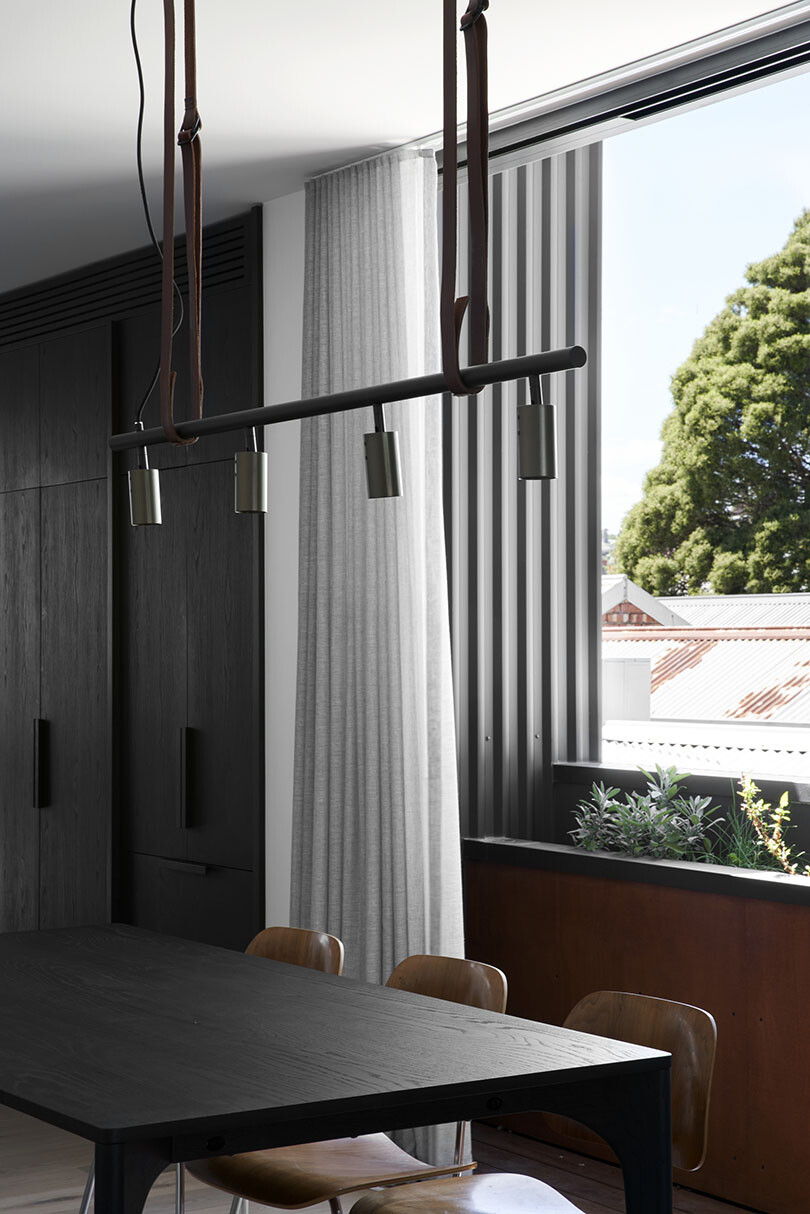 Visually defined by a dark exterior, the contemporary addition at Clarke Street is referenced throughout the home with dark cabinetry and furniture. Anchoring the kitchen is a large sculptural island bench of natural stone that has been sculpted and carved as a piece of furniture in its own right.
Complementing and adding drama are large vertical expanses of cabinetry to one side and the horizontal line of the stair surround to the other. A house of beautiful contrasts as Caelan Kaluder writes: "The culmination of monochrome shades soothes the eyes and heart – a robust, protective atmosphere that exudes texture and warmth."
House 10 by Studio Wills + Architecture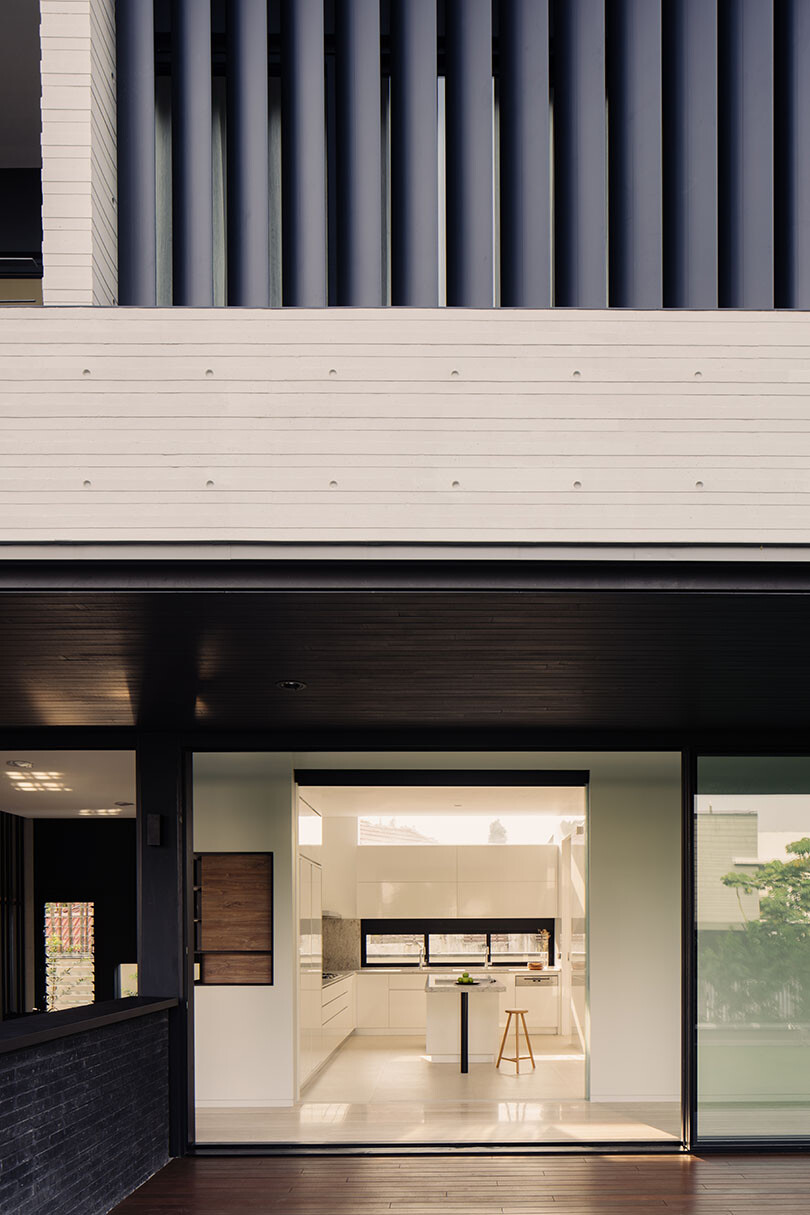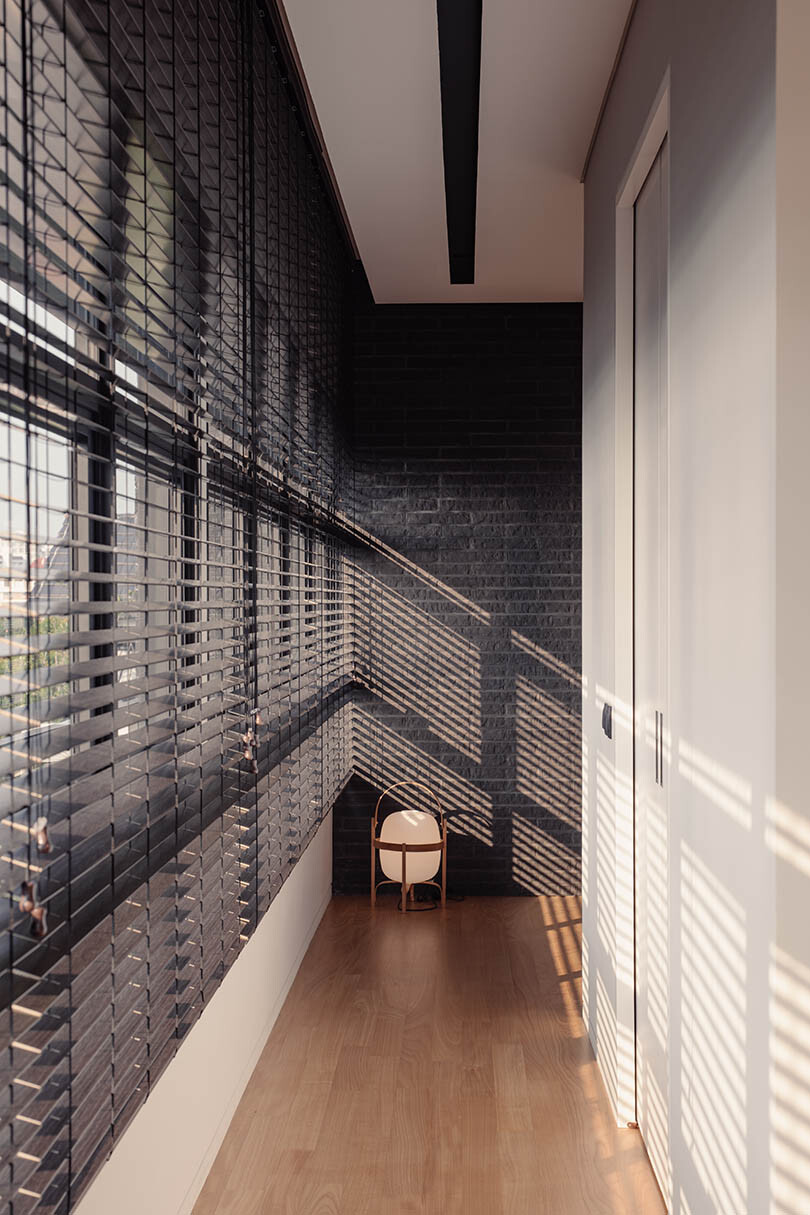 Responding to a brief for a colossal house with mid-century modern aesthetics on a trapezoidal site, Studio Wills + Architects, sought ways to make and frame views at House 10.
Large though it may be, the mid-century modern aspect comes through in the materiality of natural, rustic materials such as brick, textured and ribbed concrete, and timber. These are strategically employed to define parts of the house. A single pier wrapped with black-facing bricks, for example, contains the vertical circulation, which connects the three horizontal bands like a seam. While the brief was complex, Ng has managed to synthesise a house that projects clarity, simplicity and livability.
MK Residence by Right Angle Studio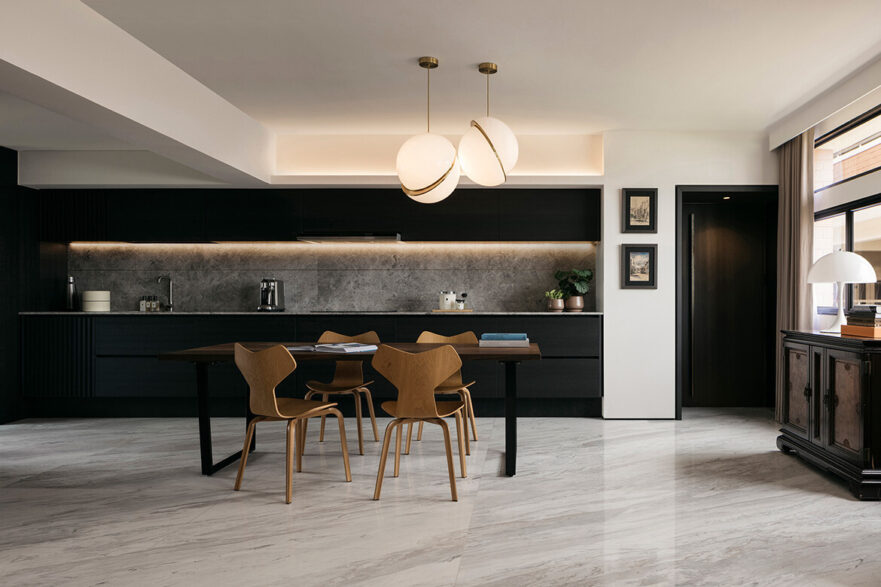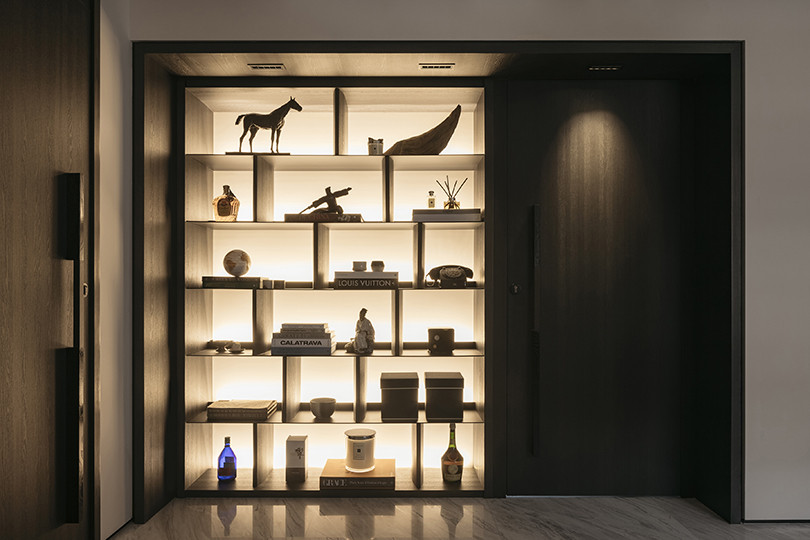 This sophisticated apartment in Singapore by Right Angle Studio has been designed to encapsulate life in cosmopolitan New York City, where even its scent has been specially curated: "The client wanted a haven where he could return to and relax comfortably," says Jay Liu, art director of Right Angle Studio. "The interiors are largely inspired by hotels in New York City, extending to the material palette and even the fragrance."
To this end, large swathes of black timber cabinetry and dark hardwood floors are paired with deep grey furnishings and wall fabrics. The kitchen has been specifically designed for the owner who takes great pleasure n cooking and entertaining. Here, the full-length kitchen in black timber and deep grey stone is both a feature and minimal expanse.
We think you might like these homes that explore natural stone
---